Street vending provides self-employment opportunities for the urban poor, helping them generate enough revenues to achieve self-sufficiency. However, associated effects like traffic congestion and improper disposal of waste make street vending a challenge for governments and city planners. Caracas, Jakarta, Dhaka, Mexico City, and Cairo are experimenting with new ways to incorporate street vending into city planning, making cities more inclusive for some of their poorest residents. Rather than being evicted and often harassed, street vendors are now being protected, supported, and formalized through a number of initiatives originating in both the public and private sectors.
As governor of Jakarta, Jokowi started reforming the street vendor community with a variety of approaches that aimed to integrate them into the urban economic system, all based on direct feedback from the vendors themselves. With the support of local banks' CSR programs, the government has provided carts and kiosks to roadside vendors. The government has also provided free business licenses for street vendors to help them transition into the formal sector. This also enables the vendors to apply to banking institutions or lending cooperatives for working capital.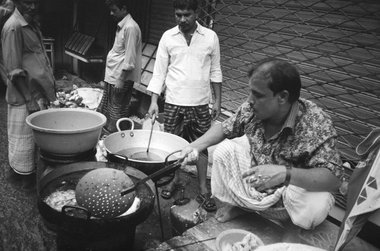 Many of Dhaka's street-food vendors are uneducated and lack awareness of safe food handling, positioning street food as a major public health risk. In response, a national program trained three hundred street vendors on safe food-handling practices and personal health and hygiene. Then, food-vending carts equipped with utensils were procured and distributed to the newly trained vendors. Another project, the Energy and Street Food Vendors, was conducted to improve their livelihoods and the health of consumers by identifying and improving energy efficient technologies and fuels. The project tested improved biomass stoves, and concluded that profitability of food-vending could be enhanced with the use of energy-efficient technology.
"La Redoma de Petare" is a crucial intermodal and informal transportation node for Caracas. Informal street vendors have occupied the streets and sidewalks of the junction for the past fifty years, and the government has traditionally relied on military police force to evict them. However, the recent opening of a municipal market in eastern Caracas represents a different approach. Street vendors are offered the opportunity to relocate from La Redoma de Petare and become part of a new, safe, clean, and beautiful municipal market and bus terminal with proper civic space amenities, improving working conditions.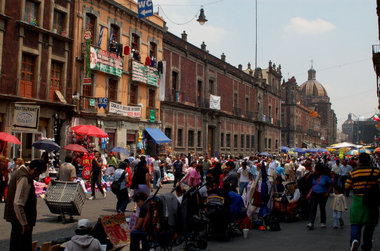 This year, the Mexico City government will invest 10 million pesos (over $770,000 USD) to relocate 8,000 street vendors in commercial corridors so that they can operate formally. The previous government had also implemented a similar strategy successfully, which led to negotiations with the organizations representing street vendors to achieve the relocation of 25,000 vendors into commercial spaces. The project was accompanied by the support of the Ministry of Labor for the creation of cooperatives, the granting of micro-credits to update commercial properties, and the dissemination of new spaces among consumers. However, only two-thirds of the commercial spaces are still operating, indicating the limits of forced relocations.
In Cairo, the Street Food Vendors Organization was formed in order to convince the government and society of the street food vending sector's significance, rather than considering its workers as criminals or the untouchables of the society to be swept off the streets. The SFVO and social planners proposed passing a law preventing traffic of heavy transport from 6 am until 12 pm on roads where vendors operate, to ease congestion. The Cairo government has proposed a one-day marketplace as the first step toward controlling street vendors, but the street vendors are pushing for the creation of permanent marketplaces where they can operate legally.
Integrating street vending into urban planning is both a challenge and an important step towards inclusive cities. Visit URB.im to learn more about policies, projects and implications of street vending, and join the discussion.
Photo credit: Sudipta Arka Das and Diana