It's been a year, but the party is finally back in town -- and Jim Caruso can shake off those New York winter blues.
L.A.'s version of "Cast Party," one of America's most distinctive open-mics for jazz, cabaret, pop and Broadway, returns to the West Coast this week with two shows at The Coterie, the sparkling new supper club at the Renaissance Hollywood Hotel and Spa. Get ready for surprise appearances by A-list celebrities, breakout moments for rising stars and a parade of wannabees that would make Simon Cowell cringe.
Caruso, the urbane, wisecracking host who created this New York institution at the legendary Birdland nightclub, is looking to roll out something special, something that screams Southern California, when he takes the stage as emcee on February 29 and March 1. And judging from his previously successful run at the Magic Castle, which ended a year ago, the re-located show won't disappoint its many fans.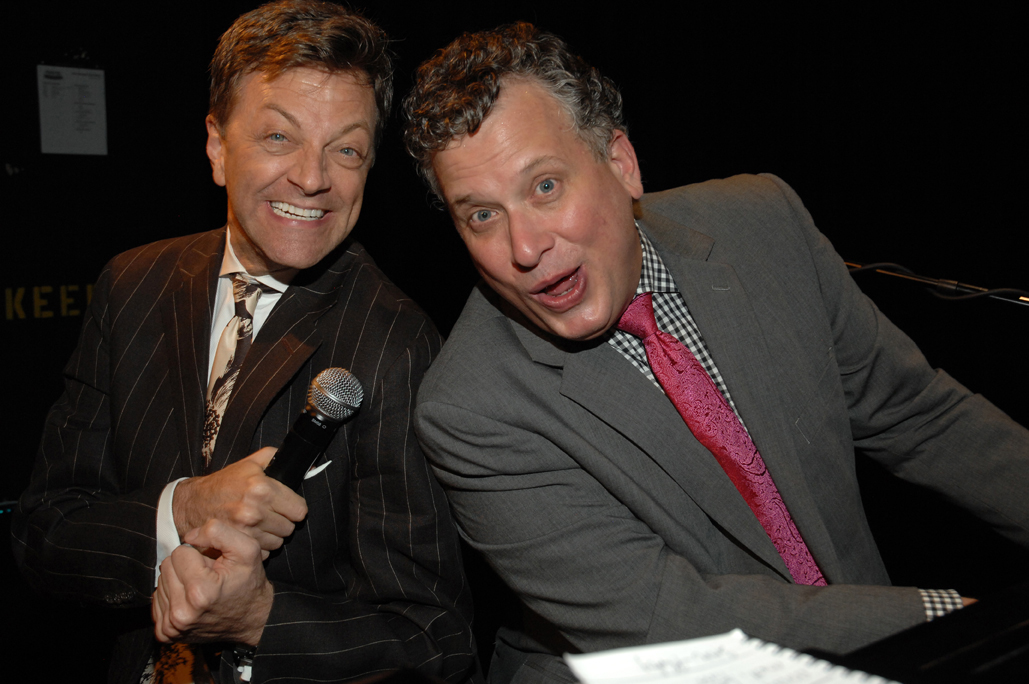 Jim Caruso, left, and Billy Stritch. Photo: Steve Handwerker.
"The idea of 'Cast Party' is to recreate those amazing nights around the piano that used to take place in Hollywood in the 1940s and 1950s, in the homes of famous performers," said Caruso, a singer and recording artist who has toured with Liza Minnelli, and whose rolodex is a who's-who of show business. "It's not a place to judge people critically. You have a roomful of amazing talent that steps up and performs in a friendly setting, and real magic can result."
Those informal nights once included the likes of Frank Sinatra, Humphrey Bogart, Nat King Cole, Judy Garland and others. No one's expecting Madonna and Lady Gaga in the 2012 version -- but you never know who will show up. Caruso anchors the show with Billy Stritch, an iconic jazz and cabaret pianist, and their rollicking, unscripted repartee takes on a life of its own.
Over the years, "Cast Party" has included drop-in appearances by eye-popping talent like Minnelli, Tony Bennett, Michael Feinstein, Martin Short, Paul Shaffer, Chita Rivera, Carol Channing, Melissa Manchester, Bruce Vilanch, Dave Koz and Miranda Sings, California's atonal Internet singing sensation. Caruso typically fills out the bill with jugglers, yodelers, a tap-dancing trombonist and, most recently, "Acromedian" Rudi Macaggi -- a third-generation Italian comic who sits on his face. For everyone else, the sign-up sheet awaits.
On its best nights, "Cast Party" feels like a bracing blast of air from Manhattan's theatre district. It fills a gaping hole in Los Angeles, which doesn't have many rooms suitable for such an intimate evening. After the show lost its home at the Magic Castle, "there was a sense of grieving, because there are many talented people in L.A. who want to perform in this kind of setting," said Julie Garnyé, a New York actress and singer who moved to Los Angeles several years ago and is a longtime Cast Party booster. "Now we've got a home again."
Garnyé persuaded the Renaissance Hotel to let her book talent at The Coterie, and her first move was to bring "Cast Party" back to Los Angeles. Caruso hopes it will become a permanent monthly gig for a show that has also made cameo appearances in Chicago, Las Vegas, Austin, Cleveland, Del Rey Beach, the Hamptons and other sites.
The emcee rarely tips his hand, but privately hopes that L.A. friends like Glee's Mathew Morrison and Modern Family's Jesse Tyler Ferguson might be tempted to check out The Coterie. Either way, Caruso puts on an unforgettable show. As he says at the beginning of every performance: "Tonight you're going to see some of the most awesome, talented performers in the world. Also other people."
For more information about "Cast Party" shows this week, call 530-4coterie, or go online at www.thecoteriela.com.
Josh Getlin is a New York-based writer and former Los Angeles Times correspondent.