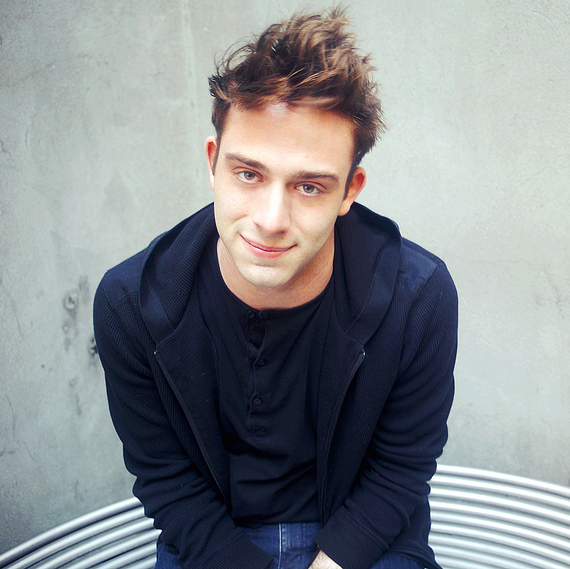 By the time Tucker Murray tore into the final bars of "Everyone Says" near the end of a recent set at the Cutting Room, the crowd was on its feet. And it wasn't just because the song's rousing pop hook seemed to levitate the club.
There was an unmistakable sense in the packed room - one of those moments you remember years later -- that a young star was being born in front of your eyes.
"You and me might be nothing at all, love, what does that mean?" Tucker sang, rising to his feet at the piano. "I'll be alright, I'm breaking the mold, but I don't care what everyone says."
As the performance finished to thunderous applause, a young woman heading for the exit turned to a friend and asked, "OK, I'm a believer. Where do I get the album?"
Imagine a rakishly handsome singer-songwriter who channels Justin Timberlake, a young Elton John and the ghost of Ellie Greenwich ("Be My Baby," "Chapel of Love") and you get a sense of the magic that Tucker Murray, 21, brings to his performances. Whether he's jamming with band members or crooning at the mic, he's got an onstage poise and pizazz that's remarkable for someone his age.
Call it hot -- and word is beginning to spread. You can check it out for yourself on April 18, when Tucker plays the Cutting Room in midtown Manhattan once again.
"There's a lot of luck required in show business, but when somebody comes along with the talent Tucker has, there's no way he's not going to succeed," said Paul Shaffer, Dave Letterman's legendary band leader, who's known him since he was a little boy.
"When you see him, you're reminded of Elton -- he was so melodic and Tucker has that same melodic sense. He's also got the same showmanship, which really can't be taught. He's the complete package, and he's just starting out."
It's heavy praise for the junior majoring in Literary Studies at Eugene Lang College The New School for Liberal Arts in Greenwich Village. He seems humble, even shy, with cheers still ringing in his ears.
"This is what I love to do, and I'm lucky to be able to write songs that reflect who I am," Tucker said. "There are times when I just need to get to the piano and express what's going on in my life. If I don't, I'll explode. I'm a young person in New York City. That's the reality I explore."
You could, of course, hear the exact same sentiments from thousands of other young performers waiting for a break in the Big Apple. On any given night, the number of talented artists here waiting -- no, aching -- to be noticed is almost frightening. It's easy to get lost in the shuffle.
But what sets Tucker Murray apart is his material. He writes richly-layered, melodic songs that sound contemporary but also recall an era when the Brill Building invented Top-40 radio, and some of America's greatest songwriters ruled the airwaves. Close your eyes during his set and you think Bruno Mars one moment, Neil Sedaka the next.
It's an appealing hybrid -- and no accident. Tucker has a proud family history, a rock and media lineage reaching back 50 years, and those roots have shaped him profoundly.
His mother, Susan Collins, is an ASCAP Award-winning songwriter and recording artist who has worked with Jimi Hendrix, John Lennon, Electric Light Orchestra, Joe Cocker, Kiss, Todd Rundgren and Darlene Love. She was interviewed for the Oscar-winning documentary Twenty Feet from Stardom and was the vocal coordinator for Saturday Night Live during its first five years. Collins is currently a private vocal coach at NYU's Clive Davis Institute of Recorded Music.
Tucker's father, Andy Caploe, is an award-winning music and radio producer, who developed sonic branding for Nickelodeon, Disney, Nick at Nite, TV Land and Bravo. He's produced a dozen or so feature film scores directed or produced by the likes of Paul Mazursky, Robert De Niro, Albert Maysles and others, and has performed voice characterizations for cartoon shows on Fox and Cartoon Network. His narrations for Audible.com now number more than 80 audio book titles.
But Tucker's most notable influence was his late godmother, Ellie Greenwich. She was a pop music titan -- a singer, songwriter and producer who wrote or co-wrote some of America's most enduring rock songs, including "Leader of the Pack," "River Deep, Mountain High," "Do Wah Diddy Diddy," "Christmas (Baby Please Come Home)," "Then He Kissed Me" and "Da Doo Ron Ron."
Greenwich was a close friend of Collins, and she had a lasting impact on Tucker (besides lighting a candle at his Bar Mitzvah). Born in New York City, he showed interest in music at a young age, playing the drums at a family friend's wedding when he was four, and writing his first song, about a trip to the mall, at six.
His first piano teacher, paternal grandmother Jeanne, trained Tucker as a classical pianist, but as his interest in performing grew, Greenwich's iconic songs -- played constantly in his home -- sparked his desire to test the showbiz waters.
He's launched himself on a time-honored path, playing gigs at the Cutting Room, Bitter End and other clubs, with a band that includes Oscar Bautista on guitar, Alex Pyle on bass and Rosie Slater on drums. Tucker writes prolifically, and inspirations for new songs come to him out of the blue.
"Everyone Says," co-written with his friend, Gracie Nash, took shape over an uptown lunch: "I said to her, 'For the first time I'm feeling so independent, doing my own thing and I don't care what anybody tells me, about who I'm supposed to love,' and she felt the same," he recalled.
"So we wrote this together, and I hit on a chord progression that reminded me of 'Be My Baby,' with a familiar 60s drumbeat. It just came out. Very random and strong."
He tells similar back stories for "Boyfriend," "Electricity" and other songs that pack his 75-minute set. Tucker records his own demos of the songs in his burgeoning ASCAP catalogue (Mother Tucker Music), and they're all bright, radio-friendly tunes that grab you with instant hooks -- just like the Brill Building did years ago.
"The thing about pop music is that it's all over the place, always looking for the next big thing," said Shaffer. "It goes through periods when songs don't have hooks at all, and everything sounds like the last ten songs you heard on the same station, over and over again.
"But Tucker is the kind of guy who can bring a new sound to what's happening, and before you know it, everybody will sound like him," he added. "He'll have the longevity -- and success -- that comes from being an original."
Photo of Tucker Murray by Em Grey.
facebook.com/MotherTuckerMusic
twitter.com/itstuckermurray
youtube.com/TuckerCaploe
instagram.com/mothertuckermurray