"I'm cooking dinner in Betty Ford's kitchen."
Not the most adventurous or daring status update I've ever posted, but a new experience nonetheless. I thumb the words into my phone, then keep chopping tomatoes on the former first lady's enormous kitchen island.
When Beaver Creek Resort opened in 1980, developers gave first pick of the ski-in/ski-out home lots to Gerald Ford, 38th president of the United States, who had been coming to nearby Vail to ski, golf and relax with his family for years. President and Mrs. Ford chose 65 Elk Track Court and built a 7-bedroom, 10-bathroom home.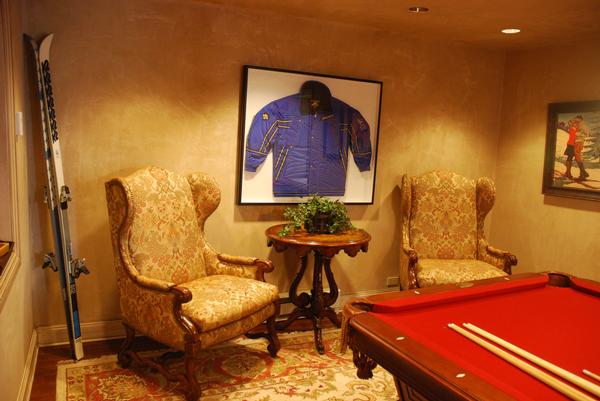 Gerald Ford's former Beaver Creek house features this game room where the secret service used to relax.
From the sink, through falling snow, I can see skis dangling from the Strawberry Park Express Lift.
After the president's death in 2006, the property was sold and given a $5 million renovation that honored both the home's stately history and its warm, familial feel. In July 2012, the $14 million home joined the portfolio of Portico Club, a Denver-based travel service launched by Exclusive Resorts, which offers members deep discounts on private luxury residences in 60 destinations around the world.
Members are also assigned a dedicated "escapist" who helps with everything from macro-level trip planning to rock-star details like pre-stocking the fridge, buying lift tickets, and making spa appointments. In Colorado, Portico offers 15 luxe homes in Vail, Snowmass, Steamboat, and Telluride -- but none of them is quite like 65 Elk Track Court. The historic home rents for between $1,395 and $7,095 per night.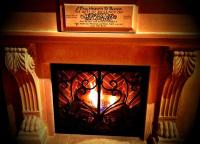 I bring a sandwich to my wife and we sit at the same kitchen table where Bill Clinton, Henry Kissinger, Margaret Thatcher and other power players once ate, drank, and decided the fate of the free world.
From up the grand wooden staircase, I hear my daughters' giggles echo sweetly through the halls. They must be finished splashing around in President Ford's lap pool, where he swam daily until he died at age 93 -- near where Betty would accompany him and ride her stationary bike.
The little voices get louder as they approach the main floor, pulling their grandmother past us and into the living room to read books. Right now, I can either go outside to do something gnarly and dangerous in the powder -- to help balance the soft, domestic Facebook status currently displayed to the world -- or I can retire to the President's office to do some writing.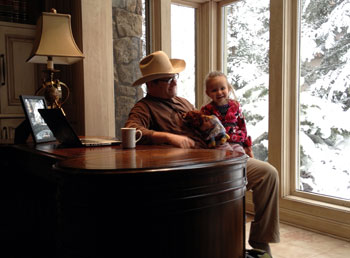 My coffee cup leads me around the corner. I flick on the fireplace, walk past the President's cowboy hat and Encyclopedia Britannica, and cozy up to the elegant desk in its backlit, bay-windowed nook. The renovators left a patch of the original scuff-marked tile under my chair, so I can see where President Ford rocked and swiveled as he did his work.
The words begin flowing, but before long, my two-year-old daughter comes padding into the room and scrambles onto my lap. I swing around so that we face the windows and watch the snow fall outside.
When I retire for the night, I read the words over the fireplace in the master bedroom: "May none but Honest and Wise Men everrule under This Roof."
PHOTO GALLERY
President Ford's Mountain Escape