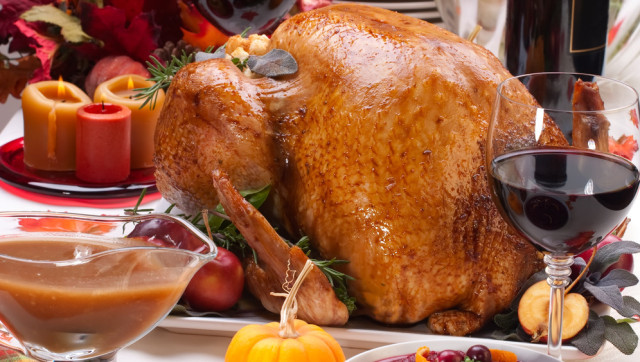 By now, most of us know what our guests will expect for Thanksgiving, but that doesn't mean that we have to spend all day in the kitchen. If you're like me, while I embrace tradition, I also like to shake things up a bit. To do that, I went on a search for items to help me (and you) keep the holiday drama-free (well, at least in the kitchen), and turn out a meal that will make my guests ask, "Did you have help with this?" Enjoy the photos and feel free to check out any of the products listed for more information.
Not cooking? Well, don't forget to treat your gracious hosts with flowers. For quality, price and selection I find FTD and 1-800 FLOWERS to be the best choices.
I believe that even the best chef needs to refer to a recipe every now and then, or perhaps you want to walk on the wild side and try something new this year. Check out the Qooq culinary tablet, it will keep you at the top of your game with both hands free to whisk, whip, beat or frappé.
Even before you get to the oven, you will surely need to knead, mix and stir your way to culinary nirvana -- and with so many choices on the market, I found the Kenmore Elite 6 qt. 600 Watts Bowl Lift Stand Mixer simply outperforms all the competition.
Ever had your side dishes end up done long before the main course? Let the Ninja Cooking System help solve that problem by combining stovetop, oven, steam roasting and slow cooking in one unit. It allows you to sear, then slow cook, as well as make complete one-pot meals in under 30 minutes. Another great multi-function cooker is the T-fal Actifry, which let me make all my healthy favorite foods (poultry, meats, grains, vegetables, fruits, etc.) with just a spoonful of oil.
Now what about those seemingly random products that simply make the meal and the day all the more enjoyable? I would highly recommend checking out the Omega 8006 Nutrition Center Commercial Masticating Juicer. And, even if you have a double oven you can still run out of space. Problem solved thanks to the Kenmore Elite Infrared Convection Toaster Oven, which offers extra space and convenience at your fingertips.
For those truly daring souls, why not make some out-of-the-box treats with the Excalibur Dehydrator or the Balanced Living Bread Maker? Whether it is dried fruit, turkey jerky or homemade bread, both these machines give added charm to the menu, and save you time and money, as well.
Every holiday table needs a reality check! You can't create a meal without a great set of knives, and CutCo Cutlery is the perfect solution. Include with that a holiday truth -- that every good meal must come to an end and must be cleaned up -- and the beast in my kitchen is the Addison Faucet. A simple tap with the wrist, elbow or hand anywhere on the faucet activates the flow of water, delivering precise and reliable control exactly where and when you need it. It's perfect for when hands are full or messy... and mine always are!
I hope Thanksgiving is a huge success and remember to cook, eat and enjoy without limits.
NOTE: In the spirit of full disclosure I have no affiliation with any of these brands nor was I paid to review them.
PHOTO GALLERY
Gadgets And More For A Drama Free Thanksgiving