Whenever I have a chance to sit down with Lee Schrager I make sure to clear my schedule because I know I am in for a treat as delightful and delicious as the events he creates. If food is love, and I believe for die-hard foodies like me it is, then Lee is a cross between Cupid and Willy Wonka. He brings so much joy to so many with food as the galvanizing force in a city as diverse as the foods highlighted this year at the New York City Wine & Food Festival.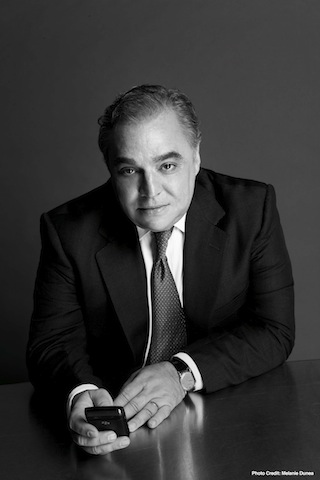 With a work ethic that is rivaled by few, he takes a bite out of the Big Apple every year. His attention to detail borders on superhuman and unapologetic as he embodies an unbridled joy that is infectious. He is a man who knows what he wants and knows what other people enjoy, coupled with a side order of surprises that keep us all wondering... What will he think of next?
Joshua Estrin: What was your initial impetus for the New York City Wine and Food Festival?
Lee Schrager: When Southern Wine And Spirits entered the NYC market nothing was as cohesive as the Festival. Certainly, NYC had/has a rich history of food related events but not on this scale. It was a new concept to make it unified and it took some people by surprise.

JE: What were those first meetings like in the early years of the event?
LS: New York is a dynamic city; and as the city that never sleeps, it has come by her name for a reason. As a result, while the Big Apple was welcoming it already had a lot on its "plate" and as such it took a bit of convincing to make the vision a reality and show how the city would benefit from the event. I am in no way saying that NYC was not receptive or made the process difficult, it was just a new way of doing things and the scale upon which we proposed to do it understandably raised a few eyebrows.
JE: How does New York City differ from the Miami (South Beach) venue?
LS: South Beach has a vibe of her own and it is not a question of "better" or "worse" when comparing the two, but rather a sensitivity to many factors that make up the culture of both locals. Miami had not had very many events of this size and to that end they embraced the opportunity in a slightly different way than NYC. The infusion of food, celebrity and revenue for the city was understandably quite enticing and it was exciting to bring something so new to South Beach on such a grand scale.
JE: What do you believe continues to make food a celebrity?

LS: Certainly we would not be having this conversation if it were not for the Food Network. They brought food out of the kitchen and into our living rooms in a way that had never been done. The mix of education and entertainment allowed viewers to go beyond the more traditional trailblazers like Julia Child and explore the world via the larger than life personalities that have become the hallmark of the Food Network's lineup.
JE: If I were to open your refrigerator right now what would I find?
LS: Well... that depends on what project I am working on and with this year's Wine and Food Festival ready to take flight you would definitely find some Half and Half, coconut water and a very obvious dearth of protein.
JE: What is your favorite "Foodie" guilty pleasure?
LS: Now that is an easy one, ice cream. We live in a time when a great many people have a great deal to say about what to eat and what not to eat, but I stand staunchly behind my ice cream without apology. I do try to approach it in moderation but ice cream is bewitching!