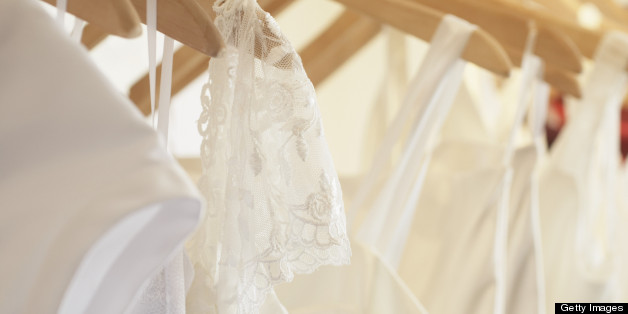 When I went wedding dress shopping years ago, I clearly remember bringing a magazine-torn Monique Lhuillier gown picture that I thought was utterly perfect and couldn't wait try on. But then my mom said that strapless would look dated in my photos. And my grandmother chimed in her opinion and -- you guessed it -- she was no strapless dress fan either.
I never tried on that dress and went on to buy a lovely (non-strapless) gown and to plan a perfectly great wedding. But I still haven't forgotten that Monique Lhuillier.
Because of my website, I see beautiful weddings and wedding dresses every day. And I can't wait to one day go dress shopping with my own daughter. She's doesn't know it yet, but I've already made her a promise about it.
I've promised to be totally and completely visionless.
I know when my beautiful, amazing daughter gets married, it will be an incredible time in her life. And I want it to be exactly what she wants. As it should be, I want her wedding dress to be an expression of her style and personality. No one else's should come into play. Especially not mine.
So, I'll go to the salon with no preconceived ideas about what looks best of on her and no thoughts on lace, tulle or organza.
Don't get me wrong, I'll definitely have lots of opinions. But my opinions will come from looking into her eyes when she tries on a dress. Because I know that you can see when a bride has found "THE DRESS" just by looking there.
I'll stay by her side until she finds the dress she thinks is breathtakingly perfect. The one that makes her stand just a little taller, and feel like the most beautiful version of herself.
And that's whether she tries on one dress or one hundred. And whether we have to hunt all over the city to find that dress she tore from a magazine. Because it's her day. And I've promised to help.