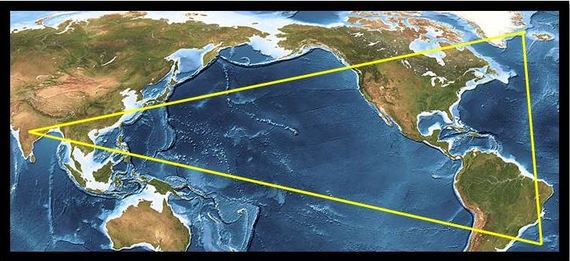 As the relationship between Latin America and emerging regions such as Asia remains strong, the argument for optimally engaging America's largest diaspora, Hispanics, in U.S. foreign policy has never been more essential. Opening doors for Latinos to represent the U.S. at home and in countries outside of Latin America can create triangulation opportunities to further build upon relationships with key stakeholders that can effectively promote political and economic partnerships around the world. But first there is one roadblock that for decades has garnered less attention, additional representation in the principal U.S. foreign affairs agency, the Department of State.
According to the Pew Hispanic Center, there are 51.9 million Hispanics in the United States which account for 16.7% of the entire U.S. population, however, "Since the 1980's the actual percentage of Hispanics at State has not hovered above 5%; therefore the number of employed Hispanics has not caught up with the changing demographics" former U.S. Ambassador to Argentina Lino Gutierrez said.
One reason for this percentage may be the history of the agency, "In the past, the Department had a reputation as a place to exemplify male and Ivy League hires", Crisencio Arcos, former Ambassador to Honduras added. Whatever the case may be, by and large, Hispanics in the Senior Executive Service (SES) and Civil Service categories are greatly underrepresented vis-à-vis other minority figures from over 20 years ago, let alone today. The net result of this is that when it comes to making effective foreign policy decisions in the civil and foreign service, Hispanic voices are not heard equally.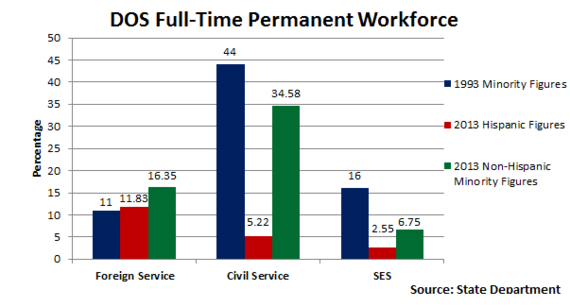 By sending Latinos to regions outside of Latin America, the United States can truly tap into the power of its diversity. As the Chairman of the Senate Foreign Relations Committee (SFRC), Senator Robert Menendez said in 2012, "Our foreign service is stronger when it represents the wide range of backgrounds and experiences that Americans bring." Equally as important is the commitment to improve representation in the Civil Service because "Decisions that are shaped in Washington cannot be carried out abroad without domestic leadership and support" added Founder of the UCLA North American Integration and Development (NAID) Center and former Advisor to President Bill Clinton, Dr. Raul Hinojosa-Ojeda. Today, leadership from the White House, the State Department's Hispanic Employee Council of Foreign Affairs Agencies (HECFAA) and the Senate Foreign Relations Committee is bringing more attention to the important issue. For instance, in 2011, President Obama signed an Executive Order to increase Diversity and Inclusion and on October 4, 2013 Ambassador Arnold A. Chacon was nominated to become the Director General of the Foreign Service, a position which directs the recruitment and hiring of the State Department's workforce. He is currently waiting to be confirmed by the SFRC.
Political
Latinos can help create relationships because they are born into a diverse background and master the world's second most spoken language, Spanish. For instance, Pablo Quintanilla, a former member of the State Department's Foreign Service said he used the Hispanic Heritage Month as a vehicle to engage in race diversity and language for young people in China. "When the Chinese community saw a Hispanic-American speaking in Mandarin they were shocked, but welcoming. As a result, I realized that there was an instant bond in our South to South relationship."
This means that sending Latinos to Asia builds cultural trust more efficiently and effectively that can add value in building solid partnerships with the growing region.
Kris Balderston, a Senior Partner for Fleishman-Hillard and former State Department Special Representative for Global Partnerships for Secretary Clinton said, "The Latino community can identify and come together with other diasporas and cultures because of their common story and experiences, thus these commonalities can forge trusting relationships much quicker, which can add incalculable value over time much like the Jewish Diaspora in Brazil and the Irish Diaspora in the U.S."
Economic
In 2000 there were only 3 free trade agreements between Asia and Latin America, but in 2010, there were a total of 45 agreements in place. This 1,500% increase demonstrates the strong economic relationship between both regions. Furthermore, according to the BP Statistical Review of World Energy, from 2005 to 2011, China, India and Singapore accounted for nearly 37% of Latin America and the Caribbean's (LAC) entire oil exports. What this means is that the infrastructure and demand is in place for the U.S. to innovatively catch up and perhaps lead the cultivation of new relationships between LAC and Asia that will foster stronger economic ties. If it stays put and does not find ways to encourage, appoint or deploy Latinos to regions outside of Latin America, the U.S. may run the risk of further falling behind to global leaders in the triangulation race.
Today, the State Department is doing a great job in encouraging Americans to study abroad. The Fulbright program as administered by the Institute of International Education (IIE) is increasing critical language skills and international experience. In addition, the Gilman scholarship is focusing on sending students from disadvantaged backgrounds to non-traditional countries. This is important because it can potentially aid in the recruitment process much like the Pickering and Rangel Fellowships, which aim to attract outstanding students from groups that have been historically underrepresented in the Foreign Service in order to pursue a career in the State Department. In addition, during Secretary Clinton's tenure, the State Department ingeniously launched the first ever Global Diaspora Forum under the Global Partnership Initiative as a way to "Convene Diasporas along with partners to innovatively solve problems" added Kris Balderston.
According to an anonymous State Department official who focuses on recruitment, "Despite our outreach effort to diverse candidates, the biggest barrier to entry is still increasing awareness" he said. If so, then perhaps a simple way of improving Hispanic recruitment and retention is by giving the community more appointed role models such as Ambassadors, Assistant Secretaries, or someday the first Secretary. Therefore it is no coincidence that "When Hillary Clinton and Colin Powell were Secretaries of State, the number of African Americans and women, who took the Foreign Service exam, grew exponentially" added Ambassador Gutierrez. In addition the agency should create more public private partnerships with U.S. Diasporas, whose children and grandchildren are talented and internationally trained first and second generation college students. By doing this, State Department will innovatively solve its awareness barrier which will ultimately boost recruiting initiatives.
As the United States confronts the challenge to compete in a world economy where the cultivation, development and retention of human capital is preponderant, we must ask ourselves: can we truly expect to keep pace with the rest of the world if we continue to not fully embrace and incorporate our diversity, especially from our largest minority group? Unfortunately we cannot. Thus if we are to reconceptualize the problem and turn it into a surplus of talent via the triangulation model, we must first focus on promoting more Hispanics to senior positions. Second, we need to revisit the Pathways program, because students and recent graduates bring a creative, entrepreneurial and out-of-the-box thinking approach to work. Finally, we must fund more talent pipelines such as study and intern abroad programs. By truly embracing our diversity, we will send a message to the world that equality, human rights and social inclusion is a key component in international affairs.