By Anna Koulouris and Karim Gohary
In old Cairo's Al Darb Al Ahmar district, the minarets of several historic mosques reach out from the modern grunge surrounding them. They are timeworn but elegant, with windows and walls adorned with carved wood and dome ceilings tiled with colorful mosaics.
People still come to pray, but in recent years another sort of visitor has come, who have chiseled off priceless tiles and crudely scooped out intricate wood carvings from the mosques.
Egyptian officials blame the thefts from these heritage sites on a booming market for Islamic antiquities, fueled by the collecting of wealthy Persian Gulf patrons.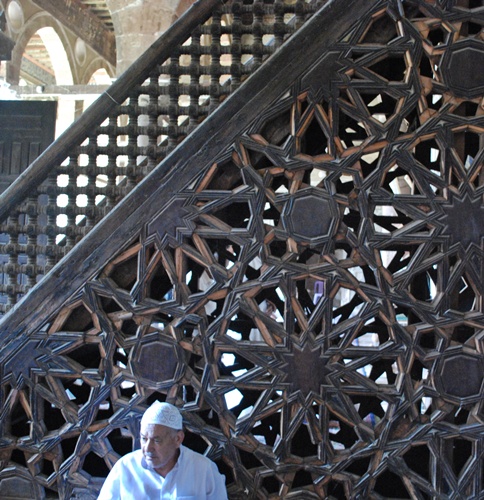 But Gulf countries, particularly oil-rich Qatar, say they are modern-day preservationists, with the resources to properly display Islamic heritage from around the world. Egypt, with a vast history of Islamic and other historical sites in its borders, often struggles to protect the heritage it possesses.
Art observers have noted that since the 1980's, Gulf States such as Qatar have fueled the market for Islamic antiquities, and in the last few years, the advent of new Islamic art museums and projects in the region has further driven up demand.
Sotheby's, one of London's main art auction houses, said it has seen total annual sales of Islamic art grow by 340 percent in the last five years, reaching $35.6 million in 2008.
Qatar has spent a fortune building Museum of Islamic Art in its capital of Doha, and filling it with nearly 800 unique pieces spanning the 7th to 18th-century, including the silk carpet that Mongol conqueror Tamerlane used to play chess on.
"(The museum) is an entity that I think stands to be a landmark now for Doha as a city," said Abdulla Al Najjar, the CEO of the Qatar Museums Authority.
According to Al Najjar, the content of the museum was originally part of a collection belonging to Qatari Emir Sheikh Hamad bin Khalifa Al Thani, which he then donated to the state and for which he ordered the museum be built.
The museum's curators said the collection has been thoroughly checked to ensure no pieces on display were pieces stolen from heritage sites. One of the museum's main suppliers of antiquities is Sotheby's. The auction house has reported $12 million of sales this year in Doha and London alone.
"Normally you hope that the auction houses and dealers will make sure that objects provenance certificates are valid" said Joachim Gierlichs, Museum of Islamic Art curator. "But honestly, and this is no secret, there is always a chance that you pick up something that doesn't have a proper certificate."
Al Najjar said every object in Qatar's museum was "100 percent legally acquired," and rejected the notion that the buying of pieces by Qatar helped fuel a black market for Islamic antiquities.
"If people think that by building the museum it has created a black market, that's their problem not ours," Al Najjar said. "We know what we have, and if we need to get more objects, we know where to get them from."
Egyptian officials, though, say Gulf collectors are the reason Islamic heritage sites are being looted.
"Nowadays, one of the most active countries in selling stolen artifacts is Jordan," said Mokhtar El Kasabany, advisor to secretary general of Supreme Council of Antiquities in Egypt. "They have a massive market and the major buyers of stolen artifacts are the Gulf countries."
El Kasabany said buildings in Cairo's old Islamic quarter were targeted by professional thieves. "There is an invisible black market in Egypt for Islamic art and heritage," he said. "They knew exactly which pieces to take and which were the unique ones. By dawn they would have entered a mosque, taken what they want and left without anyone catching them."
At one mosque in the old quarter, Al Fakahani, its 1,000-year-old inlaid wooden panels were stolen from its doors.
Nearby, valuable pieces of the mimbar (pulpit) from the 15th century Mamaluk mosque Mangak Al Youssefy were stolen piece by piece without anyone noticing. A short walk away is Al Maridani mosque, where pieces of the ancient mimbar were also stolen.
Authorities have in some cases placed recreated pieces to obscure the thefts.
"I used to talk to tourists a lot about those rare pieces of Mamaluk art," said 55-year-old Ibrahim -- the mosque's caretaker, who asked to withhold his family name. "These new substitute pieces cannot replace the original ancient ones."
Being both historical sites and places of worship means the mosques are overseen by the Supreme Council of Antiquities and the Ministry of Religious Endowments. But in the overlap lies a major security problem.
The SCA is responsible for the sites until visiting hours end at 5 p.m., when a caretaker -- appointed by the Ministry of Religious Endowments -- takes over for the rest of the day. The mosques are kept open so that worshipers can get in during prayer times.
This shift in responsibility leaves room for blame to be passed around when things go wrong. The SCA has gone as far as to file charges against some of the mosques' caretakers, as several thefts occurred during the night.
"Unfortunately, the Ministry appoints men who are not up to this responsibility -- who are not capable enough," El Kasabany said.
But the Ministry's caretakers work in good faith. In the past, it was not uncommon for someone to ask for the keys to a mosque when it wasn't prayer time.
"These are houses of God, and the ordinary caretaker who looks after the place would never imagine that someone would abuse a house of God," said Salem Abdel Gelil, deputy minister of religious endowments. "The reason for the thefts that occurred is the lack of conscience, as is the case with any crime."
Police questioned several mosque caretakers, including Ibrahim, who was not a suspect, but still saw a month's pay docked from his salary.
The caretaker at one of the desecrated mosques, Mohamed Salah, said professional thieves were behind the raids. Against the advice of his colleague not to reveal information, Salah said that a tourist once offered $15,000 for the silk and ivory cover of the seat of the imam.
Following these incidents and others, the SCA and Ministry of Religious Endowments are now working more closely to prevent further loss. New security measures have supposedly been put in place, including cameras and a secret police force. Egyptian authorities would also inform Interpol if there is any suspicion of a stolen artifact leaving the country.
If a stolen piece is put up for sale at an auction house like Sotheby's or Christie's, the SCA would inform them through the Egyptian embassy in London. The auction houses also have their own systems in place to prevent sales of stolen items.
"All clients are required to represent and warrant to us in writing that they can pass good legal title to the property in question and are not aware of any competing claims on the property," said Matthew Weigman, worldwide director of sales publicity for Sotheby's.
The auction house pays a fee to each of the Art Loss Register and Trace to check the pieces for sale against their databases. They also circulate their catalogs to law enforcement agencies so that they can run their own procedures.
In an attempt to stop the black market, the Egyptian parliament in its next round will discuss a law increasing imprisonment for artifact theft to 25 years.
Egypt is also one of several UNESCO members calling for an international law that prohibits any country from exhibiting stolen artifacts, especially as museums in the region grow.
In a few months the Cairo Islamic Museum will reopen after four years of extensive renovation. It will exhibit at least 3,000 artifacts from Egypt's history and from the greater Islamic world.
While Egypt is trying to preserve its Islamic heritage, Qatar has plans to expand its top cultural attraction. In October, the Museum of Islamic Art will complete its second building phase, consisting of an education center for students and community members to learn about Islamic history.
Meanwhile, the Islamic art market shows no signs of slowing. A gilded and enameled glass finger bowl from 14th century Egypt or Syria estimated to be worth $900,000 was sold earlier this year for $2.6 million.
Anna Koulouris is a newspaper journalism major at the S.I. Newhouse School of Public Communications at Syracuse University, minoring in both Middle Eastern studies and philosophy. She has reported for The Post-Standard in Central New York, and NPR affiliate WAER in Syracuse. Karim Gohary is a Masters student in journalism and mass communication at The American University in Cairo, and currently is a news anchor and program host with the Egyptian TV channel NileTV.