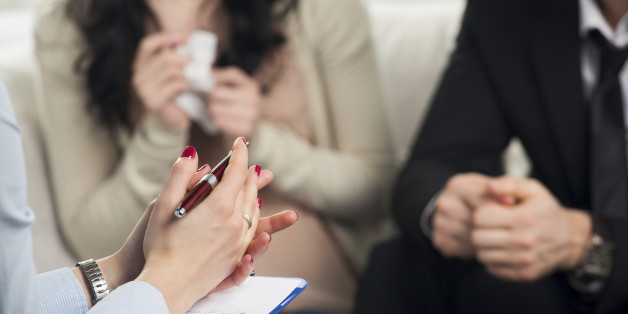 I was never a typical bride: never cared for a big wedding affair, an outrageously expensive dress or a gigantic ring. In fact, the joke between my then-husband and I was that I would have preferred a new computer to an engagement ring!
On the other hand, our relationship was typical in many ways: we laughed a lot, loved a lot and fought just the average amount. We had no more or less problems than any other couple out there; our relationship was based on friendship, respect and mutual admiration. It was a good marriage... until it wasn't.
At this point you may be wondering, why in the name of all that's holy would that marriage not have survived?
There are many deeply complex reasons why the marriage ended after only five years. But today I believe that most of the problems that eventually led to the end of the marriage were there, to some degree or another, well before we got engaged and married.
Would Counseling Have Been The Right Choice?
We never thought that counseling was for us. Like many couples, we thought that love conquered all and that we were stronger and wiser than the average. We were highly educated, had great careers, were well-traveled, well read, we had the tools and we could do it alone.
In hindsight, I believe that an objective third party could have helped us deal with the issues in our relationship in more ways than one:
• Counseling could help you express ideas that could be seen as hurtful in a safe, compassionate way.
• Having an objective third party can help you see problems in a new light and find solutions in that new light.
• A trained counselor can help you flesh out serious issues that may not be related to your partner but that could affect your relationship.
• You can have the support needed to make unpopular decisions, especially if those decisions are the healthiest alternative for you.
• It would be easier to incorporate new tools and techniques to deal with old problems and negative behavioral patterns.
• It would provide a safe space where you can feel at ease in your most vulnerable state.
• Counseling can give you the tools needed to take care of yourself and regain trust in your ability to be a caring partner.
Eventually we embraced the idea of couples therapy but by then, our marriage was virtually over. For us as a couple, it was a deeply painful realization that will stay with us for the rest of our lives.
My marriage didn't last "until death do us part". And yet, I consider my marriage a success. We matured, evolved and became better, kinder people during our time together. We learned that love may evolve and become something different after years together but it is love nonetheless. Today my ex-husband is one of my dearest, closest friends in the whole world.
I believe that my experience will help me become a wiser and better partner in the future. I have more tools to handle the ups and downs of a relationship than ever before. And part of that wisdom is understanding that I don't have all the answers and that counseling can make a positive impact in the longevity of my relationships.