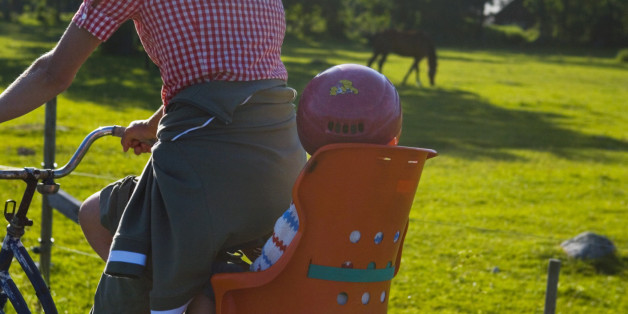 I'm an addict. There's no way to know what I will do. Most of the time I don't know what to expect from myself. I have lots of evidence that proves this.
While drinking, in the morning, on waking up, remorse already eating away at me like rot, I would beg. I would beg and plead for a good day. I would promise my god, your god, the gods of worlds, and all the godless world that I would not drink.
I would be drunk by the end of the day.
This is why I don't know the end.
---
Before we get to the end, I need to tell you about how I stay stopped.
Wednesday.
I do the same thing every Wednesday after work. I pick up my son from his daycare, first. I usually ride my bike, unless it rains. Same bike. Except this time around I've added a baby seat onto its back. I adorned it with flashing lights and I bought helmets for the kid and myself. I took it to the bike shop to tune it up. It still squeaks and coughs as I pedal, but at least now it sounds less like a death rattle.
I love picking my son up from the daycare.
He runs up to the gate with his little arms extended, pushing through other children and shouting, Momma mama mommy mommy-mommy. It's the best thing that happens to me every day, that shouting. It's the best thing. Ever.
And the face that comes with it -- the smile of joy so authentic and absolute that most humans can understand and recognize it for what it is: god.
When I pick him up and he leans his curly head against my chest, sometimes it feels like too much love and I worry that I'll lose my balance and fall, sink under for a split moment, but then I always push myself through, all the way up to the surface. Nose to the blue horizon.
I can handle it. I can handle it now.
I get him dressed and strap him into his seat and put a helmet on his head. I knock on his helmet and then on mine and make googly eyes when I do. This makes him laugh. He dislikes the helmet but the googly eyes and the knocking distract him sometimes and he forgets to get upset.
Then we bike home.
We bike on a golden street with a pink and purple sky ahead of us. In the summer the street smells of sun and leaves; I ride the bike through a curtain of green parting against fences on both sides. It's a Hollywood PG-rated movie. (In the winter, there will be the raspy throat of cold and sharpness and shadows but also lamps turned on inside houses filled with families. Christmas magic in the air -- the smell of pine everywhere.)
We pass a convenience store called Rosie's Garden. It's run by a Trinidadian woman, set up in old-school style with tables and chairs outside. She sells soursop ice cream, patties, sodas in bottles. You can sit and have your soda and ice cream outside when it's warm. This is where my boyfriend and I would meet when we briefly lived separately. It's where Frankie had his first ice cream ever. And my boyfriend showed up and joked about me trying the world-old trick of bribing my kid with sweets.
I laughed then but every time I bike by, I remember hating every second of our strange child handovers. On the Rosie's Garden patio, I passed Frankie over to my boyfriend and then rode off on my bike crying. Were we going to have to live through the weirdness of split custody from now on? Would any of us ever get used to it? The idea of being used to it only made me cry harder.
But now with Frankie on the back of my bike, those thoughts of what happened here early in the summer are only that -- thoughts. The reality is that we're going home and that we're going to have a meal as a whole family tonight. As we do almost every night.
And after the meal, and after I kiss my warm pink little boy goodbye and leave him with his dad, I will go to where I usually go every Wednesday evening. Even today. I'm under the weather today and there's nothing I want more right now than to just hang out with my toddler, but I go. I go to my meeting. It's important.
Sometimes I believe that my life does depend on it.
So that's how I stay stopped.
From Drunk Mom: A Memoir by Jowita Bydlowska. Reprinted by arrangement with Penguin Books, a member of Penguin Group (USA) LLC, A Penguin Random House Company. Copyright © Jowita Bydlowska, 2014.