Mother's Day is coming -- that one day we take to recognize and really appreciate "Mom" for everything she does for us.
The reality is that this year some of those wonderful Moms out there are facing a battle for their own life... while still trying to be superwoman! They are part of the 1,500,000+ diagnosed with cancer in the U.S. every single year.
While this isn't something we like to think about, the fact is being a mom -- or as I realized with a dear friend -- being pregnant does not make you immune to being diagnosed with cancer. If you know a Mom facing cancer -- at work, church, or in the neighborhood -- please share this with them to hopefully make their battle easier!
Here are some of the many "Dos & Don'ts at Diagnosis" and helpful resources especially for this time excerpted from "Cancer with JOY," an essential resource which helps those facing cancer still have happiness by providing resources, support, and en"courage"ment! No one's happy they have cancer of course, but you can have cancer and still be happy! I discovered through my personal battle with stage four cancer in my 30s cancer doesn't have to steal your joy!
My #1 DO on page 61 is "DO get a second opinion/go to someone who makes you comfortable!" To find the best hospital in your area, on page 115.
Correspondingly, my #1 DON'T listed on page 65 is "DON'T go to the Internet as your primary, initial source of information." I wrote, "I can recommend this after doing this. I am hoping to save you the anguish and pain I put myself through unnecessarily. Google is my friend-I thought!"
I personally know it's really hard to stay off of Google while waiting to get in for a medical appointment. Instead of "googling," we're familiar with the American Cancer Society web site at www.cancer.org, but few seem to know about www.cancer.net, which I feature on page 116 in the "Cancer Information" section of my detailed resources chapter. Here's a quick video that's less than five minutes showing you a page from cancer.net.
Another DO I share -- DO #6 -- from page 67 is "DO write all those questions down!" Often people wonder what questions they are "supposed to" ask their doctor. If you're on cancer.net looking under breast cancer, you'll see "Questions to Ask the Dr." on the right side which takes you here. That's quite a comprehensive list of questions!
You can find your cancer type and the corresponding list of questions to take with you starring what you feel is most important or relevant; for example for lung cancer it's here.
On page 69 a "DON'T" listed under #8 is "DON'T try to handle everything alone." On page 121 in the "Cancer Services" section I share www.lotsahelpinghands.com.
#9 on page 70 is "DO talk to someone who has 'been there.' I have a whole "Cancer Support" section in the comprehensive Resources chapter with more resources, but here's a few from that section to save you time.
Or visit www.imermanangels.org or www.hopefortwo.org, if Mom is pregnant while facing cancer like my friend Cristy (pictured below) was: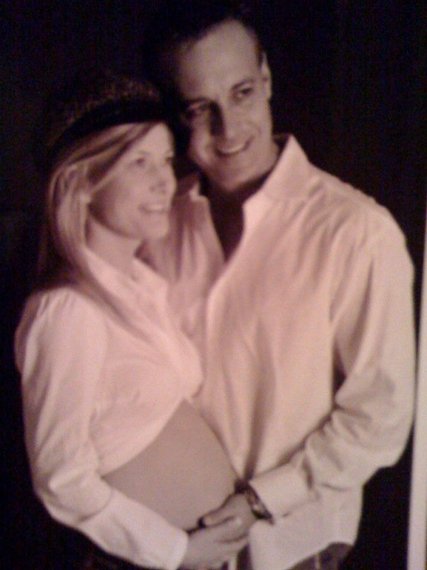 Also, www.cancercare.org.
On page 73 DO #12 is "DO plan to attend a Look Good... Feel Better class. I can testify after attending one of these what they say, "When you look good, you DO feel better!" On page 122 I share lookgoodfeelbetter.org.
Also don't forget about www.tlcdirect.org on page 124 to "help women cope during and after cancer treatments by providing wigs and other hair loss products (plus how-to information) as well as mastectomy products."
There's also www.cancerandcareers.org on page 125.
I'm here to help as your personal guide on how to face cancer and still be happy! To schedule an appointment with me (A Google Helpout) over live video so I can share more resources customized for you once I "meet" and talk to you, go here.
You can also pick-up "Cancer with JOY" available as a paperback, ebook, or audiobook to read or hear inspiring stories of moms who faced cancer in Chapter 3. An incredible Mom of 4 who was pregnant with her 5th child when she was diagnosed with cancer is my friend Cristy Norwood of AR; she shares her story on pages 42-45. I blogged about her here.
Wishing all the Moms out there an incredible Mother's Day! I hope these recommended dos, don'ts, and resources really help you out on your journey!