Joy Marini, Director, Worldwide Corporate Contributions at Johnson & Johnson and her teenage daughter Kendall have signed on to Catapult this holiday season. You can join their team to support women and girls globally--or start a team of your own. You can choose from a variety of causes from girls' education, to prevention of child marriage or enabling access to food and water.
Joy: "Empowering women and girls has long been a passion of mine. I am blessed to be able to work with girls, women and mothers worldwide at Johnson & Johnson. Now that I am the mother of a daughter who is facing the rollercoaster of teenage life, my commitment to the well-being of women and girls has taken on a whole new perspective. As I understand the world of my daughter more and see how she is trying to make a difference in the world, I hope that our story will inspire others to make a difference too. You can get involved in your own community, or support organizations all over the world that are making positive changes in the lives of women and girls.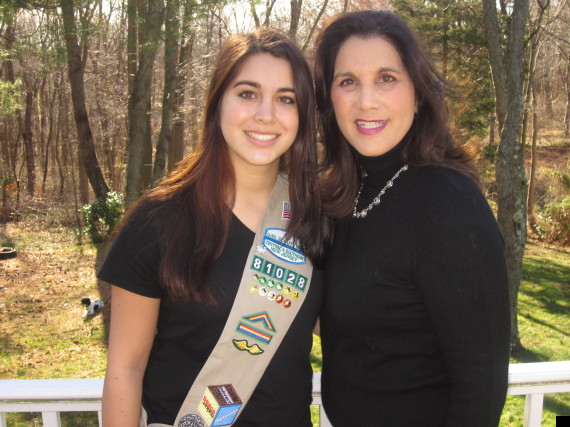 Kendall: "After pretty much sailing through elementary school with strong friendships and good grades, I entered middle school ready to take on the world. But things were different in middle school. Suddenly good grades became nerdy, and who you hung out with determined how cool you were. My friends from elementary school were now obsessed with their appearance and determined to be friends with the most popular crowd, even if it meant leaving their old friends. Determined to maintain my friendships, I began acting like them and started obsessing over my image. This only left me feeling insecure and alone.
One of my favorite quotes is by Chee Vai Tang. 'The greatest challenge in life is discovering who you really are and the second thing is being happy with what you find.' By the time I started high school, I realized that having a popular image was not as important as the sacrifices I had to make in order to sustain it. So, I branched out, and made new friends.
As a Girl Scout, I have always done community service. Last year, I decided to use my personal experiences for my service. I started working with younger girls on self-esteem and navigating the pressures of middle school--both social and educational. I believe that the groups of girls that I work with share their feelings because I'm not much older than they are. I believe that girls can help other girls. I believe that I can make a difference."

Joy: "I'm biased, but the first time that I watched Kendall sit with a group of younger girls, I was amazed at the self-confidence she showed and the honesty with which she answered their questions. Girls and women have gathered to share stories and support each other throughout history in settings from ancient cooking fires to quilting circles. A modern example is brought to life by Associação Saúde Criança (ASC), a Johnson & Johnson partner that addresses the needs of poor girls and their families in Brazil. An innovative program created in 2005 is Aconchego Teen, which focuses on critical issues faced by teenagers. Aconchego Teen means coziness, a place for warmth and security. ASC works with teenagers offering counseling and self-esteem building activities. They have found that with support, teenagers are more likely to stay in school and delay motherhood until they are ready. An important aspect of the program is providing a neutral space where both parents and teenagers can freely express their views."
Kendall and Joy: Approximately half of the world's 7 billion population is made up of people under 25 years old. They are our future and they must have access to education, health information and vocational skills if they are going to contribute to their fullest potential. Sadly, one out of five girls in the developing world does not complete sixth grade. Some girls never begin school. Others cannot complete their education for reasons including poverty, cultural traditions, lack of support or they marry before age 18. Educating girls delivers huge returns. Girls who go to school are healthier, and have a more secure financial future.
Our dream is that every girl, everywhere, has the opportunity to reach her full potential--to learn, grow, laugh and, when she is ready, to have a family of her own. We are excited to share a new platform to support girls and women called Catapult. You can choose a project. Then choose an area of the world in which you want to launch your change. In December 2012 and January 2013, your contribution will be doubled because Johnson & Johnson will match your donation up to $50,000 for specific organizations that support women and girls. Look for the red ribbon indicating a Johnson & Johnson match project. Even gift cards can be redeemed for a matched donation. Please join our team!
Catapult is where you can get involved in empowering women and girls. Launched in October 2012, Catapult is the first online funding site dedicated specifically to advancing gender equality, and already features 70 projects in more than 30 countries.
Catapult and Johnson & Johnson have teamed up to double your impact this giving season. Johnson & Johnson is supporting a matching gifts donation to their partners on Catapult-up to $50,000-from December 6 through January 31.