The first thing you learn when you arrive in Mexico City is that nothing's ever on time. A concert that promises to start at 9pm begins at 10:30pm, a museum that claims it's open Monday thru Friday, is unexpectedly closed on Wednesday, and when the artist I'm scheduled to meet at the Luis Adelantado Gallery says he stepped out for a minute and will be back soon, I anticipate at least an hour wait. When Marcos Castro finally arrives, he quickly steps out of the car and sheepishly apologies. He had to get some supplies and it took longer than he expected. He introduces his friend Rodrigo Sastre, who's helping assemble a few things for the show, unlocks the door, and ushers me inside.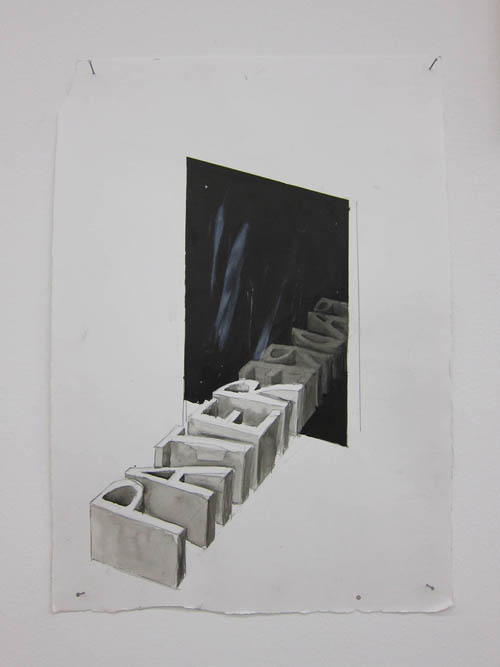 At first glance, Marcos doesn't look like your typical artist. With his hulking figure, multiple tattoos, and long wavy hair, he seems like he'd be more comfortable in a rock band than painting deer on a canvas. But considering his lineage, he comes from a family of celebrated artists, it's no surprise how he found his calling. "I've known since I was kid what I wanted to do and that was art," he says. He went to art school, never graduated, and opted to drop out to focus full time on his craft. "I just wanted to paint."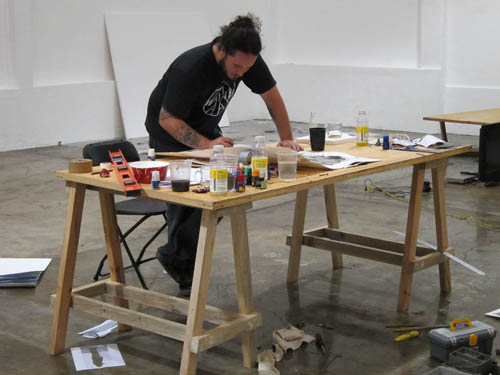 Recognized on the Mexican art scene primarily for his depiction of wildlife creatures, this project marks a big departure from his usual comfort zone. Had he considered working with his father before? "No, this is my first time. I don't really talk to my father about my work so to now work with him is weird," says Marcos. "This is the first but it might be the last," he says jokingly. "The animals I usually draw allow me to express myself, they're my feelings, a symbol of who I am," he explains, "but now I'm drawing something different and working with someone."
In relative darkness he leads me towards the main hub of the gallery where he and his father, artist Alberto Castro Leñero, one of Mexico's rising art stars in the '80s, have set up their makeshift studio/ experimental art lab. Their artwork is scattered haphazardly all over the place, covering walls, floors, tables, and even dangling down the side of scaffolding. Here they work on completing the pieces to their current show, which is now open to the public.
Their exhibit entitled "Pater/Padre" is a collaboration bringing father and son together for the very first time. This "work in progress," that will be finished once the show is ready to close, it is an exploration of the paternal relationship from beginning to end as is metaphorically illustrated by the huge sunrise and sunset paintings that greet you as you enter the gallery. Side-by-side, father and son work on one half of each art piece to create the idea of a "mirror-image" while retaining their own artistic individuality. A reoccurring theme in their show is the pelvic bone, also referred to as "the cradle of life." They've made several drawings, including a huge black on black painting, because, Castro explains, "This is where life begins for all of us."
Before I leave Castro and Sastre at the gallery, I ask if his daughter's impending birth was the catalyst for the show. Has it influenced his work at all? "I'm at a crossroads," he says nervously. "I'm exploring the unknown right now." When asked if he's nervous about becoming a first-time father, he shrugs. "I don't know," he replies quietly and begins to paint. No sooner than he starts, he stops, and turns to face me with a newfound confidence. "I'm excited, it's going to be great. No, it's going to be amazing."

Marcos Castro's Pater/Padre
Open till November 20th, 2010
Luis Adelantado Mexico
Laguna de Términos 260
Col. Anahuac, 11320 México D.F.
Info@luisadelantadomexico.com
Open: Mon-Sat. 10am-2pm & 3pm-7pm
PHOTO GALLERY
BEFORE YOU GO
Marcos Castro: Pater/Padre
PHOTO GALLERY
Marcos Castro: Pater/Padre