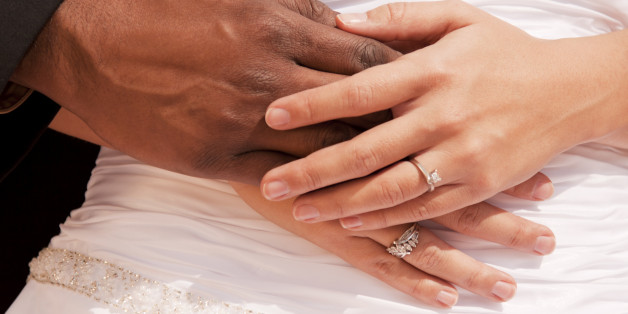 I'm often asked what is my favorite wedding; but that's a little bit like asking to name your favorite child! However, a wedding whose memory I cherish was for Caterina and Frank. She was Mexican Catholic and he was Jewish from Philadelphia. Caterina's mother was dying and so they decided to have the wedding in her family's hometown, an hour outside Mexico City. The wedding was held at a resort whose main building was 450-years-old and had been built by Cortez as a gift to his mistress.
The ceremony took place in the courtyard of a 200-year-old mission chapel. A Chuppah was set up and underneath it, in a corner, was a statue of Our Lady of Guadalupe, patron of Mexican Catholics.
During the ceremony, the couple had readings in both Spanish and English. After the exchange of vows and rings, they presented roses to their mothers during which Caterina's uncle, a noted Mexican actor, sang Ave Maria.
Prior to the final blessing, the bride's godparents draped them with a veil and cord (a Mexican Catholic wedding ritual) and I offered an ancient Jewish nuptial blessing. After I pronounced them husband and wife, Frank stomped the glass, all shouted "Mazel Tov" and the Mariachi Band kicked in!
This is one of my favorite weddings because while there was so much that could have divided these families, they chose to focus on what united them. Caterina and Frank's families came from very different worlds and yet all came to that courtyard believing God would bless them in ways seen and unseen, known and unknown. And people responded enthusiastically to the ceremony because it presented old symbols and rituals in a respectfully new way that reminded everyone that life is good.
I've been privileged to celebrate ceremonies for scores of other cross-cultural, inter-faith couples, including: Lebanese Greek-Orthodox and Persian Muslim; Indian Hindu and Indian Muslim; Irish Catholic and Chinese Atheist; Italian Buddhist and Mexican Catholic; Egyptian Coptic Christian and African-American Baptist! All these couples (and many more like them) belonged to families of strong cultural and faith traditions, rich in wedding rituals, ancient and sacred.
For some couples their parents actively participate in faith communities and, yes, these parents were disappointed that their daughter or son was not getting married in "the" religion. For other couples, their parents no longer have a consistent religious observance. Most of my couples were raised in some religious practice through their teens and then in college outright rejected their religion.
However, as each of these couples began planning for their wedding, they and their parents started to wonder about what kind of ceremony they could have outside a religious setting.
Many couples come to me hoping to create a ceremony that isn't specifically religious, yet acknowledges cultural and religious roots. While they may not turn to those roots for regular support, in this time of personal and familial transition they want to give weight and value to symbols and their transcendence. They want to respect their families' cultural and religious traditions without a full-on religious ceremony because it wouldn't reflect who they are individually and as a couple.
One of the first questions I ask a couple is: "What signature elements from your families' religious/cultural traditions do you want included?"
A great beauty of the ancient faith traditions is that they share a common symbolic "vocabulary" of sights, sounds, smells, tastes and textures. The tying of a couple's hands, the lighting of candles, the drinking of wine and sharing a cup of blessing, the cleansing of hands, the feeding of sweetness, the draping or crowning with veils, cords or head adornment is found across many faith traditions.
In creating a contemporary ceremony the guiding question must always be: "What symbols are important to the couple and their families and how can they be woven into the ceremony to give them fresh visual impact?"
In weaving these various elements into the ceremony, I'm mindful that:
• The symbol should not need a lengthy explanation because it's meaning is visually understandable
• The ritual is easy to carry out and doesn't stop the ceremony in its flow
• Family or friends can participate in some way so as to reflect their own affirming and blessing of the couple
• The couple are comfortable with the ritual and embrace its symbolic meaning
For example: the bride was Chinese and the groom Jewish. They had a Chuppah made from strips of Chinese silk along with a panel from the Chuppah used at the groom's grandmother's wedding. Underneath the Chuppah was a table on which was the tea set later used in a modified version of the Chinese Tea Ceremony. The groom smashed the glass at the end of the ceremony.
Another bride, who was Greek Orthodox, and her Persian groom, participated in several Persian rituals (conducted by the groom's cousin who was assisted by honored female relatives of the couple), ending with them feeding each other honey. With the sweetness of honey on their tongues, they exchanged vows. At ceremony's end, their mothers placed "crowns" on their heads (an Orthodox tradition) and I offered them an Irish blessing that the couple selected!
Language is another sure way to honor culture. A reading can be offered first in the mother tongue of the bride or groom and then in English. One couple offered their vows in English and then, to honor the groom's family, made a pledge in Swedish as they placed the rings on each other's hands.
When done right, a fusion ceremony honors the couple's cultures and religions by seamlessly weaving signature moments in such a way that they don't appear out-of-place, don't disrupt the flow of the ceremony and don't bring about a sense of "dueling deities."
All rituals and symbols should work together to create a ceremony that is the visual manifestation of the collective hope and blessing that families and friends have for the couple.
***
JP Reynolds, M.Div. has officiated more than one thousand weddings and has coached hundreds of people in how to create and deliver heartfelt, personalized ceremonies. If you've been invited by a friend or relative to celebrate their wedding ceremony and are wondering what to do, visit JP's website: http://ceremonymadesimple.com