On Saturday, I celebrated the 26th annual Adoption Day at the D.C. Superior Court with several Children's Law Center clients as their relationships were formally recognized with a final decree of adoption. Some of our clients agreed to share their stories in order to encourage more families to adopt.
Five-year-old Norman's family has grown to include not just his birth parents and a birth brother, but now with adoption he also has two dads and two dogs. Preschoolers Da'Ja and Da'Quan were just adopted by their grandmother, Rhonda Stanley, whose grandmother also lives with them -- so they have a loving multigenerational home. Mahkii has always felt like part of Taunya J's family; he'll probably be asking "where's my hug?" tonight like usual.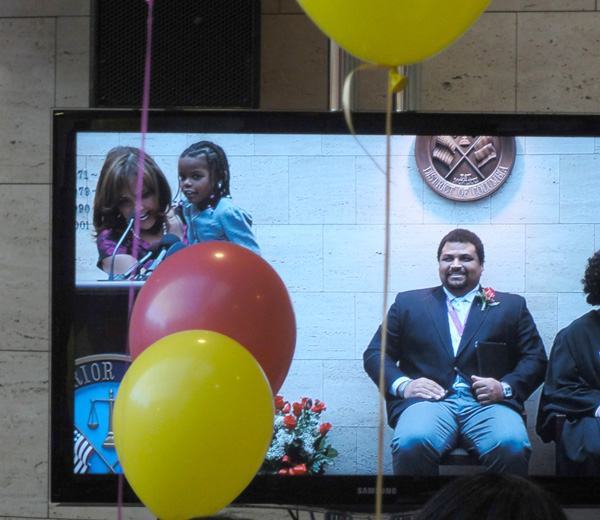 Da'Ja at the podium with Adoption Day emcee Barbara Harrison, with guest speaker Reese Hoffa at right. Rhonda Stanley's adoption of Da'Ja and her brother Da'Quan was finalized at D.C.'s 26th annual Adoption Day.
Adoption is a wonderful way to recognize the families that are created when adults step in to raise children whose birth parents are not able to provide them a safe home. The law literally gives those children new parents -- with all the rights and responsibilities that come with parenthood. Children's Law Center attorneys represent children and foster parents in many adoption cases year-round.
Today, just as our definition of family has expanded, so have the legal ways in which families are created. I'd like to propose that we use Adoption Day and Adoption Month to celebrate all of those families created not just through adoption -- but also through other legal avenues such as custody and adoption. Because, in the end, Adoption Day and Month are really about celebrating family -- and the importance of every child having the unconditional love and lifelong support that is what all of us hope a family will be.
There are many ways that families in the District of Columbia are created and kept strong -- I applaud the grandparents, aunts, uncles, cousins, foster parents and step parents who create families and provide love and support to children who are not theirs by birth alone.
Nationally, about 1 in 10 children live in homes headed by grandparents and in D.C. the numbers are larger than that. And even more children live with other relatives -- aunts, uncles and cousins -- sometimes even with neighbors who our young clients usually call "play aunts" or "play uncles."
In these families, just like in families headed by a birth mother and father, adult caregivers make sure that their children have the basic necessities -- food, clothing and shelter. In these families, just like in families headed by a birth mother and father, adult caregivers take their children to the doctor, attend parent-teacher conferences, and make personal sacrifices to be sure their children feel happy and loved.
When these caregivers want to make sure their relationships are recognized as permanent, loving families, adoption isn't the only route. The law recognizes arrangements called custody and guardianship, so that non-parent caregivers can get the rights and responsibilities to make important decisions for their children -- and so that children can rest assured that they too have a family.
This assurance can mean everything to a child who has faced uncertainty and loss -- like one young boy I can't forget. After his mother's death, he bounced around several foster homes and finally came to live with his grandmother. He was afraid she might abandon him too, so he started hiding his grandmother's shoes so she couldn't leave the house. He only stopped hiding her shoes once his grandmother showed him the guardianship order signed by a judge -- then he was convinced that his grandmother truly was his forever family.
I'm glad that Adoption Day exists to recognize families brought together by adoption. And, in the future, I hope more people join me in using the day as an opportunity to celebrate the scores of other families who have found permanency through guardianship and custody as well.