Shining Star -- Joan Rivers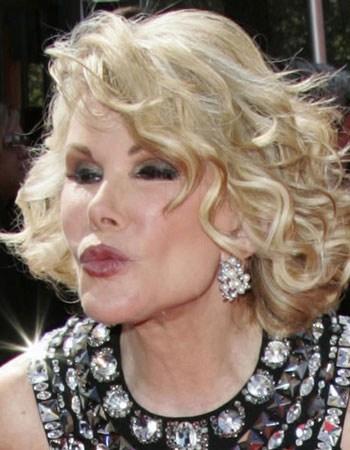 At the age of 77, one of the (nipped and tucked) queens of comedy is showing those young whippersnappers how it's done.
Pretty soon Joan Rivers will soon have not one, but two (or possibly even three) shows on the boob tube.
The saucy comedienne already returned to E!'s airwaves earlier this year (after parting with the channel back in 2003) for her weekly "Fashion Police" show. And she put her gift of gab to good use as host of TV Land's "How'd You Get So Rich?" series (which hasn't yet been renewed for a third season).
Now, she's getting Kardashian-ed. In other words, River's getting her own reality show with her daughter. "Joan & Melissa: Joan Knows Best?" debuts on We TV at the end of January.
Oh, and all this TV work's in addition to her standup gigs and QVC jewelry line. So if they complain that they're tired, tell those seniors at the old folks' home to take one look at Rivers' energy, and play an extra round of bingo tonight!
Falling Star -- Jennifer Aniston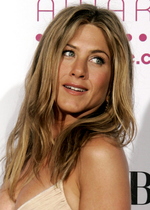 When one A-list actress works with a fellow A-lister in a film, they can light up the screen. But when one A-list lady attempts to interview another one for a magazine, there's only one way to describe the results: gag-inducing.
Apparently facing such tough economic times that they no longer can pay seasoned reporters to talk to celebs, the February issue of Harper's Bazaar has Friends alum Jennifer Aniston interviewing her Just Go With It co-star, Nicole Kidman. One example of Aniston's hard-hitting questions: "You are like the Secretariat of actresses -- when I see your body of work and everything you have achieved. But in the midst of all these unbelievable roles, I forgot how funny you can be."
OK, there wasn't really a question in that "question" from Aniston -- regardless, Kidman answers:
"I know, you kept saying to me that I was funny, and I was like, Really? I never get asked to do comedy!"
Wow, truly eye-opening stuff! Aniston is surely no Barbara Walters, folks.
The rest of the interview goes something like this:
Aniston to Kidman: "Okay, let me just say this: Physically, you are a masterpiece."
Kidman to Aniston: "Excuse me, you wear a bikini in the film and you look like you're 20 years old."
Aniston to Kidman: "You are a freak of nature. You have the best body I've ever seen. And I'm a heterosexual girl. You look good morning, noon, and night."
I've heard of flattering someone in an interview... but Aniston could bake a few dozen cakes with all that buttering up she's doing!