Finally, long years of being sad and separated are over for my wife and me, as well as for thousands more same-sex binational families. Since the Supreme Court dismissed Section 3 of the Defense of Marriage Act (DOMA) on June 26, 2013, my wife is my wife in Uncle Sam's eyes. That's a big relief!
Less than a month later, on July 23, 2013, my wife Karin Bogliolo, a UK national, received her green card.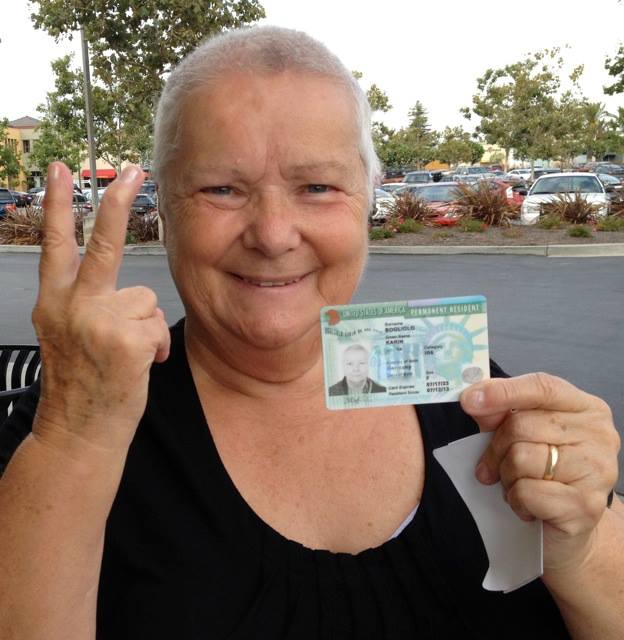 Karin with her green card. Victory!
Now she can be with me legally and safely in the United States. She can travel on her own or with me and return safely through the U.S. residents' line at border-crossing customs desks. Our future is ours to plan; travel taken and time spent doing it are not at the whim of the U.S. government anymore but at the realities of our bank account and the limitations or expansiveness of our wanderlust. That's the way it should be, and now it is. But this didn't just happen overnight, or in less than a month.
Our trail started when we met in 2005. We met in America, online. Karin was visiting in Oregon. We met because she liked my profile and photos, so she clicked on me. She didn't know I would be notified, so she was surprised a few days later when I sent her a message and asked why she liked me and clicked on me. Then she struggled with her feelings but decided to respond to me. Then it was Internet ping-pong for a few days. Then I called her. Then we talked on the phone a few more times. Then she asked me to be her date at a PFLAG dance/fundraiser in Ashland, Ore. I told her I didn't dance. She said she didn't either. So I went, and we had a fun long weekend. That sort of sealed the deal and started the story that our lives are unfolding.
Soon after that dance, Karin came to California for Christmas and my birthday. Then we waited to see what would happen. Long story short, we committed to each other in 2006. We had a commitment ceremony and became registered domestic partners in California on Valentine's Day 2007. In 2008 Karin left for six months again, only to be detained for hours at the San Francisco International Airport and questioned by Immigration and Customs Enforcement (ICE) when we returned together. She was told to leave for a long time because she was coming to the U.S. too often.
So that we could be together more than apart, I took early retirement, and in May 2009 I drove to Canada to meet Karin, who had been out of the U.S. for almost a year.
By 2011 we decided to marry (marry marry, not skim-milk marry, to borrow Supreme Court Justice Ruth Bader Ginsberg's phrase) and eloped to Vermont, where we were married in a bed and breakfast by a justice of the peace. Our witnesses, enthralled with the romantic story, were the owner and staff of the Inn at Mount Snow.
Less than a year later I took the plunge, the risk, of applying for a green card for my wife, though it was against the law because DOMA was in place. We met the first two requirements, Karin's medical exam and biometrics appointments, and then waited for our marriage interview. Because of conflicts with our lawyer's schedule and the dates we were given, several postponements happened, and we finally met with a United States Citizenship and Immigration Services (USCIS) officer on Sept. 7, 2012, in San Jose.
Though we met all requirements, we could not get the green card because of DOMA. Our officer was very sympathetic and empathetic, but he could not give us the card. But he also did not deny us the card. Without calling it abeyance, which we wanted, he put us under further review. That review lasted 10 months. We were never threatened with denial the whole time.
In July 2013 letters came in the mail, one to me, telling me that my application had been granted, and one to Karin, saying "welcome to the United States" and notifying her that her petition had been granted.
The few days between the mail on July 19 and the mail on July 23 were more than frustrating for Karin. She wanted that card in hand so that she could book her flight to see family and friends in the UK. She got over it when the card came. On July 30 she is airborne!
Looking back on this history, which has changed the world for so many, I reflect on the good folks who paved the way. In 2009 and 2010, as I was researching and writing my book and finding ways to help in the struggle, I found and worked with Immigration Equality, Love Exiles Foundation and Out4Immigration. We became great friends and did good work with those groups. The royalties I received from my book, Torn Apart: United by Love, Divided by Law (Findhorn Press 2011), have been divided among these three groups.
Around the time of my book launch in May 2011, Karin and I met Lavi Soloway and learned of his work with The DOMA Project. We signed on with him as our lawyer and helped blaze the trail on getting our same-sex binational spouses recognized federally.
We didn't get comprehensive immigration reform that included same-sex binational families, the legislative solution we wanted. In fact, the Uniting American Families Act (UAFA), which would have taken care of us for immigration, was left on the cutting-room floor when the Senate committee finalized its comprehensive immigration reform bill to send to the full Senate for consideration.
I am glad that through the Supreme Court, thousands of us eventually got the immigration solution we needed, but I am heartbroken at what is not happening with comprehensive immigration reform for millions who need help to reunite their families and have a pathway to citizenship to be safely in the U.S. together. Within those estimated 11 million undocumented immigrants are an estimated 264,000 LGBT folks who are not same-sex binational families. Some may be married to each other, but most are single and most are men, according to the Williams Institute.
You have been great to support us, to follow this story of same-sex binational families and how they got reunited when DOMA took its first hit. Now you can help me spread the word that DOMA needs to go completely. The Respect for Marriage Act will take care of that. That's the first thing. Second is comprehensive immigration reform, which is not here yet. It is urgently needed, and you can help. Help with both of these now, please.
Contact your U.S. senators and your congressional representative. Tell them that DOMA needs to go completely, and ask them to please pass the Respect for Marriage Act. And next, tell them that we need comprehensive immigration reform now. It will help so many. Tell them to get over all the haggling and make a pathway to citizenship and safety for those who need it, now. Thanks, all.