This article originally appeared on Peaceful Dumpling.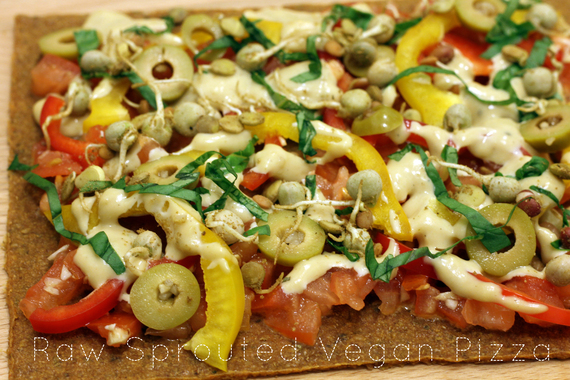 Contrary to what many non-vegans might think, being a vegan has actually expanded my culinary repertoire. Discovering so many different ways to eat healthfully is one of the great joys of a plant-based diet, and my latest obsession is eating raw, sprouted nuts and legumes. When a seed (such as any grain, nut, legume, or vegetable seed) germinates, it breaks down the reserve supply of nutrients into simpler compounds that can be used effectively by the plant -- and by people who eat them. According to a recent study published in the Food Chemistry journal, sprouts have more nutrients than their ungerminated counterparts, including flavonoids (which, among other benefits, protect against cardiovascular diseases) and antioxidant activity.
My favorite way to incorporate more sprouted foods is to "cook" with raw sprouted nut butters. Unlike other natural nut butters, which are oily at top and chalk-dry at the bottom, sprouted nut butters have a smooth, appealing creaminess. But what I really love is the distinct flavor that can only be described as umami-sweetness, which comes from both freshness and the sprouting process. The cashew butter is especially perfect when it's whipped into a nut "cheese" and topped over savory raw vegan pizza. This is the dish that will win over anyone -- even my red-blooded, manly-man boyfriend was floored after taking just one bite. Make twice as many as you think you need to. Trust me.

Raw Vegan Pizza with Sprouted Nut Cheese

1 pizza (serves one as an entree, two as appetizer)
4 tbsp raw sprouted cashew butter (make sure that it's organic and natural; I used Blue Mountain Organics Better Than Roasted butter)
2 tbsp water
1 tbsp nutritional yeast
2 small garlic cloves, minced
1 raw wrap (I used Raw Bakery brand Tomato wrap)
1 tomato, chopped fine
7-8 olives, sliced
1/2 cup thinly sliced yellow and red bell peppers
Sprouted peas/lentils/chickpeas/mung beans
½ tsp coriander
¼ tsp cumin
½ tsp dried oregano
Coarse salt (I used pink Himalayan)
Ground black pepper
About 5 basil leaves, slivered
1. In a small bowl, whisk together the cashew butter, water, and nutritional yeast until the texture is creamy, like melted cheese. Add about one minced garlic clove (about 1/2 teaspoon), and salt and pepper generously. Set aside.
2. In another bowl, mix the chopped tomato, dried oregano, and the rest of the minced garlic. Sprinkle with salt and pepper.
3. In another bowl, toss the sprouted peas/lentils/chickpeas etc with coriander, cumin, salt and pepper.
4. To assemble: lay the wrap on a large plate and add the toppings in order -- tomatoes, bell pepper slices, nut cheese, olives, sprouts, and basil. Enjoy!
*Other topping ideas:
-Substitute walnut butter for cashew butter, and blend with 10-12 basil leaves; add sundried tomatoes and raw portobello mushroom slices, for a raw walnut pesto pizza
-Add fresh pineapple slices and coconut "bacon" (coconut shavings infused with liquid smoke) for a raw Hawaiian pizza
Photo: Peaceful Dumpling