Venture is a rich and readable collection of true microfinance stories. It is written for anyone who would like to better understand the realities faced by the the aspiring middle class in the world's least developed countries, the range of factors that affect their prospects for working their way out of poverty, and how microfinance can impact their lives.
The entrepreneurs featured in this book are all members of Zidisha Microfinance, a web-based crowdfunding platform that allows low-income, computer-savvy entrepreneurs in developing countries to share their stories and negotiate microloans directly with individual lenders. As the world's first person-to-person lending service to eliminate intermediaries and connect individual web users and entrepreneurs across the international wealth divide, Zidisha is uniquely positioned to offer an undistorted depiction of the variety of individual stories and circumstances that come to play each time a microfinance loan is disbursed.

Each story paints an unforgettable picture: A 70-year-old goat farmer who relocates his home to better care for his ailing father, carrying the sticks and metal sheeting it was made from across the mountains on his back. A plump, beaming detergent saleslady who lives in a home no larger than an ordinary bathroom but has adopted five orphans. A cancer survivor who supports herself and two children by pounding millet for $1.58 per day. An irrepressible lady who supplies half of her neighborhood with much-needed IVs and other medical supplies by day, and by night checks into the local cybercafe to chat with Facebook friends on the other side of the world. A young man who has no arms but insists on working to support his able-bodied parents out of filial duty. An accounting student who pays for his university tuition by purchasing a taxi and splitting proceeds with a hired driver. A bright young lady who renounces college to care for her orphaned siblings and overcomes gender stereotypes to launch a thriving construction business.
At its heart, "Venture" is a tribute to the remarkable community of Zidisha Microfinance entrepreneurs and countless others like them -- a tribute to their grit, ambition and indomitable spirit in the face of overwhelming obstacles. We hope this book will help translate the statistics about poverty and the opportunities afforded by microfinance into human terms, and inspire readers to reach out and connect with their counterparts on the other side of the international wealth divide.
Story 19: "The Fish in Kenya Are Not Educated"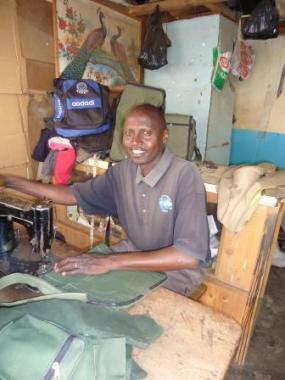 Pastor Joseph Ndungu is married and the proud father of ten children in Rongai, Kenya.  His main business is making covers for bibles and seat covers for motorbikes from synthetic leather, and children's school bags made from durable canvas. When I asked him how he learned to make all these things, he told me that he had been taught to stitch clothes and everything else is "just from God." 
Pastor Ndungu used a Zidisha loan of $489 to purchase fabric in bulk.  This has allowed him to expand production of the school bags to the point that he has employed another craftsman, and anticipates exporting his canvas bags to neighboring countries. The Pastor told me that he got the loan at the right time because he had just received an order for 280 school bags.
Pastor Ndungu seems to be very popular in his community and is full of life. He is an extraordinarily inventive and prolific businessman. He has designed fishing hooks that look like live insects. When I asked him if there was much demand for such hooks, he said "the fish in Kenya are not educated enough for this kind of bait," so he mostly looks for exporting these. Apart from designing these hooks, he also designs jewelry. He says that while the fishing hooks are for husbands, the jewelry is for the wives. He explains, "What'll the wife do when you go fishing?"
Pastor Ndungu's workshop is the railway station of Rongai town, in Kenya's Rift Valley province. No trains stop here anymore, so he rents the small railway station, which also serves as the church on Sundays. Pastor Ndungu told me that on Sundays his church is full of people. Looking at his energy, charm, great wit and charisma, I'm not surprised.  

Joseph's Words:
Am married to Margare, blessed with ten children, and I love my family for they do support me in my business and church ministry. I used to make canvas bags for schoolchildren and traveling bags and also seat covers for motorbikes. I love the job because there is no great competition for we are only two experts in my Rongai town. People love me because of respecting them and serve them in a loving manner. I joined the business after completing dropping from form two [second year of high school] because of money. I was trained in the business in 2000. The business supports me in paying [school] fees of my children, business house rent, communication, stock, my salary paying revenue among other things. I prefer the business because children are being born daily and joining school every year or so. The demand of bags is plenty there. Concerning the motorbike seat covers is that there are are many motorbikes bought daily for boda boda [taxis] and their covers wear out now and then. After spending I am left with KSH 10,000 [$125] monthly...

After receiving my loan from Zidisha, I have seen great improvement. I was doing my business in a very small house where I could not keep two sewing machine and I could not accommodate more than two people because of space. During dry season, it was the way of all dust of the town and when rainy season comes it was worse because rainwater of the town also passes there and enters my shop. The work in the morning was to put my bags on the sun in order to dry.

After receiving the money, I shifted to a big house. Even my customers have enough space to rest as they wait for the service. Also a space for parking more than five motor bikes and also space for four sewing machines. My two girls has joined a private school for a classic education and I am able to pay for their school education.

When I was looking for the business that I would start, I considered some things because I was ministering a church by that time and I could not leave and so I decided to start the unique work that was not in the town. I started binding books mostly Bibles. To expand my business, I thought of making school bags for there was no one dealing with it. I went and bought a bag plus materials and I made a canvas bag. It looked good than the one I bought. I started making school bags from that day onwards.

I introduced canvas schoolbags and I have been selling them and I do give a guarantee of two years just to give surety that what I am making is of high quality. I have been selling in retail and my bags have gone as far as Mombasa and Kitale. I looked at the motorbikes and I decided to expand my business again through making seat covers, which is paying me more than other things. I do serve people from 20 square kilometers away... I am planning to expand my business even to reach other countries. I visited Uganda and I can get market there. Also I am planning to visit Southern Sudan to find out whether I can also get a market there.

Through Zidisha, I have achieved a lot because I have managed to purchase my materials, which are very expensive. What I get as profit, I decide to share it with an orphan whom I have supported him in his education. It's my prayer that one day I will be in a position of lending to others than being a borrower. Thanks to Zidisha family for what they are doing.
You may view more comments and photos of Joseph at his Zidisha Microfinance profile page.
From Chapter 19 of Venture: A Collection of True Microfinance Stories by Zidisha Microfinance.
Next time:A Burkinabe villager teams up with international investors to turn a an abandoned desert waterfall into a traveler's oasis...