Venture is a rich and readable collection of true microfinance stories. It is written for anyone who would like to better understand the realities faced by the the aspiring middle class in the world's least developed countries, the range of factors that affect their prospects for working their way out of poverty, and how microfinance can impact their lives.
The entrepreneurs featured in this book are all members of Zidisha Microfinance, a web-based crowdfunding platform that allows low-income, computer-savvy entrepreneurs in developing countries to share their stories and negotiate microloans directly with individual lenders. As the world's first person-to-person lending service to eliminate intermediaries and connect individual web users and entrepreneurs across the international wealth divide, Zidisha is uniquely positioned to offer an undistorted depiction of the variety of individual stories and circumstances that come to play each time a microfinance loan is disbursed.

Each story paints an unforgettable picture: A 70-year-old goat farmer who relocates his home to better care for his ailing father, carrying the sticks and metal sheeting it was made from across the mountains on his back. A plump, beaming detergent saleslady who lives in a home no larger than an ordinary bathroom but has adopted five orphans. A cancer survivor who supports herself and two children by pounding millet for $1.58 per day. An irrepressible lady who supplies half of her neighborhood with much-needed IVs and other medical supplies by day, and by night checks into the local cybercafe to chat with Facebook friends on the other side of the world. A young man who has no arms but insists on working to support his able-bodied parents out of filial duty. An accounting student who pays for his university tuition by purchasing a taxi and splitting proceeds with a hired driver. A bright young lady who renounces college to care for her orphaned siblings and overcomes gender stereotypes to launch a thriving construction business.
At its heart, "Venture" is a tribute to the remarkable community of Zidisha Microfinance entrepreneurs and countless others like them -- a tribute to their grit, ambition and indomitable spirit in the face of overwhelming obstacles. We hope this book will help translate the statistics about poverty and the opportunities afforded by microfinance into human terms, and inspire readers to reach out and connect with their counterparts on the other side of the international wealth divide.
Story 35: "The Last Mile"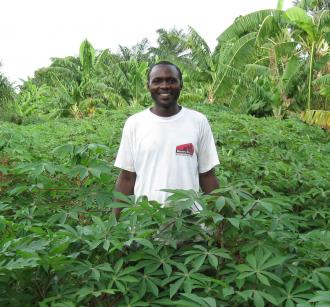 Takalédougou is a tiny village in the vast interior of the desert country of Burkina Faso. The nearest source of running water and electricity is fifteen kilometers away - a full day's journey by donkey cart.
This is the place where a remarkable Burkinabe entrepreneur has his home and farm. Siaka Traore is also a very charming person and he switched fluently from French to English while he welcomed me last weekend and explained everything about his greatest passion: manioc growing and everything related to it.
Because the national sugar company has comandeered most of the arable land in Takalédougou itself, Siaka's manioc farm is located eight kilometers away from the village. At the foot of an imposing mass of rock, Siaka has transformed 2.5 hectares of desert into a source of food and employment for an entire community.
Siaka has divided the land into several parts, and planted manioc on each part at a different time in order to distribute harvests throughout the year. On the field with the youngest plants he mixed the manioc with watermelon in order to get the most out of the energy in the soil. This phased approach not only ensures a continuous supply of manioc, but it also helps smooth the traditionally uneven incomes of the villagers whom Siaka pays to assist with the harvesting.
Later that afternoon Siaka showed me the equipment he bought with his first Zidisha loan of $963: a set of machines for grinding, sifting and pressing the manioc into a couscous-like food called attièke. Attièke is very popular and nutritious, and people in Burkina Faso enjoy it as a staple food, accompanied with lots of salt, raw onions, spices, oil and dried fish.
In the past the women of Takalédougou were working day and night to grind as much manioc as possible by hand. Grinding manioc by hand is not only backbreaking labor, but it is also very inefficient and produces attièke of inferior quality. As a result, most of the harvest had to be sold unprocessed and thus at a cheaper price.
With the new grinding, sifting and pressing machines, Siaka is able to grind all of his own harvest, plus the smaller harvests of the women in the village. As the price of attièke is more than double that of raw manioc, the incomes of Siaka and the village women who use the machines has gone up dramatically. As an added bonus, the manioc husk grindings that are produced as a by-product are used to fatten the village's oxen, pigs and chickens. For now Siaka transports the harvest to his home with an ox cart, but that is very slow. A future loan with Zidisha will certainly be used for buying a motorized vehicle!
The Zidisha loan was slightly more than what was needed to purchase the manioc processing machines, and Siaka used the remainder of the funds to purchase a solar panel. The solar panel powers a light, which allows Siaka to use the grinding machine in the evenings, freeing up his daylight hours for working in his fields. Siaka's solar panel gives the residents of Takalédougou one more reason to congregate at his house: they rely on it to recharge the batteries of their mobile phones. The phones, which increasingly come with internet as well as voice and text capabilities, connect the people in this remote place with the outside world - and an ever-widening landscape of opportunity for a better life.
Siaka's project is a beautiful example of efficiency and vision and these characteristics allowed him to really make the best out of the loan he received. He is so grateful for the chance he got and he asked me many times to thank Zidisha and all individual lenders. He is now very confidently looking into the future and he hopes he can continue to walk along this way for a very long time. He dreams of providing jobs to more people, of arranging contracts to provide neighboring schools with a steady supply of attièke, of traveling to Ghana and perhaps even the United Stated to practice his English...
We closed a rewarding afternoon with a delicious meal of attièke and bananas. I wish I could have shared it will all of you. Please stay tuned. To be continued for sure!
Siaka's Words:
I have two wives, four children, and two nephews. I also took in two orphans, a boy and a girl. I live in Takalédougou, a village located 15 kilometers from Banfora and 75 kilometers from Bobo Dioulasso. I like agriculture and raising cattle. I completed elementary school in Takalédougou and then middle and high school in Banfora. I have a high school degree. I studied English with Target International Language. I received training to be a language tutor with the USA Peace Corps...

I produce and process manioc (gari and attièke). I cultivate manioc, process it, and use the residue to raise cattle such as pigs, goats, and sheep. I am currently producing very little so as to provide for the population and SNSOSUCO [national sugar company] workers. Because of the quality of my product, I am considering large-scale production to supply certain areas of Burkina and also Mali thanks to loyal customers of Dédougou. This project will help all manioc producers as well as cattle farmers. It will contribute to creating employment for some people from the village and will help fight against poverty and starvation.
You may view more comments and photos at Siaka's Zidisha Microfinance profile page.
From Chapter 35 of Venture: A Collection of True Microfinance Stories by Zidisha Microfinance.