Venture is a rich and readable collection of true microfinance stories. It is written for anyone who would like to better understand the realities faced by the the aspiring middle class in the world's least developed countries, the range of factors that affect their prospects for working their way out of poverty, and how microfinance can impact their lives.
The entrepreneurs featured in this book are all members of Zidisha Microfinance, a web-based crowdfunding platform that allows low-income, computer-savvy entrepreneurs in developing countries to share their stories and negotiate microloans directly with individual lenders. As the world's first person-to-person lending service to eliminate intermediaries and connect individual web users and entrepreneurs across the international wealth divide, Zidisha is uniquely positioned to offer an undistorted depiction of the variety of individual stories and circumstances that come to play each time a microfinance loan is disbursed.

Each story paints an unforgettable picture: A 70-year-old goat farmer who relocates his home to better care for his ailing father, carrying the sticks and metal sheeting it was made from across the mountains on his back. A plump, beaming detergent saleslady who lives in a home no larger than an ordinary bathroom but has adopted five orphans. A cancer survivor who supports herself and two children by pounding millet for $1.58 per day. An irrepressible lady who supplies half of her neighborhood with much-needed IVs and other medical supplies by day, and by night checks into the local cybercafe to chat with Facebook friends on the other side of the world. A young man who has no arms but insists on working to support his able-bodied parents out of filial duty. An accounting student who pays for his university tuition by purchasing a taxi and splitting proceeds with a hired driver. A bright young lady who renounces college to care for her orphaned siblings and overcomes gender stereotypes to launch a thriving construction business.
At its heart, "Venture" is a tribute to the remarkable community of Zidisha Microfinance entrepreneurs and countless others like them -- a tribute to their grit, ambition and indomitable spirit in the face of overwhelming obstacles. We hope this book will help translate the statistics about poverty and the opportunities afforded by microfinance into human terms, and inspire readers to reach out and connect with their counterparts on the other side of the international wealth divide.
Story 21: Upwardly Mobile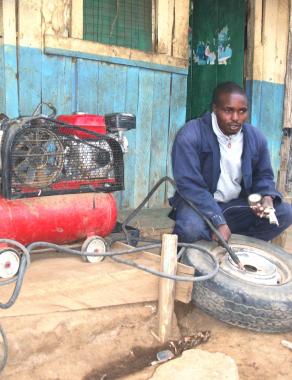 Although countless businesses line the bustling streets of Kiptangwanyi, Kenya, among the most essential is Christopher Karanja's motorbike repair shop. Having experienced the roads in this area by motorbike, car, public transportation, and foot, I can tell you that it is no easy feat getting from place to place. Never was it more important to have a repairman you can trust.
Christopher, or Junior as the locals know him, explained to me how he made his way up from working as a boda boda (motorbike taxi) driver to owning his own shop. By taking training courses in the nearby town of Gilgil and working at another repair shop in Kitangwanyi, he gradually amassed a solid expertise in motorbike maintenance and repair.
Christopher's first Zidisha loan of $489 gave him the chance to turn his knowledge into action. He used the funds to rent a facility and buy a set of basic machinery and supplies to get his repair shop off the ground and provide him and his family with a comfortable life. Through his second loan, Christopher was able to buy a welding machine. The venture does not stop there, for he hopes in the future he will be able to also sell tires and other vehicle parts to his customers.
As evidence of Christopher's admirable work ethic, my visit was cut short due to the shop's large workload. Nonetheless, I did not leave before meeting his employee, Duncan, who described Christopher as a very good boss. As Duncan saw I was going to take pictures of Christopher working, he quickly ran inside the shop to put on his apron while Christopher shook his head and laughed.
Christopher's Words:
My business is near the matatu [bus] stage in Kiptangwanyi shopping centre. My business entails the services of repairing punctures for motorbikes, vehicles and even bicycles. There is very high demand of this service since the area is remote, the roads are poor and we are also far away from town making this services very crucial in this area. Customers prefer my services since I offer unique, quality services and at a fairer prices as compared to my competitors.
You may view more comments and photos of Christopher at his Zidisha Microfinance profile page.
From Chapter 21 of Venture: A Collection of True Microfinance Stories by Zidisha Microfinance.
Next time:New construction in the capital city lays waste to a Senegalese businesslady's budding handicraft shop...