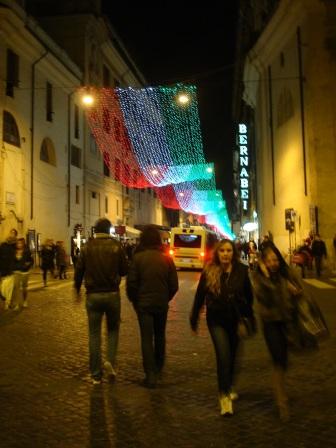 They're setting up for Christmas in Rome about now. Lights are strung all the way down the Via del Corso, and elaborate nativity scenes are everywhere. The home of pagan tradition, more recently converted to the home of Catholicism, knows how to go all out for holidays.
Rome is an ideal place for the week between Christmas and New Year's Day. Chilly, perhaps; potentially rainy, but truly festive. As always, the city is crawling with tourists, but the hordes are noticeably thinner than in the summer and refreshingly short on Americans.
"Italians in the Forum!" remarked our tour guide as we wandered past the Temple of Jupiter last December 27. "You never see that this time of year."
Planning a Roman holiday? Here are some tips to help you celebrate the season in the Eternal City:
Wander down the Via del Corso around 6 p.m. It gets dark early, so you'll still get to enjoy the lights, and most stores don't close until 7 or 7:30. Explore the side streets. Brightly-lit chandeliers are strung across the unlikeliest of alleys. Keep an eye out for corporate-sponsored Christmas trees with, say, a Mercedes logo at the top where the angel usually goes.
Hit the Piazza Navona for a hot ciambelle Essentially a huge doughnut slathered with Nutella or dipped in sugar. One of the major drawbacks of spending December in Rome is that no matter how good it looks, you're just never in the mood for gelato. The ciambelle is a delicious substitute, and the square hosts a month-long Christmas market that sells mostly toys, so it's especially fun for children.
Get reservations for New Year's Eve. It's not that you won't be able to find dinner. It's just that you might find yourself paying too much for a three-course meal at one of the touristy, re-heated pizza places that pop up on the main streets. It's worth your time to do the research and settle in for a good meal. Cappo d'anno is an experience in Rome; one that generally includes several courses and unlimited alcohol. It's one night to be sure you're making your money count.
Don't book a hotel on the Via Cavour. Unless you want to really participate (all... night... long) in the New Year's Eve celebrations, stay away from the Forum in general. Around December 30, we saw barricades go up, and the carbinieri began blocking off our street. At 7 p.m. on New Year's Eve, we found out why: there was a concert in the shadow of Trajan's Column, and people were packed so tightly all the way up the street that it took us an hour to maneuver the six blocks from dinner to our hotel.
Pack light. Europe always brings out the latent fashionista in me, but it's not worth it in the winter. A chic coat and a good scarf will get you through the trip, and it doesn't really matter what you have on underneath.
Hit the Vatican between holidays. St. Peter's Basilica is always unpredictable, but during the holiday weeks, a series of papal masses means areas can be cordoned off at will or closed completely. If you're there purely for sightseeing, check the mass schedule and stay as far away from the Pope as possible.
Bring a good camera. Rome is always beautiful, but around Christmastime, it vies with Paris for the City of Light moniker. Lighted angels line Michelangelo's steps to the Capitoline Hill, and the entire Holy Family (plus camels!) in lights moves in near the Victor Emmanuel II monument. It's hard to capture on film, so you'll find yourself taking the same photo over and over, trying to keep it from blurring. The nice thing about central Rome is that everyone there is a tourist, but if you want to avoid living up to the stereotype (and bring home decent pictures), bring a camera with a quick shutter time and a good night setting.
Ride the metro the morning of January 1. It's really entertaining. But hold your nose.
You know the rest: get your Vatican tickets in advance, download Rick Steves' audiotours and never pass up the opportunity to eat. But definitely go, and take advantage of all the season has to offer. With the right planning, Rome might just become your new holiday tradition.