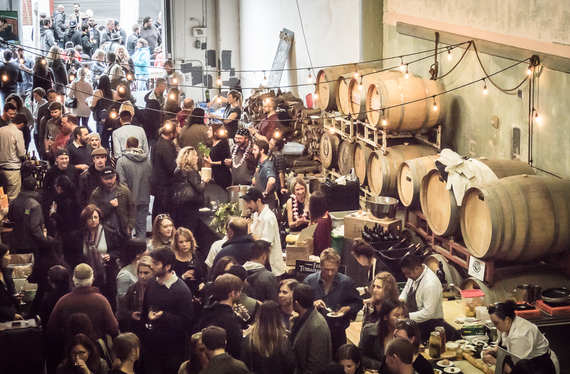 Cochon555's BBQ heritage pork competition, San Francisco
Committed to educating chefs and diners to not consume commodity pork raised in harrowing farming operations, Brady Lowe vowed to create a culinary movement promoting heritage breed pigs and family farms. His weapon is an epic culinary tour, Cochon555. By promoting safe and honest food sources, through almost 20 events per year, the tour has since become a movement, spreading its message like wildfire across the nation.
Initially five restaurants, five farmers, and five wineries in one city, Cochon 555 has now reached out to thousands of chefs and farmers in over 10 cities. Since 2008, Brady has brought together the best chefs and the best breeds in friendly competitions for a cause...encouraging diners in search of responsibly raised proteins to "stop, think and consider."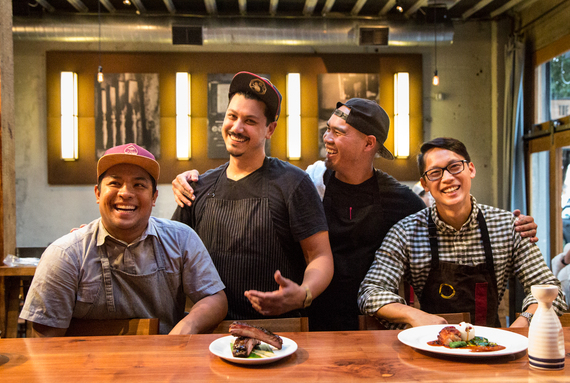 Prepping at San Francisco's Late Nite Asian Speakeasy pop-up dinner at Tradesman featuring chefs: Shawn Naputi, Jacob Kwan-Rosenthal, Tu David Phu, Francis Ang (lf to rt)
Inspired by global grilling traditions, each event in the tour is comprised of chefs, mixologists and sommeliers innovating theatre for the palate. At the end of October, in San Francisco, the Heritage BBQ weekend commenced with Cochon555's cult favorite pop-up dinner, Late Nite Asian Speakeasy. This sub-series has also gone national and features 50 of the country's emerging chefs. San Francisco's young talent showcased their culinary skills, one dish at a time, to an entourage of 600+ guests.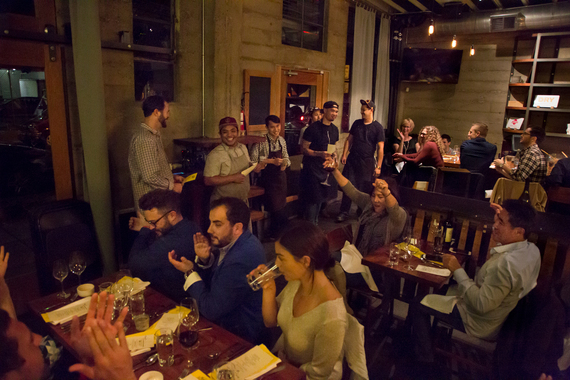 Taking the stage: Brady Lowe, Shawn Naputi, Francis Ang, Tim Luym, Tu David Phu, Jacob Kwan-Rosenthal
This year, Brady has raised the progressive foods bar further by starting Piggy Bank, a non-profit, open source, "eco-system" designed to:
• Provide free genetics and business plans to emerging family farms
• Give free heritage piglets to new farmers
• Inspire the creation of more livestock banks
• Change our current CAFO system landscape
An all-inclusive, six-course meal paying homage to Chinese, Szechuan, Filipino, Korean, and Thai, this particular meal was sponsored by Glenfiddich, and organized by Chef Tu David Phu (formerly of Chez Panisse, Quince, Acquerollo and Daniel Boulud) who teamed with chefs: Tim Luym of Buffalo Theory, Francis Ang of Pinoy Heritage, Shawn Naputi of Prubechu and Savanara Jake Tith.
Brady used the event to introduce key Piggy Bank concepts during a three hour dining experience held at Tradesman in the city's Mission District:
• Piggy Bank will protect heritage breed pigs, support family farming, and build educational resources
• Piggy Bank will build business value for all within the community
• Piggy Bank create a genetic sanctuary and promote open access to information
• Piggy Bank will create an unparalleled value proposition for our community of donors and benefactors
• Piggy Bank will avoid the over-dependency on any single or dominant revenue source
• Piggy Bank will support the singularity of local farms in an era of global agricultural ideas
• Piggy Bank will maintain a culturally diverse staff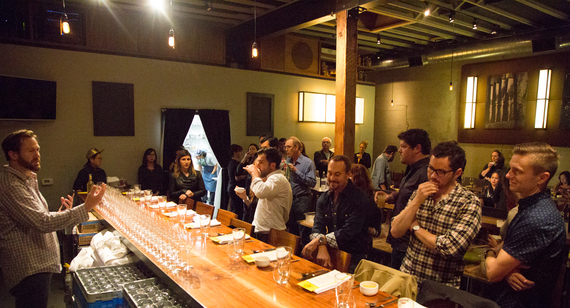 Brady Lowe talking Piggy Bank
For the feast, each chef created a dish reflecting their distinct culinary approach as well as working together to pair each bold, spiced driven bite with cocktails and premium wines. To start, small bites were passed during the welcome reception as the crowd mingled:
Pomegranate & Chia shooters
Chicken Liver Pate & Shrimp Chip
Adobo Pork Silog
Lap Xuong
Shitake Rice Cracker
Silver Oak Cellars, Breckenridge Distillery, The Perfect Puree of Napa Valley, Martinez-Lacuesta Vermut & Dry sparkling (see listing of hand-crafted cocktails below)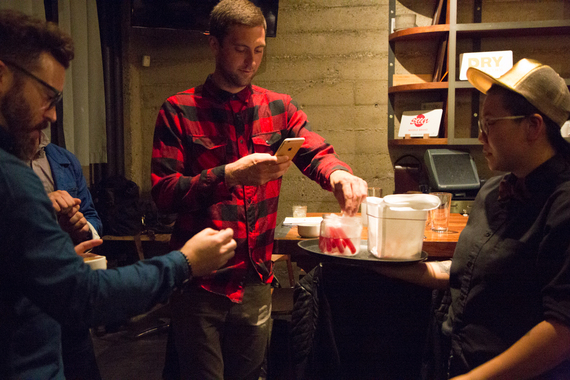 Guests taking snaps of the Pomegranate & Chai shoots being served
Then the main courses:
Charred Pig Heart "Kinilaw" by Timothy Luym
With Chicories/Coconut Vinegar/Chiles/Shallot
paired with 2013 Twomey Monument Tree Pinot Noir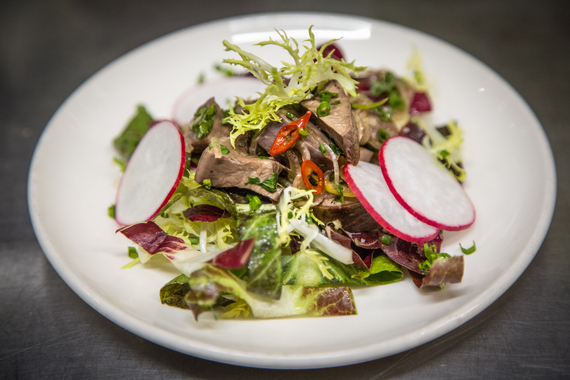 Pork Ribs by Savanara Jake Tith
Mesquite smoked/Char Siu Style
paired with 2012 Twomey Soda Canyon Ranch Merlot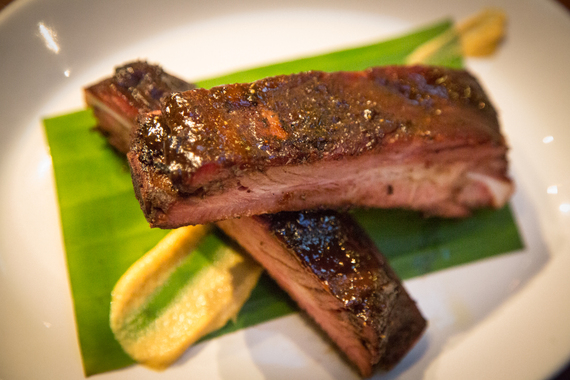 Charcuterie Board & Glenn Fiddich Whiskey
Shawn Naputi/ Tu David Phu/ Timothy Luym/ Jacob Kwan-Rosenbush
Spam & Blood Orange Preserve/Pig Ear Terrine/Chicarrones/Sisig Croquette & Brain Gribirche
Paired with 2012 Silver Oak Alexander Valley Cabernet and 2007 Silver Oak Alexander Valley Cabernet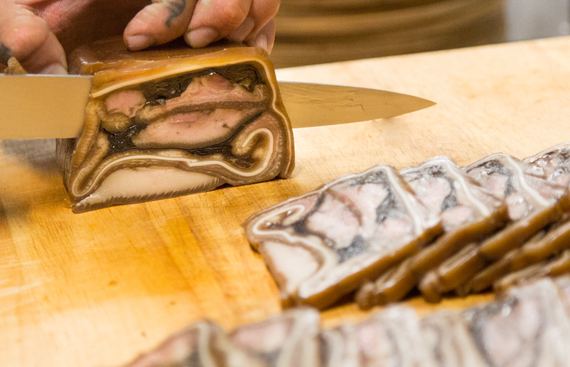 Pig Ear Terrine
Sausage
Shawn Naputi
Pork/Shrimp/Banana Leaf/Coconut
Paired with 2011 Silver Oak Napa Valley Cabernet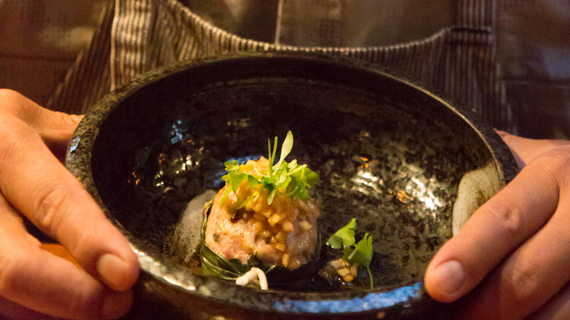 24 Hour Pork Belly
Tu David Phu
Peppercorn/Soy/Coddled Egg/Yau Choy
Paired with 2007 Silver Oak Napa Valley Cabernet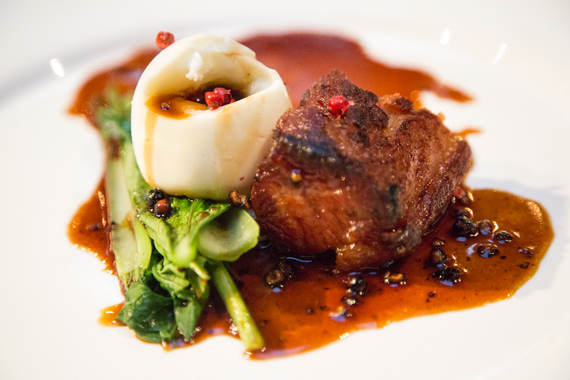 Tupig A la Plancha
Francis Ang
Glutinous Rice/Banana Leaf
Paired with Glenfidich 12 year, Glenfiddich Bourbon Barrel Reserve 14 year and Glenfiddich 15 year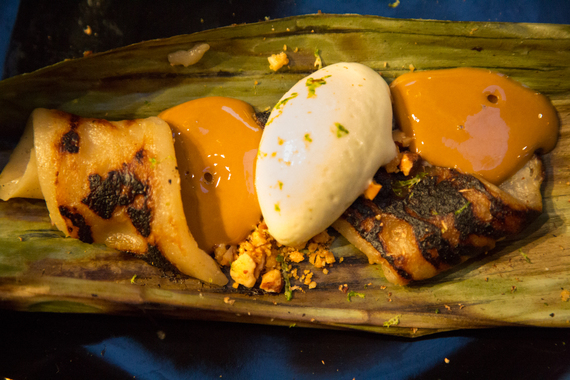 During the prep, the chefs shared stories and the inspiration behind their dishes...from the kitchen in their own words:
Chef Francis Ang of Pinoy Heritage Popups:
"My roaming pop-up focuses on contemporary Filipino Food with a nod to tradition. We started this popup a year ago and traveled for six months to different parts of the Philippines. It was an eye opening experience. Growing up in Manila, I could not believe how diverse the Philippines were after going to different regions and provinces. I was humbled by this experience.
The name of the dish that I'm preparing is Tupig a la Plancha, served with coffee-whiskey sabayon, nut crumble and yuzu ice cream. We learned this dish as we were travelling the northern regions of the Philippines. It is a mixture of glutinous rice flour with young coconut and coconut milk wrapped in banana leaves and grilled over hot river rocks.
The scent of the charring banana leaves reminds me of special holidays back home. The warm Tupig has an amazing chewy texture with a very thin crisp coming from the charred bits. The coffee- whiskey sabayon adds extra fat and flavor to the dish and the yuzu ice cream adds a little acidity. Everything balances with texture, flavor and temperatures." (see recipe below)

Timothy Luym of Buffalo Theory and Frozen Kuhsterd
"Charred Pig Heart is a play on the Filipino kinilaw which is basically a ceviche. Seafood is marinated in vinegar and calamansi lime in the Philippines. Pork hearts are grilled rare and then marinated in coconut vinegar and calamansi citrus, tossed with shallots, Thai chills, ginger, and served with chicories. The grilled aspect gives a nice char and bitterness along with the chicories. The vinegar, Thai chilis, shallots and ginger along with the vinegar and calamansi brighten the iron of pork heart. Flavors: Tart, Spicy, slightly sweet and minerally with bitterness (see recipe below).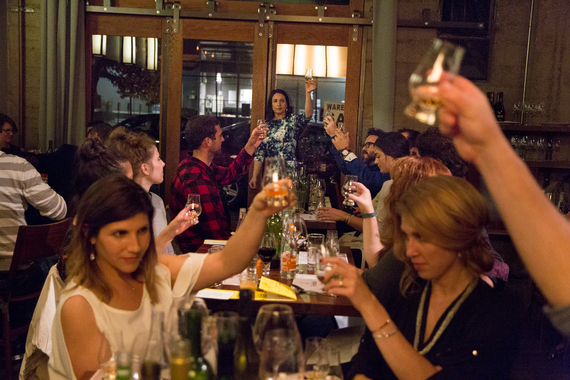 Toasting the Piggy Bank fundraiser led by Jennifer Wren, Brand Ambassador, Glenfiddich West
Throughout the dinner, Brady held court with the diners, inspiring with his mission. He starting with a memorable statement:
"Our community believes in having a choice; as much as a voice."
His message dovetailed perfectly with Peak Plate's mission:
"Our planet's sources are limited, but we wholeheartedly believe there's no limit to the human imagination - or to our capacity to solve formidable problems. We are bold enough to believe that the food we choose to eat can change the course of our planet, and we are brave enough to believe it will improve the broken food system."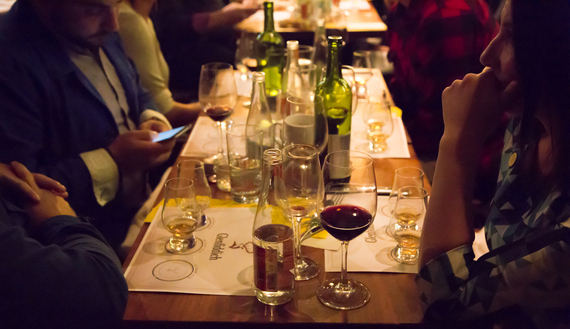 The night's dining was "cultured yet edgy," focusing on Asian faire but using locally sourced ingredients that support sustainable agriculture. Between the intimate inter-section of these food cultures, a setting that felt like someone's living room and the obvious passion expressed by Brady and the chefs, the Asian Speakeasy was as edutainment at its finest as it was delectable.
Mark Pasternak of Devils Gulch Ranch supplied the heritage pork for the entire dinner. Mark and his wife, Myriam Kaplan-Pasternak, DVM, have owned Devils Gulch since 1971, offering agriculture and nature educational programs on-site and internationally in Haiti..........but then that's a story unto itself, coming soon.
Recipes
Tupig a la Plancha
Yields 3 dozen servings
12 oz glutinous rice flour
2 cans coconut milk
16 oz coconut flakes
12 oz brown sugar
1/2 oz salt
• Combine and mix everything in a bowl
• Cut banana leaves to 8" by 3" and brush with butter
• Place 3 tablespoons of mix on banana leaves and fold
• Sear each side for about 3 minutes or until the banana leaves are charred
• Serve with ice cream and fruit
Charred Pig Heart 'Kinilaw'
• Grill pork hearts rare.
• Cut into medium dice.
• Marinate with vinegar, citrus, chilis, shallots, and ginger for four hours.
• Serve atop chicories.
Hand-crafted cocktails:
Bling Pig
Breckenridge Bourbon, Perfect Puree Caramelized Pineapple, Velvet Falernum, Perfect Puree Yuze Luxe Sour, Simple & Angostura Bitters
My New Grass Skirt
Breckenridge Vodka, Perfect Puree Thai Basil & Black Pepper, Cucumber, Ginger Beer, Bittermans "Elemakkule Tiki Bitters
Perfect & Painless
Breckenridge Spiced Rum, Perfect Puree Passion Colada, Velvet Falernum, Pineapple & Lime Juices, Spiced Nutmeg Bitters
Piggy Back
Lacuesta Rojo Vermut, San Pellegrino, Olive, Orange Peel
Photography: Julie Ann Fineman unless otherwise noted
Thank you to Carol Shoaff her photography coverage of the BBQ Heritage Pork competition 2 days later at Magnolia's in the Dog Patch...photos below: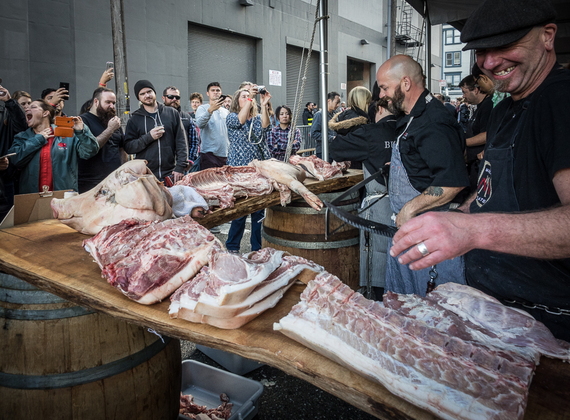 Butcher pop-up of Red Wattle heritage breed