USA fans of Downton Abbey rejoice because January 13th is almost here! Set during the post-Edwardian era, the characters of Julian Fellowes' award-winning period drama have endured tragedy, heartbreak, scandal, war, illness, and romance. The series now moves into the 1920s, and with it, new storylines and characters, including the addition of Academy Award-winning actress, Shirley MacLaine.
But to tide you over until the third season of the popular television show airs on PBS, check out The Chronicles of Downton Abbey by Jessica Fellowes (niece of Julian Fellowes) and Matthew Sturgis. Fellowes' first companion book, The World of Downton Abbey, showcased an insider's look into aristocratic life, historical references, the romances on the show, what it's like to work a life of service to a wealthy British family, society and clothing, and how World War I affected hundreds of thousands of young men fighting on the front line.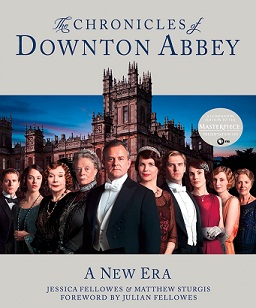 The Chronicles of Downton Abbey digs deeper into the lives of the main characters and into the Roaring '20s. Each book features gorgeous photographs and behind-the-scenes information. What fresh insights can fans expect from The Chronicles of Downton Abbey? Fellowes explains:
For the second book, we continued the triple-layered approach -- writing about the series itself, as a living story as well as the production stories about how it was made, and then explaining the historical context in which it is set, with reference to real-life counterparts -- but we have taken our lead much more from the characters this time.
She goes on to say:
It is a more personal book from the point of view that I was analyzing the characters, reflecting on their stories across the three series. Each chapter looks closely at one or two characters, examining their backgrounds, talking to the actors who play them and looking at what their cultural reference points might have been at that time -- the books they would have read, the stories in the papers that might have inspired them to action and so on.
Just like with the first book, Julian Fellowes provides the foreword, but this time he lets people in on the knowledge that many of the characters are inspired by family members, such as: Robert, the Earl of Grantham (Hugh Bonneville) who is drawn from his deceased father, and Violet, the Dowager Countess of Grantham (Maggie Smith) who is modeled after his great-aunt Isie, Mr. Charles Carson (Jim Carter) is inspired by a retired butler who was a principal advisor on Gosford Park, and even Miss Sarah O'Brien (Siobhan Finneran) takes after a maid of a distant cousin.
For The Chronicles of Downton Abbey, Jessica Fellowes collaborated with historical biographer and art critic, Matthew Sturgis, who assisted with the research. She says: "Matthew is a very well-respected historical writer, so it was fantastic to have his input. He interviewed all the actors and production this time around and also dug out some fresh research for me to use when it came to writing the book."
Fellowes says the books are written at a breakneck speed. They start writing the books in January and by July, the books are at the printers. Not only is each main character discussed in The Chronicles of Downton Abbey, but so is the historical events of this time, technological progress and how it relates to each character, psychologically, mentally and physically -- whether it is the addition of a toaster to the kitchen staff or the conditions of prisons or the pressures of marriage or taking up social causes -- the non-fiction book is impeccably researched.
Of how Fellowes and Sturgis obtain this information, Fellowes explains:
As much research as possible goes into the book. But I was always keen to keep as much of it first-hand as possible. It is, after all, a well-documented period. Newspapers and letters are good for this but, to my surprise, there were a whole lot of out-of-print memoirs around too (many of these have since been republished, thanks to the "Downton effect," which I'm very happy about). There was a vogue in the 1970s for former servants and divorced or American wives of the aristocracy to write about what life was 'really like' back then. I think this was also probably due to a TV series -- Upstairs Downstairs was the hit then! But if TV drives us to books and to know more about our history, then it's to be applauded I think.
Fans of Downton Abbey most likely have their favorite character and definitely their favorite villain. Many viewers may have taken some time to warm up to Lady Mary's prickly indecision of her feelings for Matthew, but she's certainly had one of the best character arcs on television. Some viewers by far love Violet's sarcastic wit, and others must steam over O'Brien and Thomas, who are forever cavorting to cause trouble. Who is Fellowes' favorite character?
She says:
I always get asked this and it's always hard to answer, because I know them all so well now that choosing a favourite is a bit like being asked to name a favourite child! For [the third] series it was Lady Edith -- I just marked her out as one to watch, partly because I know Julian will have enjoyed writing her character and also because I felt that she had the most of all the daughters to exploit from the new opportunities available to women at that time.
Fellows says her uncle doesn't like to say that he's surprised by the success of the show because that sounds like he never had faith in it to begin with, and quite the contrary! Yet, she does feel there are several elements that contribute to its popularity. She explains:
Great writing, fantastic actors, beautiful locations and the fact that it's shown on a Sunday night is the masterstroke. But it's also the large cast -- there's someone for everyone, to either love or hate (or both!). Whether you are young or old and no matter your family history, you will latch on to some element, find something familiar and others fascinating.
She goes on to say:
Julian and the executive producer, Gareth Neame, also did something very, very clever -- they deliberately set the show at the beginning of modern life. So while a great deal of it is clearly in the past -- the clothes, the music, a lot of the attitudes -- we also recognize something of modern life: telephones, electricity, cars, social changes etc. In many ways there are huge parallels between then and now -- in the 21st century we have also been struggling to catch up with and adapt to the huge changes in our technology.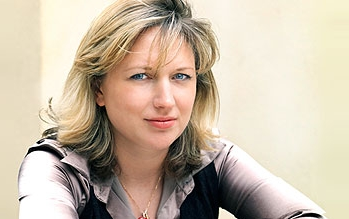 Growing up, Jessica Fellowes was a big reader and was usually found lying in the comforts of her home with her nose stuck in a book. But it wasn't until after university, when she was given a break to work on the newspaper Mail on Sunday, that she realized she wanted to be a writer. For ten years she worked as a journalist, and ended up working as a gossip columnist with Celia Walden. She went on to work as the Deputy Editor of Country Life magazine and as a columnist for The London Paper. For the last four years, Fellowes has focused on freelance writing for various publications, and her fiction and non-fiction books. She enjoys writing at her kitchen table, or at a lovely café in Notting Hill. She loves hanging out with friends and her young son.
Fellowes encourages fans to purchase The Chronicles of Downton Abbey by saying: "I think it will enrich your TV-watching experience (no spoilers, I promise), and -- enjoy the show!"
The Chronicles of Downton Abbey was released on November 13th. Pick up a copy and enjoy!