Over her 23-year career as a writer, Francesca Lia Block has sparked readers' imaginations with magical books featuring strange and mythical characters who feel as if they stepped out of a twisted fairytale. Since publishing her first novel, Weezie Bat, about a young teen living in L.A., which coined Block's 'Shangri-LA', her books have been categorized as YA. But don't be fooled, because all her novels have cross-over appeal.
Her latest, The Elementals, however, is geared toward an adult audience. The story draws on dark elements and more complex themes of grief, loneliness and fear. The story surrounds Ariel Silveman, who is dealing with the news of her mother's illness from cancer, leaving home for college and still reeling from the loss of her friend several years prior to the novel's opening.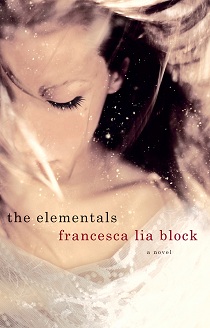 The main story which haunts the novels pages is Ariel's search for her best friend, Jeni, who disappeared while on a school trip at the University of California in Berkeley. Ariel is convinced Jeni is still out there. Her parents feel that Ariel is ready to leave home for college. Her choice -- Berkeley. They feel giving Ariel some space away from the heartache of her mother's illness will help her to focus on her own life, but they are also fearful Jeni's disappearance continues to consume her.
The Elementals is inspired by Block's own experiences attending college at Berkeley, her father's illness and, later, her mother's battle with cancer. The stunning and intoxicating novel is deeply personal for Block and has many layers. She says: "During the time I was writing the book my mom was diagnosed with cancer. I finished the book on the day and night she passed away. It was hard to write some of the material because I felt a little freaked out by the fact I'd been writing it before I even knew."
The novel, which also encompasses the Tam Lin mythology and magical people living in an old house (an idea she's played around with for years), also marks Block's first foray into the mystery genre. Writing a mystery was a challenge for Block, who tends to be more character-driven, focusing on language and poetry. She explains: "I wanted to do a mystery for the first time. I hadn't written that kind of thing before. I, along with this culture, seem to have this obsession with the missing girl. The dead girl. I actually had been avoiding writing that for various reasons, but I decided I really wanted to write that."
At Berkeley, Ariel feels like a misfit. She doesn't belong, other students make fun of her being anti-social and constantly asking about her missing friend. She struggles with school, and is told she needs a therapist. But everywhere she looks, she feels like Jeni is alive, but she's also starting to feel like she's imagining things, especially weird people who feel like they are out of a side-show carnival act. Ariel soon finds comfort in a group of misfits, like herself. This leads her to explore a magical world of darkness, drugs, sex, love and lust. She's drawn to John, Tania and Perry like a moth to a flame. Of her two leading characters, Block says: "Ariel is very ethereal. Her character interprets the element of air. She's very sensitive and poetic and very grief-stricken over her mother's illness and the disappearance of her friend. Because of that, she's subtly falls into this world of magic and beauty that these people in the house represent. John symbolizes that for her -- an escape into a world of mystery, beauty and strange things that intrigue her."
The Elementals grabs at your heart-strings and leads Ariel, along with readers, down a creepy and shocking road. Obsession stalks Ariel at every turn, and soon she starts losing her grip on reality. Writing stories of magical realism and fairy tales has always been a part of Block's psyche, ever since growing up and revisiting them throughout different stages in her life. As long as she can remember, she's been intrigued with the psychological aspects of them. She says: "I've always tried to explore it, but I've always felt like I haven't quite been able to create the feeling that I've wanted until now. I felt like this book was the first time that I've been able to use those elements and keep it subtle enough that you weren't sure if it was real, madness or magic -- something I've been trying to do for so many years. "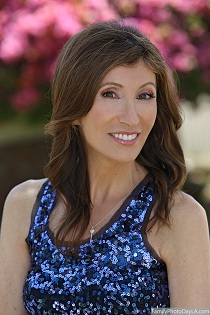 Yes, it took some time for Block to figure out how to integrate those elements into her writing, but readers will thank her for it. By producing a stellar mystery, she has done just that and more. Currently, she's working on another adult mystery that focuses on the dark underworld of internet dating in L.A. Next spring, her YA dystopian, Love in the Time of Global Warming, hits bookshelves.
When not writing, the L.A.-native teaches the craft at both the UCLA Extension and privately. Drawn to writing about young people, Block explains her reasoning: "My little joke is I had some kind of arrested development at 17. Interestingly, with my students, the age that they write about is when something happened -- often traumatic, something significant for them -- so for me it was when my dad was ill. I feel like I'm still trying to resolve that period of my life when things changed dramatically and psychologically."
But Block plumbs further in her fiction about young people in fantastical worlds that are very real. She loves the idea of psychological fantasy where the characters, and the reader, aren't quite sure if something is real or imagined. The Elementals takes young Ariel on a journey that fulfills her senses, her subconscious, yet takes her close to the edge of destruction, by not letting go of her grief. Block explains: "There's something about a younger character that allows for that because they are closer to childhood when the line between those worlds are not as solid. It's more permeable. There's more back and forth between the world of imagination and the world of reality, which stars to become harder to cross over as we age."
One world in particular Block enjoys writing about most is her beloved Los Angeles -- a place, she says, is both toxic and beautiful. But by stepping out of L.A. for Berkeley, Block creates a different mood. The experience of a college town and an atmospheric thriller come vividly to life. What would she like readers to take away with them after reading, The Elementals?
"I wouldn't necessarily say I'm trying to convey beliefs that I have about the world in this book as much as wanting the reader to have a wonderful experience where they enjoy the poetic language, the mood, the atmosphere, and they're also turning the pages wanting to know what's happening and figure out the mystery. I want readers to feel the escapism in the book itself, is a much safer way to escape then the way Ariel ultimately does."
The Elementals was released October 16th. Pick up a copy and enjoy!