Katniss Everdeen better watch out because she has some stiff competition with Allison "Allie" Sekemoto of Julia Kagawa's The Immortal Rules. The novel is the first in her new post-apocalyptic vampire series, Blood of Eden. The New York Times bestselling author, whose Iron Fey series features the magical and dark world of the Seelie and Unseelie Court of the Fey, has even spurred an eagerly anticipated new spinoff series, The Iron Fey: Call of the Forgotten.
I've been a fan of Kagawa's work since first reading The Iron Daughter. As for The Immortal Rules, it's very surprising. Plus, it's a more mature and darker story with violence and stronger themes. I enjoyed every minute of my reading experience, staying up late into the middle of the night, not able to turn the pages fast enough.
The story takes place in a futuristic United States that's been ravaged by a deadly virus called the Red Lung. The disease has killed off millions of humans across the globe, yet some were turned into vampires who now control everything. But even more scarier are the rabids -- zombies with fangs. They hide in the outskirts of New Covington where Allison lives.
Kagawa didn't plan on writing a vampire book. Early on in her career, she actually told herself she wouldn't write one. She felt there were so many good vampire books already out on the market and didn't think she had anything to add. Boy, does she now!
Kagawa says:
Near the end of writing the Iron Fey series, I'd been toying with the idea of a YA post-apocalyptic novel, when my agent suggested I might want to try writing a vampire book. I wasn't completely intrigued with the idea at first, but then I thought: what would happen if I combined vampires and post-apocalyptic? From there, everything sort of fell into place.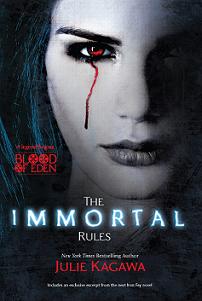 One dangerous night while scavenging for food, Allie encounters a group of rabids and is forced to make a decision: die as a human or become a vampire -- something she hates more than anything on earth. The vampires have taken everything from Allie -- her hopes, dreams and family. But once she chooses immortality, it changes not only her journey throughout the course of the novel, but also the lives and safety of other characters, including her friends. Allie finds an ally in a powerful vampire, Kanin, who trains her in martial arts and how to analyze her surroundings. She becomes stronger and learns to wield a deadly katana. Allie knows she has to learn how to fight -- not only the creatures of the night, but her demons as well.
During the course of the novel, Allie ends up meeting a ragtag group of strangers who rely on their faith of a better future in a city known as Eden. The legendary Eden is a "paradise" where humans can live free of vampires and rabids. Allie worries they will discover her secret because she's not sure how long she can keep it to herself... nor the thirst for human blood at bay. Along with an exciting plot, Kagawa is a master at creating a cinematic and visual world.
She says:
I like to think of the setting as just another character, with its own flaws, quirks, and personality. In The Iron Fey, the faery world of the Nevernever, was surreal, haunting, and dreamlike, yet hungry and dangerous. It used a beautiful, otherworldly mask to lure you in and devour you. In the post-apocalyptic setting of The Immortal Rules, there is no mask; this world is bleak, bloodthirsty, desolate and vicious. It's everyone for themselves out here, and it makes no apologies for those who die. For me, I have to have a solid, believable world before I can write in the characters who will inhabit it.
Filled with nail-biting suspense, heart-pounding action scenes, which feel like a choreographed dance and would make any action flick buff and gamer proud. In one word, The Immortal Rules, rules. Kagawa is a huge gaming fan and it shows in her incredible novels that come to life on the page. She explains:
I hold the firm belief that video games are just another medium of telling a story, and some of my favorites are those that let you define your character, and those with rich, well thought out worlds. A few of my favorite video games are (not in order): The Elder Scrolls, Assassin's Creed, Mass Effect, Dragon Age, the Final Fantasy series, the Zelda series, Gears of War, Soul Caliber and of course, The Sims. And I should stop now, or I'll go on all night.
The Immortal Rules also features a subtle romance between Allie and Zeke, a member of the group bent on looking for Eden. Zeke as well as the group's leader, Jeb, never lose their faith or their humanity along the way -- no matter what comes across their path. As Kagawa says, they are holding on to something more, something better.
She explains:
Humanity is very much a theme in The Immortal Rules, and faith is something that defines several of the characters. For Zeke, especially, his iron-clad belief that there is good in people is a stark dichotomy to Allison, who has lost all faith in humanity and the world. He challenges everything she's known, and she does the same for him. In the end, they both have to come to their own conclusions about who they are and what they believe in."
What would Kagawa choose if she had the choice between death and becoming immortal? She says she loves food and the sunlight far too much. But also: "I'm like Zeke in the belief that there is something better beyond this life, and I just have to do my best until it's time to go."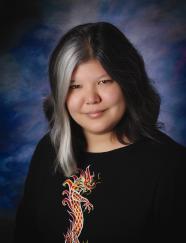 Born in California, Kagawa has been writing and creating drama-driven stories since she was a teenager. She grew up in Hawaii, which provided a colorful backdrop for her imagination. She's worked in bookstores and as a dog trainer, but now writes full-time in Kentucky where she lives with her husband. I asked her what she felt some of the challenges were in her craft:
Some of the challenges I face are the same for every writer: making myself sit down and write, powering through a difficult spot when I'm stuck, and just continuing the story until I'm finished. I've found that you can't wait for inspiration to strike when you're on a deadline, you have to write, everyday, whether you feel it or not. Thankfully, I love what I do, even on the bad days. I get to stay home and make things up for a living. How cool is that?
According to an official press release, Blood of Eden series has been optioned by independent film production company Palomar Pictures (K-19: The Widowmaker, Brothers, Killer Elite). As far as what Kagawa would like readers to take away with them after reading The Immortal Rules is this:
That we always have a choice in our actions. No matter how dark or bleak or hopeless the situation, no matter how we've been raised or who we are, we can choose what kind of person we want to be. We can be ugly, monstrous, and cruel like everything around us. Or we can choose compassion, hope, and selflessness. We always have that choice.
If you had a choice, what would you choose: human death or immortality?
The Immortal Rules was released April 24th! Pick up a copy and enjoy!