A good mystery -- fact or fiction -- always piques my interest. This probably has to do with my former career in law enforcement. Yet, mysteries are extremely popular among non-police folk. I knew cops who never watched a cop show. However, I'm glued to TV crime and legal shows, such as: Southland -- one of the best cop shows ever -- The Killing -- the second best cop show -- Boardwalk Empire, Homeland, White Collar and The Good Wife.
As for books, my favorite mysteries feature amateur detectives and those set in foreign lands, but I'm always up for something fresh and unique. I also like to compare crimes and investigation techniques in mystery books and shows to those events I witnessed in real life.
As you've probably gathered from several of my reviews on HuffPost, I'm a big fan of YA books. The teen market is saturated with paranormal, dystopian/post-apocalyptic, and historical stories. Don't get me wrong. Some of these types of stories are just as riveting as mysteries. However, I'm very excited to see there is a current rise in mysteries for teens.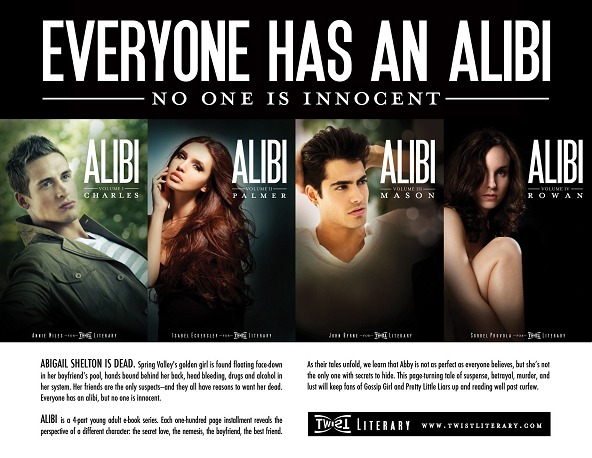 One such series is Alibi. It has a solid plot with well-rounded characterization and twists and turns to boot, not to mention, it's an extremely cool concept. What's the concept? Let's allow Twist Literary, the publishing company behind the series, tell you...

JAC: Why was Twist Literary created?
TWIST: Twist Literary was created because we got inspired by all the authors who were at the leading edge of the e-publishing revolution. For us it was an irresistible opportunity to learn about something new and get creative with the storytelling construct in a way that traditional publishers might be reluctant to try. Twist Literary is basically our little laboratory where we get to do YA experiments. Sexy, edgy YA experiments!
JAC: What is the premise of the Alibi series?
TWIST LITERARY: Ooh, we love giving our pitch. Here it goes:
ABIGAIL SHELTON IS DEAD. Spring Valley's golden girl is found floating face-down in her boyfriend's pool. Her friends are the only suspects -- and they all have reasons to want her gone. Everyone has an alibi, but no one is innocent.
JAC: Who is behind the publishing company?
TWIST LITERARY: Both of the founders are long-term denizens of the YA community. The initial lure was being able to focus exclusively on the story and character development side of things. The added bonus was being able to discover new voices in YA and help those authors build their brand. It is kind of like our very own YA Shangri-la, not to overstate it or anything.
JAC: Could you tell me more about the platform?
TWIST LITERARY: Twist's primary mission is to create entertaining, edgy, and impeccably-written digital series for YA readers, each with a unique "twist." For example, in Alibi, you see the story unfold through multiple points of view -- the secret love, the nemesis, the boyfriend, the best friend -- each one layering complexity and revealing unexpected secrets. Our next series is totally different, but equally as innovative!

JAC: How do you choose your authors?
TWIST LITERARY: We audition potential authors by having them write a five-page scene between one or more of our characters. Time and again, we've been blown away by how thoroughly a character we created can be brought to life by a talented author in the final draft. We'll typically have the writer revise based on some editorial feedback to see whether it's a creative love connection.
JAC: Are the books always going to be mysteries?
TWIST LITERARY: No, but they will always be sexy, innovative, and well-written. We have two series in development right now and both are very different from Alibi, and from each other. We aim to keep our readers guessing and ourselves engaged by the intricacy of our plots. Seriously -- you should SEE our white board.
JAC: Who designs your book covers?
TWIST LITERARY: The incomparable Kristine Arth (designer art director) who is basically a cover design genius. We get tingles every time we look at our amazing covers. SWOON.
JAC: How has the response been to ALIBI and Twist?
TWIST LITERARY: Extremely positive! We're so grateful for the way book bloggers and readers have embraced the ALIBI series and Twist Literary by extension. We're just getting started - sky's the limit!
JAC: Why did Twist decide to go the e-book route?
TWIST LITERARY: A few reasons. First, we wanted the freedom to play around with storytelling in a low-risk environment. The truth is, it costs a lot more money to produce and distribute physical books. Second, in a way we're carving out a niche market here and learning as we go, so e-books give us the flexibility to play around with things like pricing, promotion, and cover art if we so desire. Finally, there's the question of speed. A wonderful, quality e-book can be produced and distributed a whole lot faster than a physical book. We want to keep the awesome coming at a rapid pace for our readers!
JAC: What kind of books and authors do the creators of Twist enjoy reading?
TWIST LITERARY:
Settle in, we might be here all week to answer this one! We adore YA literature and we feel so honored to get to help create it. Some of our favorite YA books and authors are:
The Disreputable History of Frankie Landau-Banks by E. Lockhart
Before I Fall by Lauren Oliver
The DUFF by Kody Keplinger
Daughter of Smoke and Bone by Laini Taylor
And pretty much anything by Sara Zarr, Jennifer Echols, or Libba Bray
We could go on, but seriously -- you'd need to pack some trail mix and a sleeping bag.
JAC: Is there anything else you'd like readers to know about Twist and Alibi?
TWIST LITERARY: Yes! The Alibi series is available now at Amazon and Barnes & Noble, and is coming soon to more platforms. You can "Like" us on Facebook, follow us on Twitter (@twistliterary), and get all the latest news from Twist at our website (including details about the really cool summer giveaway of a new iPad we're hosting)! Most importantly thank you to our readers -- you guys rock our world and we never get tired of hearing from you!
So, now that you've learned about Twist Literary and their first YA series, Alibi, I'm here to tell you, if you are fan of mysteries, you should definitely check it out. Each novel is told from a different point-of-view. Readers get a chance to figure out who killed Abigail Shelton through the eyes of the main characters. Each author -- Annie Miles, John Byrne, Isabel Eckersley, and Sorrel Provola -- created a distinctive voice for the suspects, and the victim.
Who wanted Abby dead? She appeared to be a sweet, charming young girl. Or was she really? Did Abby have her own dark secrets? The books are very short and kept me turning the pages to find out who did the dastardly deed and the answer was surprising! I'm looking forward to what's in store for the next series Twist Literary creates.

What do you think of the concept? Have you read the series?