October signifies Breast Cancer Awareness month, bringing a powerful annual reminder for women everywhere to pause their daily life and bring health to the forefront by scheduling a yearly mammogram.
Along with this, Breast Cancer Awareness month is a time to remember friends and family who courageously lost their ordeal with breast cancer. It is a time to support the warriors who are managing cancer so bravely; a journey that takes a toll on both the human spirit and the body.
For women who undergo mastectomies and breast reconstruction, they face a daily reminder of scars. For some, no nipples are left behind after surgery.
But now, many survivors are turning to tattoos to cover the scar with a beautiful piece of artwork.
P.ink is one organization changing the culture of healing for breast cancer survivors.
In 2013, Noel Franus founded P.ink, which stands for "personal ink," an organization that helps breast cancer survivors who have undergone mastectomies and breast reconstruction by connecting them with a tattoo artist. The artist works with the survivor to create tattoo designs to cover and hide scar tissue from such operations.
Noel stops by to share his personal connection with breast cancer and the inspiration behind P.ink.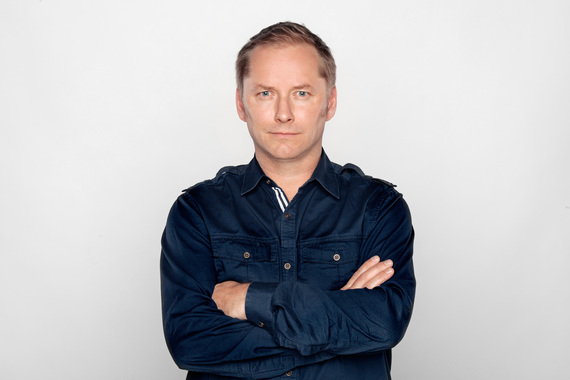 JB: What inspired you to start this powerful recourse for breast cancer survivors?
NF: It started when my sister-in-law Molly told the family she had breast cancer and was getting a double mastectomy. She asked friends and family for clever nipple-tattoo ideas, since her originals were going away, never to return, and she wasn't interested in the doctor's version of a nipple tattoo. Unfortunately there were no resources for someone thinking of doing anything different; despite the fact that millions have to deal with nipple replacements and mastectomy scars, there was no one place online for survivors and others to explore options other than traditional reconstruction. So I thought P.ink would be an effective solve for this unmet need. I brought the idea for P.ink to CP+B (the advertising agency I work at based in Boulder, Colorado). And then we got to work; our goal was to bring design to this underserved audience by showcasing mastectomy tattoos as an accessible, viable option for taking back some of the personal property that breast cancer can steal. That's the kind of brief that most creatives love to dig in to, so we attacked it.
As for Molly: she's great. She's now one of our local leaders in L.A. We're so proud we were able to connect her with Colby Butler, who is a fantastic artist, and that Molly was able to bravely share her story with so many people.
JB: Did you find it easy to find tattoo artists who were skilled in tattooing over scars?
NF: Many artists cover scars but few have mastectomy experience. And skin that's been exposed to radiation can be a unique challenge. We've spent many nights and weekends looking for artists experienced with mastectomies, whom we trust. Just two years ago it was a lot harder to find them than it is today. And while a few of the heroes of the mastectomy tattoo universe are now easier to find online, not everyone can travel across the country or around the world to visit them for a mastectomy tattoo. So we've been searching for local, regional, national and international expertise. Fortunately this is slightly less burdensome now that artists are hearing about P.ink -- more of them are reaching out to us.
JB: You recently held P.ink Day 2014. Please share more about this special day and how survivors and volunteers can get involved in P.ink Day 2015.
NF: P.ink Day has grown into something very special in a short amount of time. We've managed to seed a movement that's grown from one location and 10 survivors in its first year to 12 locations and 38 survivors the next. (And in fact, we had to turn down about 40 potential locations this year for one reason or another -- lack of an experienced artist, lack of a truly organized ground team, we didn't have the largesse to support such a massive effort, etc.)
What's made P.ink Day unique is that it's never just about a free tattoo; it's an all-out gift of a day, an outpouring of love, facilitated by local leaders and supported by dozens of other individuals working to make things just right. The tattoo is of course the pinnacle of the experience, but everything has to be incredibly well orchestrated, from the first moment we introduce the artist to their survivor, to the pre-party the night before, to the cheering squads applauding survivors in the morning, to the lunches, the tattooing and anything that follows.
I'm sure we put that pressure on ourselves, perhaps more than is necessary, but the thing we've always tried to do with P.ink is show an expertly focused lens on these survivors who often slip outside the limelight; they've beaten the disease, but still have to live with what it left behind. I don't much talk about them during the pink-cleats NFL games or the pink products being advertised every October. And yet they deserve our best efforts. This ethos drives everything P.ink does. The Pinterest boards are a deliberate act of curation and taste. The artists we've selected to feature and work with isn't a group of lightweights. The Inkspiration app wasn't something we cooked up overnight. So we try to reinforce that P.ink Day is a radical act of love, care and reclamation. And anyone who wants to help make a P.ink Day happen in their community must be incredibly motivated, clever and exceptionally well organized to pull it off. There's just no other way to go about it.
As for next year: we're taking a breather at the moment and we're cooking up plans for 2015. We try to keep things creatively fresh. Last year we ran the crowdfunding campaign--we loved the idea that anyone could invest in healing art that's now walking the earth--and this year we drafted a playbook and coached local leaders as they made things happen. Stay tuned for our plans for 2015.
We encourage individuals, donors or other partners that want to help to reach out, email us at help@p-ink.org.
JB: What kind of feedback have you received from the women who have received tattoos?
NF: "I'm finally comfortable looking in the mirror again." "I've got my sexy mojo back." "I might just start marching around topless." Those are my favorite quotes from survivors we've worked with or heard from.
Each survivor wants a tattoo for a different reason. While some, like Molly, just didn't like the idea of a doctor-created circle, others tried it and the work went south. Others tried reconstruction and it didn't take. Others felt newly awkward in the locker room with missing or scarred breasts. Others might have had a prophylactic mastectomy. And many others still felt like their sex appeal had disappeared. Some simply felt mutilated. To hear these unique stories, followed up with these quotes after all they've been through... and now they're stepping up and owning it... that's incredibly profound. It's very gratifying to be a part of this.
JB: This has to be a powerful day for the artists as well. What feedback have you received from the artists?
NF: Great question. In our experience, most artists love this work. Two reasons why: 1) they're artists, so their empathy levels are often naturally through the roof; 2) this work elevates their role. This is the end of a long saga, one in which doctors, nurses, surgeons and other specialists shuffle you from one hospital room to the next over the course of years -- and standing at the end of this healthcare experience is who? A tattoo artist. There's the hero. That flips the broader cultural perception of tattoo artists on its head.
Yes, there are many reasons why tattoo artists are often seen as the cultural rogue--sailors and riffraff and testosterone-fueled tattoo shows on TV only add to the cutting edge. But we've uncovered at least one of probably many reasons why the world sometimes needs to celebrate that cutting edge. And tweaking those cultural perceptions is part of what makes this so fun.
JB: What have you learned about the human spirit through this experience?
NF: I've learned that most people respond enthusiastically when you can tap into their talents to help change a life. That's not always easy. Over the years I've found that volunteer work doesn't always demand your best. It often requires only your time, your thinking, or your hands. That's never not important. But I think P.ink gives us who are creatives, designers, writers, coders and others a chance to do what they love to do, in an inventive way, and to make life better for someone else. That's probably why we've had so much great help from the people at CP+B in bringing this to life.
JB: Over the summer, you launched Inkspiration, an app women survivors can download onto their smart phones. How does the app work?
NF: We created the app to address the single biggest question for someone considering a mastectomy tattoo: what will this look like on me? When you download and use the app, you'll have a very specific answer. To use it, simply open it up; choose from a variety of body types or take a picture of your own chest; and then select a tattoo from our gallery. And you'll see what it looks like on you. And perhaps that encourages you to get a little more creative, tap the "find an artist" button, reach out to a nearby artist who can help, and the two of you can make some real magic.
JB: What are your biggest needs in moving forward with P.ink?
NF: Thank you for asking. Just like any growing enterprise, our two biggest needs are talent and money.
First, talent: If more people knew the role that tattoo artists play in the healing process, we wouldn't need to exist. What if these skilled artists--the really great ones--were as findable as the really great doctors in our lives? They're not, and we need to change it, and our small team of volunteers needs help finding them. So I encourage people to dig, find those great artists who do have mastectomy experience and let us know. We'll feature them in our directory. Contact us with your gems: help@p-ink.org.
Second, money: P.ink Day is great. But that's only once a year, and there's a huge unmet need the other 364 days of the year. And while our hope is that people find us online, find what they're looking for and then hire an artist, there are still many survivors who don't want to take this step without some help. So we've started the P.ink Fund; we're working with a small, elite team of artists around the U.S. and Canada whom we implicitly trust, and we're seeking donations to pay those artists for their best work. To date more than 350 survivors have asked to be beneficiaries of either the P.ink Fund or P.ink Day. When there's money in the bank we tackle that list on a first-come, first-served basis. But there's a lot more demand than there is supply. So we encourage donations online: http://p-ink.org/give. And for survivors wishing to sign up as a potential beneficiary, visit: http://p-ink.org/signup.
JB: Where can our readers learn more about P.ink?
NF: We're at p-ink.org. Our always-growing collections of P.ink Day images, tattoo ideas and artists with mastectomy experience are at Pinterest: http://pinterest.com/personalink. And we also have a robust community of survivors at https://www.facebook.com/personalink.
For those looking to get more involved, email us at help@p-ink.org. Donate here: http://p-ink.org/give. And sign up for the P.ink Fund or P.ink Day here: http://p-ink.org/signup.