The most difficult year of my life culminated one year ago. I think I've adjusted; recovered seems too strong of a word.
Nestled in suburban Kansas City, the Vikings of Shawnee Mission West High School are a tight, supportive community. That strong foundation of community, along with teacher, coach, clergy and school support, ushered the students through the separate events of three students' deaths and one teacher's death during the school year when I was the principal.
Life is reft with joy and sorrow and we as fleeting occupants purposefully hope that one outweighs the other the majority of the time. My life's joy of being a high school principal is, honestly, priceless. It is fun participating daily in young people's lives helping them learn and succeed. Even though personal and professional tragedy and death waylaid that joy periodically, I was schooled daily by students' zest for life and resilience.
Keep Friends and Family Close
During those challenging times, students confided in those they trusted; those who listened objectively, namely their loved ones. Physically, students became closer. They hugged more often out of genuine love and care for each other. The senior class was tight-knit as they had celebrated a 6A football championship the previous season. Now, after a stroke felled a beloved, star football athlete during a game, devastation, not celebration, threw them into each other's arms again. One of their senior leaders, who had already committed to play at KU, was stripped from their lives. Seniors are notorious for pranks, of course, but this senior class, somehow understanding the remedy and the limits, organized a group hug and sleep-in between classes one day.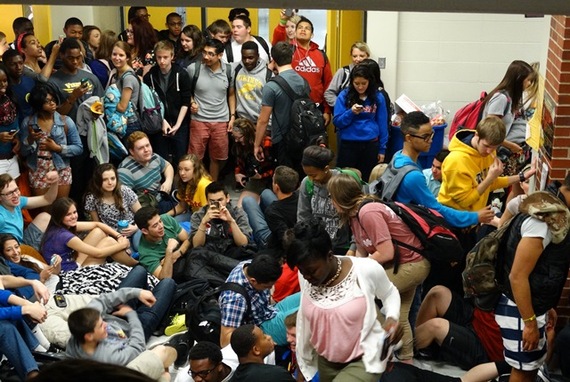 We followed what we knew as best practices and held to regular, daily schedules and events so students could converge. Of course, some classes didn't go on as usual. Kids were physically there, but the instruction, the reflection, and the practice was on grief. Teachers consoled and cried. Students reflected on the lost peer's life and cried. Counselors reported to certain classrooms where needed. Parents checked in on students frequently with more random texts interrupting moments. The time intervals of bell to bell gave a semblance of managed grief -- we were helping students chunk the grief process.
Communicate and Share
Strength through communication emanated from those who were closest to the deceased. The coach, the cousin, the mother and father, the wife -- those who spoke in honor of their departed loved one taught me about fortitude and strength. They chose their words deliberately and they were the master communicators. They knew they were role models for young eyes cast upon them and hanging on their every word.
One month after Andre, the football player, died, Houston was killed in a car accident on his way to play practice. He was a star actor and talented singer with a tremendous impact on the community. I can still hear one teacher shriek as I announced at the faculty meeting the news of an accident involving yet another one of our students.
As their principal, my descriptions of events to students over the intercom and various media were honest, developmentally appropriate and delivered in various settings or via different modes depending on the timeliness of the event. We all knew that an intercom announcement, email or voice message was not the best venue to speak meaningfully about someone's life.
When Tim, the PE teacher and coach, died suddenly of a heart attack in February, I wanted to make sure we told his students in his classes personally before an intercom announcement was made. Somehow his spirit was with us as I discovered on his office bulletin board numerous life quotes he cherished that I later shared with the students in daily inspirational thoughts. Now those were meaningful announcements about Tim and his life.
Give to Others
Neighboring schools poured their wishes and support in our direction in every way. Schools crafted signs at their football games, held 'black and gold' color days and collected money for our students' families. Cards and letters came from all over the state, the universities, the clergy, and private families expressing their condolences and support. I shared these in a common area for our teachers and students and I posted this information on Twitter.
We were able to pay it forward later in April when West students came together all "Wearing White for Reat" in honor of a neighboring school's student who was killed in a shooting.
Take Time to Heal
Ezkial would have been a freshman but he was killed in July before he stepped foot into Shawnee Mission West. Even though we adults never got the chance to know his talent, his peers suffered throughout the year from his death, frequently visiting our counselors.
My biggest, personal support throughout the year came from the unassuming actions of the head football coach and PE teacher. He was close to Andre, the football star, and to Tim, the teacher, as a member of his PE department. Every morning on coach's walk through the office, he'd ask how I was doing. At Tim's visitation, three days after having returned from my mother's funeral, somehow coach knew. He could sense my vulnerability as we, side-by-side, visited the casket where Tim was dressed in his West golf-coach shirt. After we sat quickly, he continued to talk to me and engage me as if knowing that if I stopped talking to him, my resolve would be lost.
The students and TV teacher produced a passionate, reflective video that we showed to all the students before holiday break to lighten the mood and focus on safety over break. Students personally reflected on what was meaningful to them in their lives. There was wonderful feedback on that video from the students and the community as well. At the end of the year, senior Logan produced a culminating video that summed up the year appropriately, though.
We built resilience in our students through purposeful leadership by offering compassion and various opportunities for grief and human connection. In high school, we typically teach about subject content and less about social skills. But teaching about death and grief was part of our repertoire that year and what I learned from my students and teachers guides me every day.