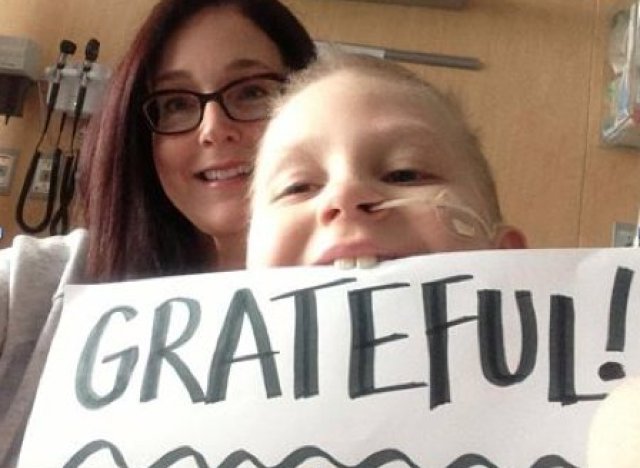 This past weekend, I experienced feelings I had not experienced for a long time. My husband was out-of-town and had signed my four and seven year old up for ski lessons. For years we've had to stay within short distance of an emergency room in case our oldest son, Zach, a leukemia patient, developed a sudden fever or illness.
Now, our family is like a pack of animals being released from a zoo. We are bewildered about what to do with this new, "open space" following Zach's death. On many occasions, we find ourselves wanting to go back into the "cage". All of us would take the limitations and difficulties of "the cage" if Zach was still with us. Definitely.
Be we can't go back. We've made the decision that we have to live like Zach lived. He was an adventurer who loved intense roller coasters and indoor skydiving. And when he couldn't adventure with his body, his imagination took flight. One day he was Batman, the next, Dr. Who. With his iron will to live he fought through three bone marrow transplants chasing a cure. This weekend, we walked out of that cancer cage, and kept walking, this time, to the land of "normal". Well, considering we live in the state of Washington, "relatively normal" might apply? On your map this land would be Snoqualmie, a little ski resort just outside of Seattle.
I have to say that I was really proud of myself for getting two young kids out of bed, dressed, and into the car early with fresh-baked muffins and full gear. We found our way into the mountains and, despite being outnumbered by two small children, I got them fully outfitted and into their lessons. Then I made a radical decision.
I am approaching 50 now, and am not in the best shape of my life due to the fact that I've been, let's just say, otherwise occupied for the past four years. Even when I had time to exercise, it was difficult to stay motivated due to the sheer weight of uncertainty that hung around my neck daily.
But yesterday, I decided to ski -- something I have not done in, say, 15 years? On a whim, I hijacked my husband's credit card, ran to the ski shop to grab some waterproof outerwear, rented skis, grabbed a lift ticket and asked about the nearest, safest bunny slope. It was a lung buster of a walk to the easiest slope, but I trudged onward. I decided to click on my skis and warm up on the adult magic carpet -- the big grocery conveyer belt that takes ski newbies just a smidge up the hill to practice before they hit the ski lift. This was a good plan, no? NO. The sudden jerk of the belt threw me off balance and into a face plant. I'm way too old to be embarrassed, so I laughed as the belt operator pulled me upright.

I couldn't believe it -- it all came back to me. Everything. Life came back to me. I was all alone for the first time in years in the silence of the snow. I felt like I was flying...I felt freedom. And I felt sad and guilty -- guilty that my strong and fearless nine year old could only be with us on the slopes in spirit. But, he was there, and, for the first time in a long time, I was back.
I spent almost four hours yesterday with no responsibilities. I just rode, by myself, up the chairlift and sailed down the mountain. For someone so weak, how was it that I was so strong? Not one fall the rest of the day. Maybe I'd fallen enough. Maybe I just know how to get back up. And the chairlift...that experience alone was so restful, so peaceful, so relaxing, and the view was incredible, and eye-opening.
You see, I have a new pair of glasses, and not the ones in the photo below. It's funny. The entire day I looked down on the beginner slopes (the ones where everyone is learning). You know what I saw? Kids crying. Over-achieving parents yelling. Pushing. One dad in particular stunned me. He was skiing with his daughter between his legs. She was not much younger than Zach. While they were skiing, her ski fell off. He dropped her in exasperation, yelling, "what were you DOING?! Why did you lift your leg up!" He was furious. The lift stopped. I thought for a minute, swinging in the wind. I seriously considered yelling, "Hey, at least it's not leukemia!" Hey, everybody...AT LEAST IT'S NOT LEUKEMIA!
I miss you, Zach, and thank you for my "new glasses". They help me to appreciate the beauty in the snow-topped trees, the freedom of a great day sailing down the mountain, and just the little things in life. It's what you fought so hard to hold onto. I can see just perfectly now, thanks to you. And from the comments I've been receiving in cards, messages, when I meet people everywhere, it seems that you've been giving out plenty of these new glasses.
Now, I just have to remember to put them on each day. This morning I was fretting about my seven year old again, the brilliant one who is underperforming in school. And today is Monday, ugh, a school day. I get the lovely honor of meeting with ALL of his teachers on Wednesday morning about his progress, or lack thereof. Fret. Except, no, wait....AT LEAST IT'S NOT LEUKEMIA. It is an honor. It is an honor to deal with the messiness of life.
Thanks, Zach. Feelin' you today and always....you can be sure that I will NEVER SURRENDER! And, I'll try to remember my "glasses".
Special thanks to Sally Rosenberg for proofreading and edits.