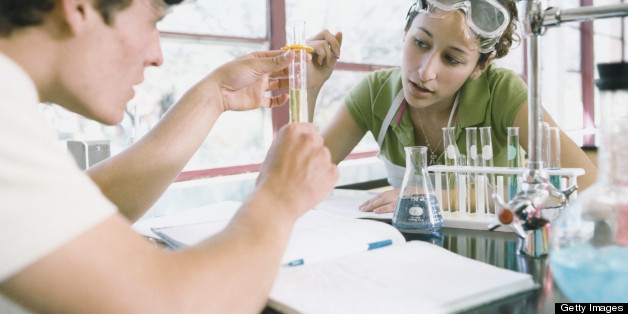 Four weeks ago I joined STEMconnector, 'The One Stop Shop' and powerhouse convener on all things STEM. An organization poised to move the needle on the big issues impacting our country and workforce.
I knew it would be a new career that builds on my 20 years in education teaching entrepreneurship nationally and globally to low-income youth. I was excited to jump in also as a woman in tech to leverage the mentoring of girls with our awesome team. What I didn't know or plan for was how many people would come up to my privately and say, 'Julie, I am so excited for you and want to hear about your new job... but if I am acting confused ... tend to look dazed... what does STEM stand for? What does it mean?'
"Please don't be embarrassed," I said to my friend Leslie, who is a social media guru I want to help us. "No, it's not stem cell research or another Washington association acronym," I added with an understanding smile.
It stands for Science,Technology, Engineering and Math. At this point, everyone I speak to understands it is somehow about education, but here is why it's critically important to us all and especially our children NOW!:
Let's start with THE 'S' -- Science. Innovation. Inventions. Think of how they affect our life commercially: think Mac computers, think cancer research, retinal scans, machines underwater that are built by engineers using math and technology to monitor the ocean floor and predict tsunamis.
My daughter told me this morning that hates science. She is in a group of 5th graders on a project that she says bores her. My heart starts racing and then I reflect on a report we released with My College Options that showed that only 13 percent of high school seniors want to pursue STEM careers and that 71 percent of jobs require STEM skills. "Justine, can we get you into an Camp Invention this summer?" She looked at the photos online of kids creating and building machines. "Now that sounds fun, Mom!" she said. She also shared that she enjoyed replicating the solar system with plastic bottles project in November.
Now moving to the 'T' -- Technology. Computers, jobs, new cars that run without drivers, working for Microsoft, Cisco, Google or a hot new startup. The issue here is there are not a lot of available computer science teachers who are trained in America's schools and often our kids know more about technology than we do. Most states don't require computer science in school and that's a big concern. Often computer science majors are lured quickly into the private sector and don't chose teaching as a career. I see this first hand at home. When Justine was 6, I bought her an iPod Touch and disabled Safari (internet access). Within an hour she was texting family members and called my mom... in Italy! She knew how to take this device that I assumed was for games only and turn it into a communications portal. The vast majority of jobs require technology and companies are hiring often overseas to get the talent they so desperately need. Especially the 'E's' engineers.
Engineers solve complicated problems and apply that learning and technology to building safe bridges that won't ice over, pacemakers, crutches, machinery, buildings that will withstand hurricane force winds, windshield wipers, etc.
Engineers use a lot of M, math, which is our global common language. Financials, how the world works around us. Using math as building blocks to solve complex data driven problems and understanding."
"Justine, tell me what you like about math," I asked before dropping her off at school. Her grades have really gone up in this area and I thought I'd get a better reaction than her science comment. "I liked when we got a million dollars to work with and figure out how we would improve the school. We went online and figured out what materials we would need to buy and how much it costs. We even got onto one site and found great new playground equipment for $20,000 but at another site it was $38,000," she said. Justine is a born entrepreneur with three companies so it made perfect sense that when she is talking about money, she is doing math and loving it.
So what does STEM got to do with it? Why should 'we the people' care about STEM? It ties to everything, education, skills and to where the jobs are and will be. It's fun! It's America's competitiveness; it's cures for cancer and the world's water crisis; immigration and making a home for the best and brightest to stay and build great new companies; the woman in Seattle who mentors a girl in 4-H to patent her idea or code; the amazing focus from the White House and President Obama to train 100,000 more STEM teachers; the next Sheryl Sandberg, inventor Madame CJ Walker, or Steve Jobs.