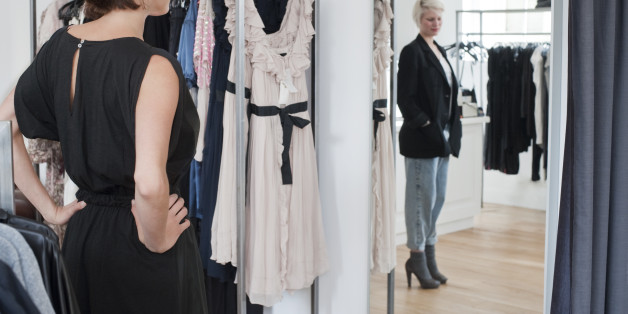 Dear Rabbi,
I am writing you seeking guidance on a very grave matter resting heavy on my heart. As you may have gleaned from your wife's sobs on the other side of the bed, Loehmann's -- spiritual home of many a Jewish woman, temple of American Jewish fashion, female rite of passage rivaling the Bat Mitzvah (all due respect) -- is being put to rest after a long life of 98 years.
As a quintessential good girl (OK, there was that lesbian thing, but we're kosher on that one now, right?), I'd like to know how to mourn this profound loss in proper Jewish form. You may or may not recall your admonishing me several years ago when I stood to say Kaddish for my son's deceased lizard Sandy Koufax; after we cleared up your confusion about why in 2005 we were saying Kaddish for the long-dead Jewish baseball player, you very kindly instructed my son in the prayer for dead animals.
Mirrors have been covered, and I am sitting on a low stool. The shiva is planned (chocolate babka, check; rugelach, check; sour cream coffee cake, check); my mother, sisters and grandmothers have been notified. But how might we best mourn this passing Jewishly?
We have so many memories: of once-in-a-lifetime bargains and the legendary, humbling open dressing rooms. (The only other time so many people saw me naked was during the birth of my son -- it was a teaching hospital). There is the image of myself at various weights, ages, shapes, in mismatched bras and panties, refracted in three walls of full-length mirrors... the moments of intimate fat talk shared between strangers staring straight into the mirror, never directly at each other, asking each other 'does this make my tush/legs/hips/face/entire body look fat?' -- and replying, whether true or not, 'That looks FABULOUS on you!'... the epic three-generation fight between me, my mother and my grandmother in a snaking check-out line, arms aching under piles of clothes, over who was paying for what... the time I broke the family record for hours (seven) spent at Loehmann's on my first visit after months away at college.
Last weekend, I drove three hours (on the Sabbath, yes, and I'm sorry, but I feel certain that Maimonides would allow it) to pay my final respects in person on the first day of the going-out-of-business sale.
Standing in line with a fabulous coral linen $30 shirt, it suddenly occurred to me that I might have a Loehmann's credit slip in my purse. Damn right, it was a $95 credit, and so what if I was an hour late to pick up my son, but it's a sin to let the credit go to waste, isn't it Rabbi? So I raced to the Back Room and nabbed me a tangerine Theory sweater (100% wool but it feels like butta), retails for $298 and I got it for free with my credit slip! Oh, the joy; oh, the pain, that I will never again experience such a bargain shopping orgasm.
Rabbi, what can console us? I know that God works in mysterious ways, but is it really true? Help me figure out how to accept, mourn and move on.
May its memory be a blessing. Next year at TJ Maxx.
Your faithful yet grief-stricken congregant,
Julie Mencher
P.S. You might want to have extra Yahrtzeit candles on hand this time next year at the Sisterhood Shop. You could make a killing (no pun intended).
Julie Mencher is a transplanted New Yorker and therapist in Northampton MA. She has shopped at Loehmann's for four decades and will be rocking her new Theory sweater at synagogue this weekend.