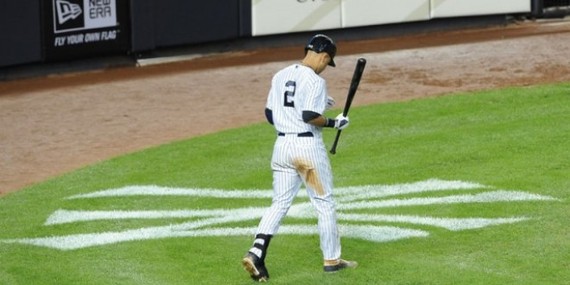 (Photo Bill Menzel, Latinosports.com)
Derek Jeter must have some direct connection to all the positive forces of mother nature, or the universe because everything about him is like a Hollywood ending.
Since his rookie season 20 years ago Derek has had many dramatic moments too numerous to mention for this article so I will just mention these few. Remember all the commotion for his 3,000th hit, July 9, 2011?
Yankee stadium was packed as all Yankee fans wanted to be there for that historic moment. What were the chances of him going for his 3000th hit at home in Yankee stadium? I mean it could have happened in any of the other baseball parks throughout the country that the Yankees visit throughout the season. Obviously you can't decide things like that, it's all about fate. And fate seems to always want the best for Jeter. His 3,000th hit was at home and it was not a single, or a double, but a home run. How is that for dramatics?
Fast forward to his final game of his career at Yankee Stadium on Thursday September 25th, 2014. Again fate was guiding him as he got an RBI double in the first and an RBI grounder in the seventh. That would have been his last at bat, no hit, but he drove in a run. Not a bad way to end his career in Yankee stadium. The Yankees were winning by three runs and he could have easily been pulled out of the game after his last at bat in the seventh inning. However, once again destiny wanted something more dramatic for Jeter to end his New York Yankee career. Fans should remember Jeter's last at bat in Yankee stadium with something more dramatic than a ground out RBI.
Almost like a Hollywood script for a movie. The Baltimore Orioles tied the game in the eighth inning and the Yankees are looking at extra innings, unless they could pull off a win in the bottom of the ninth? Since Derek was not pulled from the game, it gave him the opportunity to do what he's been known to do and the universe complied. Derek comes to bat with one out, bottom of the ninth-inning and gets a "walk-off" single to left in front of a season high, sell out crowd of 48,613 to win the game and the Yankees Win, The Yankees Win!
That would have been it for any other player. That is one great way to end his career, however, again, not for Jeter. He announces that he would play in the last games of the season against their rivals, the Boston Red Sox. He announces that he will play in the Saturday and Sunday games out of respect to the Boston fans and the Red Sox organization. Those two games in Boston were meaningless to both teams as they both were out of playoff contention. But again, destiny conspires.
The weather for those two games was not the typical weather for late September in Boston. The temperature on Saturday was in the high 70s and on his last game Sunday it was an incredible 81 degrees, really, summer weather for the last game of the season in late September?
Again destiny plays its cards. Derek hits a ground out in his first at bat. The crowd, even Boston fans wanted him to get a hit. His next at bat was in the top of the third with a man in scoring position. Derek bounces one off the infield, a "Baltimore Chop" and third baseman, Garin Cecchini could not grab it with his bare hands, Jeter makes it to first, the run scores and the crowd goes wild. Boston and Yankee fans applaud Jeter.
Jeter runs hard to first and stands there laughing. Girardi looks at him and motions with his hand saying: "Do you want to come out?" Jeter acknowledges and he is pulled out for a pinch runner; the fans give him a standing ovation. Jeter runs off to the dugout, he stops by the pitcher's mound and acknowledges the pitcher, then proceeds to the front of the dugout where all the Yankees were waiting to greet him before he takes his final professional baseball bow to all the fans at Fenway park, the team that he and the Yankee's fought for most of his career.
The universe does give you what you deserve and obviously, Derek Jeter deserved and got a lot of R E S P E C T in Boston on his final day of playing professional baseball.