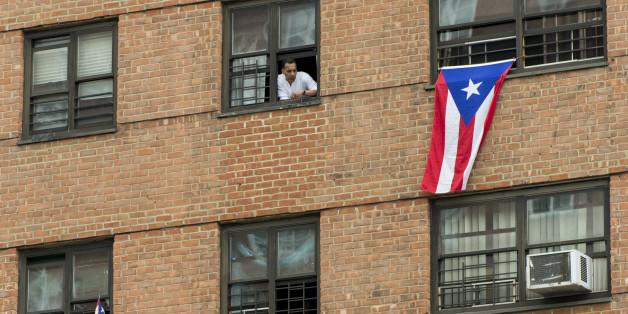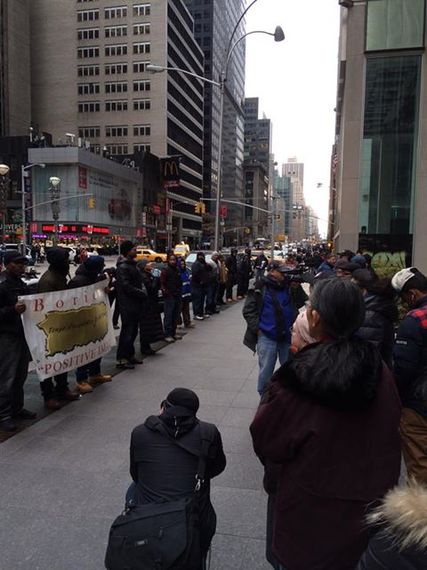 On Monday, I commemorated the Dr. Martin Luther King holiday by attending the rally/protest in front of the New York Post corporate headquarters on 47th and Avenue of The Americas. It was a fitting way to honor Dr. King, who fought for civil rights, respect and equality.
The protest was in response to the papers racist and ridiculous coverage of Puerto Rican councilwoman Melissa Mark Viverito's campaign for Council Speaker. The fact that this was the first time that any New Yorker of Latin ancestry was a candidate for the second most powerful position in the city was news in itself. A respectable news organization had many angles of newsworthy coverage that all New Yorkers would appreciate. However, that was not the case with the New York Post.
Unfortunately, it seems that the paper is not interested in disseminating information to help unite and empower our city. On the contrary, it seems that the Post is more interested in flaming racism and division and keeping our city as divided as possible.
It's ironic that the New York Post would have its corporate offices on a street named for the "Americas," in recognition to the people and countries of Latin America when the paper has done everything but respect people from our Latin countries.
I can't recall the New York Post writing something positive about our Latino communities in the recent period? I do recall that there was a time when the New York Post had progressive articles. I remember when my good friend, now departed, Jack Newfield would write for the paper. I always looked forward to buying the paper just to read Jack's columns'. I remember how proud my family and I were when Jack featured me with film producer, Michael Moore and several others in his yearly, "Top 10 New Yorkers." I'm sure that if Jack would have been alive today, he would have surely written some interesting and positive articles about Melissa.
I also remember when another good friend, Sandra Gúzman was an associate editor at the New York Post. Sandra's tenure at the Post was one of pride for many Latinos as she was always looking for ways to promote the positive values of her Boricua community. I remember when Sandra started a major project to unite approximately 100 Puerto Ricans who had contributed to the cultural, political and scientific growth and existence here in New York City to photograph in a photo called: "A Great Day In Spanish Harlem." The gathering culminated with a historic picture of all 100 in front of El Museo Del Barrio on May 22, 2004.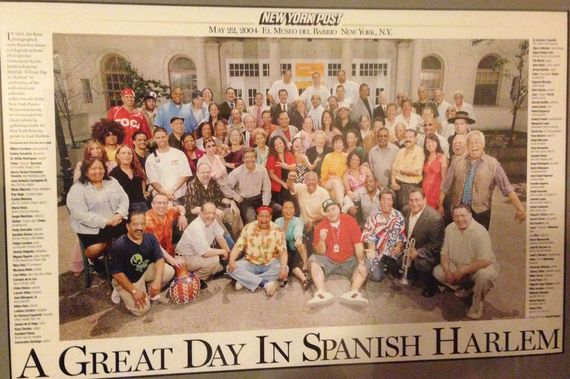 That historic gathering was like a networking festival reunion. The reunion was a blessing to many of us who had not seen each other in years and also made us stronger as we were able to expand our Puerto Rican network. That is what a news corporation should be about, uniting and helping to build a community of readers and potential readers. Unfortunately, people like Sandra are no longer at the Post. Sandra was fired in 2009 after speaking out against a cartoon depicting the author of the president's stimulus package as a dead chimpanzee. Sandra has sued the paper and though she lost in the lower courts, her case has picked up some steam recently with an appeal.
It is unfortunate that this historical daily, the New York Post has become a tabloid more interested in writing distortions and sensationalizing news to sell papers at the expense of whomever. The protest in front of the New York Post corporate headquarters is an honorable response to their insensitivity of our community.
Congratulations to those who called for the action and in particular Boricuas For A Positive Image, an organization that I was proud to have been co-founder of to take on the WABC-TV sitcom insensitive joke of, "I'm Puerto Rican I would be great at selling drugs."
That joke forced us to act and defend our honor. Just as we painstakingly worked for weeks and months to unite our community and force the top executives of WABC to fly in from the West Coast to apologize this new movement can also be victorious if like in the WABC issue we can unite all sectors of the Puerto Rican community. I am no longer involved with the organization, but I support their efforts.