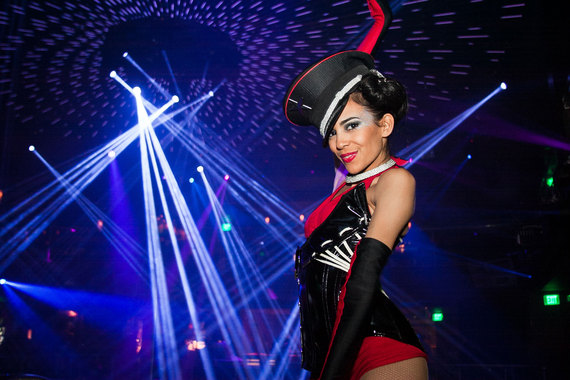 Like most people, I am curious by nature and thrive on the allure of the forbidden. The naughty and the unmentionable is something that is not easily avoided in a city like Miami. So checking out E11EVEN Miami, downtown's newest unique nightlife experience, was right up my alley.
Since E11EVEN opened its doors earlier this year, there has been a buzz of curiosity surrounding what type of club it actually is. It has been referred to as a strip club/night club/Cirque du Soleil-esque/restaurant/lounge/burlesque show/sports bar...I could go on.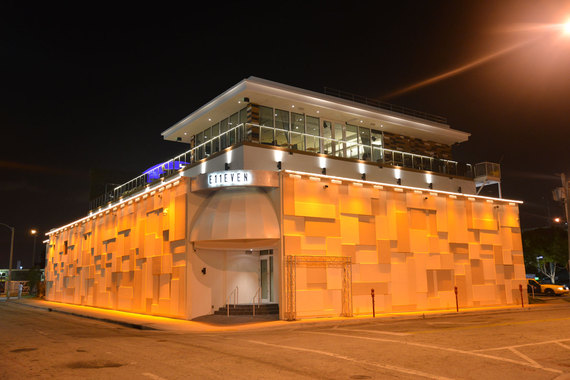 The good news is, as a 24/7 operation, E11EVEN is technically all of the above and pretty much anything else you want it to be. But I kind of like to think that it remains better off undefined, allowing its visitors to gather their own definition from their own personal experience.
The meticulous planning of the club is obvious, as it operates as smoothly as a Phantom convertible on a Sunday afternoon drive. As it should, considering it boasts a $40 million price tag for its owners. You may roll your eyes at the thought of yet another nightclub flaunting scantily clad girls, private VIP rooms and even a 24-hour schedule. But please, hold your cynicism, because until you are actually walking out of E11EVEN as the sun is rising just down the street over Biscayne Bay, you will not understand that this place truly is unique from the first dance to the last.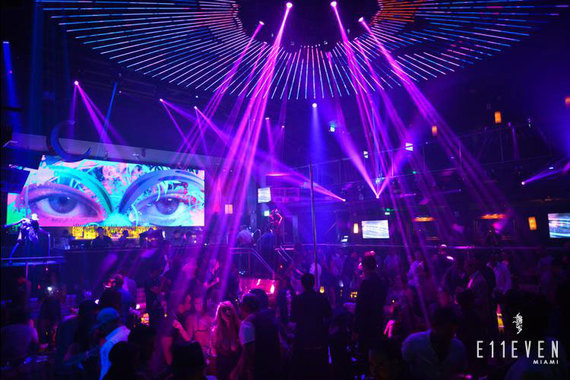 Not to say I'm an adult entertainment venue guru, but I'm far from a novice. I've seen my fair share of establishments, and this one truly offers anyone from the comfortable to the curious, an experience like no other. A contagious energy is inevitable from the moment you step into the 25,000-square-foot venue. Located on NE 11th Street (hence the name) in downtown Miami, E11EVEN is built on the graveyard of what was once the Gold Rush strip club. Luckily, it has all but erased the memories of a once dilapidated smoke-filled strip joint and in its place created a one-of-a-kind complex that acts more like a vortex of time suckage...in a good way. Case in point, my first visit to the club I arrived around 11 p.m. and before I knew it, it was nearly 4 a.m.
I recently had the opportunity to sit down with founder and creator of E11EVEN Miami Dennis DeGori, to get the inside scoop of what this entertainment mecca is all about.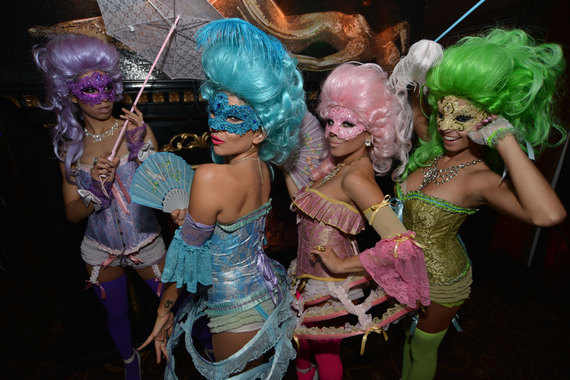 "E11EVEN was created to be an authentic entertainment-driven venue with or without any one particular component. Whether it be the Theatr11cs, the Cabaret or a live DJ, we're literally at it 24/7," DeGori explained. "We have made a lot of friends and we have fully immersed ourselves in the Miami market. I spent over a year building E11EVEN and developing relationships to ensure we were woven into the fabric of the community instead of trying to graft ourselves onto the scene. E11EVEN is Miami, in my mind! If you haven't been to E11EVEN, then you haven't been to Miami. "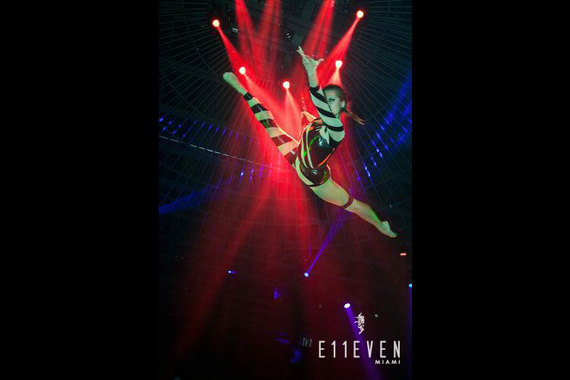 I concur. It's the perfect concoction of all that is good about a "good time." The burlesque nature of the intermittent theatrical shows is enticing and downright hot. The women of E11EVEN know their way around the dance floor and yes, the pole is used quite impressively throughout the night as the dancers fulfill the fantasies of both men and women alike from the middle of the first floor stage. With six full-service bars, drinks are available without having to fight your way to the bartender, something that is not-so-common in Miami. Not to mention the drinks are actually well made, also something that too many other spots in the city lack. Another thing the venue offers is an impressive VIP experience.
"We offer bottle service, personal, special event and special white glove VIP treatment," DeGori said. "Whatever you desire, we provide. Want to sit in the DJ booth or on a special make-it-rain perch? No problem. We can basically accommodate anything that a guest may want. Private and secluded VIP access even entails secret and concealed entrances for super celebrities, including their own privatized VIP bar," he said.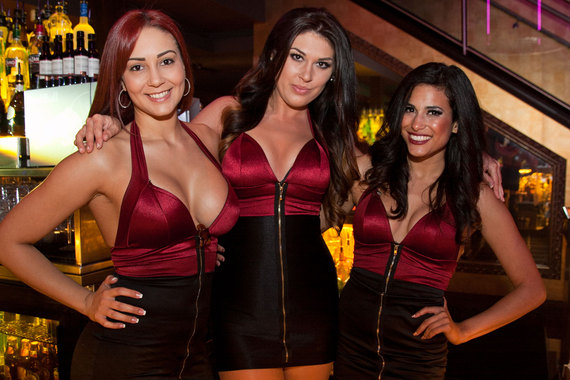 But in a city like Miami, where nightclubs seem to come and go, I had to wonder what the motivation was to take a shot in this magical city.
"Miami is the right place at the right time. Miami is a multicultural, diverse mélange of international visitors and transplants. Downtown Miami has quite recently shown a major commitment to the Performance Arts, while the Port of Miami has made a major commitment to upgrade its appeal to host worldwide traffic into our port," mentioned DeGori. "The Marriott Corporation has committed to a 2,000-room hotel with 500,000 square feet of convention space. Bloomingdale's and Macy's have announced a Mega-Mall three blocks from our location. Grand Central, a privately funded high-speed train line servicing the Miami-Ft. Lauderdale-West Palm-Orlando markets has been on the drawing boards and is set to break ground in 2014. That in itself is enough said, but add to that a perfect location and a perfectly situated tract of land to recreate one of the finest International Cabarets & Nightclubs in the World, and you have your reason!"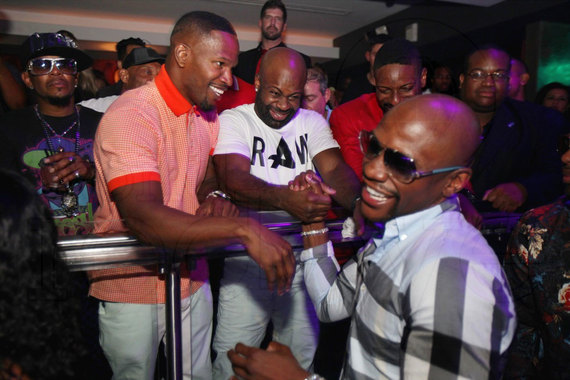 And if anyone would know exactly what it takes to open a venue like this with only the utmost confidence that it will continue to thrive, DeGori would. Born out of 30 years of nightclub experiences from NYC to Los Angeles, Las Vegas to Chicago and Miami, DeGori believes that E11EVEN is a true Miami experience. As a 24-hour venue, it can be anyone's last stop of the night or a sunset cocktail on the Rooftop at Touché, a one-of-a-kind restaurant with an award-winning chef, as a start of your night.
DeGori has worked operating and owning cabarets, nightclubs and restaurants across America, and he remains one of the most successful owners and innovative operators in the US within the nightclub cabaret industry. A native of NY, he began his career in Orlando, at a small 2,000-square-foot venue. Over the course of three decades he has opened and/or operated two dozen clubs including some of the nation's highest profile, most profitable and award-winning nightclub cabarets.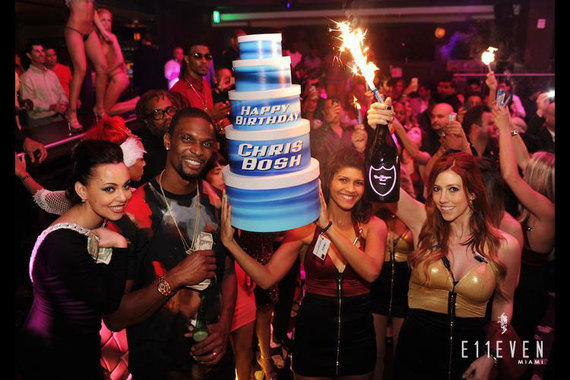 Certainly not a one-man show by any means, E11EVEN has a strong backbone of support keeping it running day in and day out. Between E11EVEN and Touché, the company employs over 300 people, and even that number does not include any of the entertainment-driven persons from the facility DJ's, aerialists, go-go's, contortionists, magicians, dancers, stage hands, wardrobe and beyond. Yet they all mold together to make sure that your experience is an unforgettable one.
Alongside DeGori is Las Vegas native Gino LoPinto, who brings 22 years of nightclub experience. He masterminded the rise of Spearmint Rhino before founding Glo Global, a lifestyle marketing company that included Glo nightclub and record label Glo Music. He formed Vegas Alliance, and produced major concerts at Empire Ballroom including Prince, Black Eyed Peas, P!nk and The Killers, as well as celebrity events with Puff Daddy, Jamie Foxx, Ashton Kutcher and Demi Moore. Before joining E11EVEN Miami, LoPinto was the Director of Operations at Larry Flynt's Hustler Club in Las Vegas.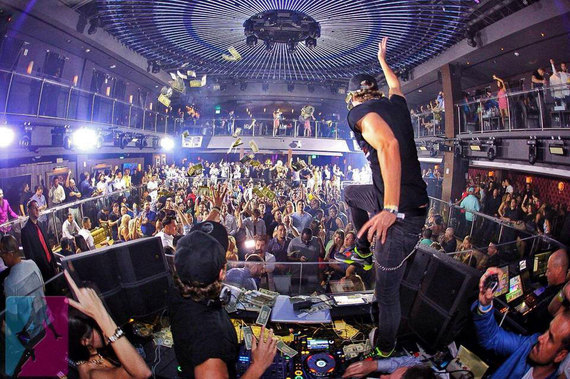 Keeping things in the family, Ken DeGori brings 25 years of experience and built three cutting-edge nightclubs in NYC from the ground up including Stringfellows Pure Platinum, the first high-end gentleman's club in New York City. He also served as Vice President of Operations for BSC Management, which provides consulting services for 10 of San Francisco's most successful adult nightclubs. DeGori's work has received awards and accolades from New York Magazine, HX magazine, Exotic Dancer magazine, Citysearch and SF Weekly.
Derick Henry is managing partner of executive protection and security consulting firm Premier Group & Associates. Henry has 25 years of experience managing staff and security direction. Back in 2009, he became the managing partner for Premier Group, an executive protection and security-consulting firm located in Miami, whose clients include Justin Timberlake, Prince, TLC, the Jonas Brothers, Kesha, Pitbull and Eva Longoria.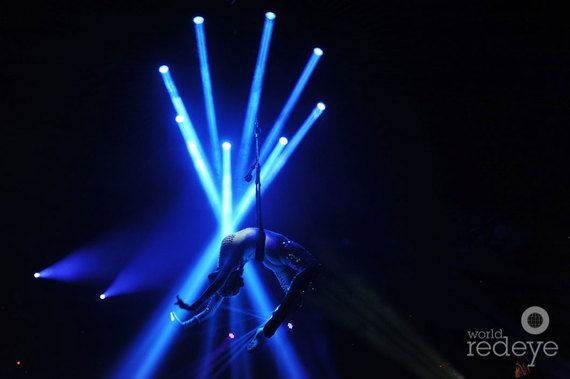 Daniel Solomon, also a Las Vegas native, has held various managerial positions at TAO Nightclub and TAO Beach before becoming General Manager of the award-winning Marquee Dayclub in Las Vegas. Under Solomon's watch, Marquee was the number one grossing venue on the Nightclub and Bars Top 100 List in both 2011 and 2012. During Solomon's tenure, DJ Magazine named Marquee a top club and Best of Las Vegas dubbed Marquee the "best nightclub and day club" on several occasions.
With a masterminded crew of talented pied pipers like this, it is no surprise the E11EVEN continues to thrive. I also found one of the most appealing things about it to be the mix of clientele. From the guy next door, to pro athletes, to groups of females together for a girl's night out, to couples, businessmen and everyone in between, the club is perfectly designed to accommodate anyone--at literally any time.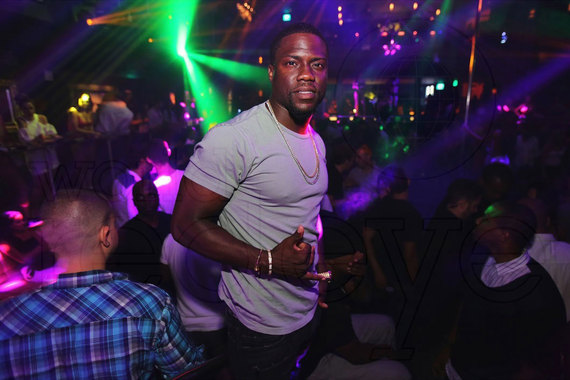 Make no mistake though, the entertainers are flawless in both their physique and skills. Still, I had to inquire as a 24-hour venue, what were some of the challenges to keep the experience fresh for every single visitor whether it be at 10 a.m. or 11 p.m. "The challenges are infinitesimal. Sharing of consistent information over each 24-hour period without end is a big challenge. Keeping the operation consistent and the experience seamless is also a major challenge," DeGori said. "The greatest advantage that we have at E11EVEN is the depth of the leadership. Our four operating partners, each have a diverse and very rich background contributing to our ongoing success."
As for the long-term goals to keep E11EVEN running as a fresh and exciting venue, DeGori recognizes it is an ongoing process.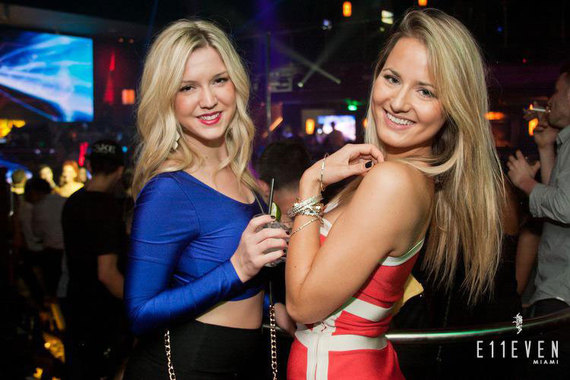 "E11EVEN is far from a fully developed concept. The concept of the showclub I created is truly a new genre of clubs in America. My concept was simple in that I wanted to create that authentic entertainment-driven venue, and in the end, marry together the best that the nightclub industry, cabaret industry and theater industry has to offer," he said. "I am constantly redefining the concept so that the overall experience will be seamless. I am constantly adding dimensions...shows, live DJs, special events and striving to perfect the recipe. E11EVEN works and will continue to be alive and fresh because I am a possibility thinker. I want the market to determine what E11EVEN is or should be."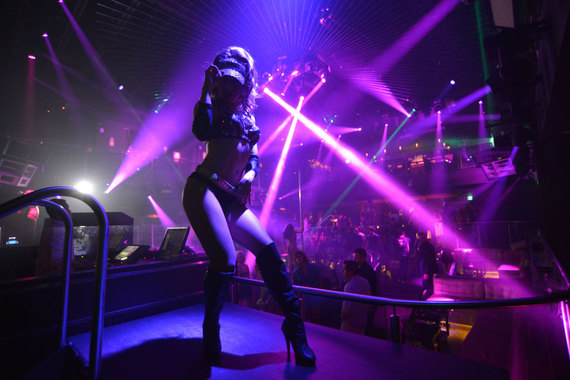 With an extremely accommodating and consistent staff, 24-hours of eye candy, great drinks, uber entertainment and the perfect hideaways tucked into every corner of the club, E11EVEN is clearly a venue that has already left its mark on the people of Miami, present company included. Regardless if you are settling in one of the VIP rooms or just sauntering around the top floor mezzanine enjoying the scenery, E11EVEN is above and beyond anything the city has yet to offer, because let's face it, we're all a little curious.
By Marissa Foglia
(Photos Courtesy of E11EVEN)