On May 7, I participated on a panel at The Public Theatre asking the question, "Is New York Still A Home For Artists?" The first roundtable discussion included novelist and 360 host Kurt Andersen, Justin Davidson (classical music/architecture critic), Amy Larocca (fashion director), Jerry Saltz (art critic) and was moderated by Damian Woetzel, director of the Aspen Institute Arts Program. The second included composer Gabriel Kahane, writer/director Young Jean Lee, Emma Straub, myself, and director of the Public Forum, Jeremy McCarter, who moderated.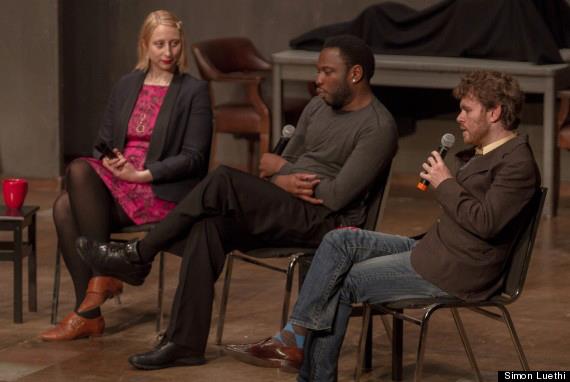 It has taken me a minute to respond because I have not only been pondering the question "Is New York Still A Home For Artists?", generally speaking, but also "Is It Still A Home For Me?", personally.
I spend most of my time in my studio, which is a live work space in Crown Heights, Brooklyn. When I'm not traveling, I am writing, shooting, recording, performing, drawing, or painting. Unlike my early days in New York, I no longer roam the boroughs attending opening after opening, party after party, all night conversations in some random artist loft/apartment/space (the after after party). It sounds great because it was great. It was also more distracting than inspiring. This is not to say this lifestyle couldn't work for some other artist. just couldn't afford to lose my career and opportunities that presented themselves, because I was too busy hanging out hungover. On the other hand, too much time in the studio and no fun doesn't help my perspective either. I am not the type of artist who wants to be creating work all the time with no sense of community. What artist does? It is true that practicing art can be an isolating experience and yes, we are born alone and we die alone, but relationships, being connected to others -- especially like minds rather it be a husband, wife, friend, partner, boyfriend, girlfriend, sister, brother, family members and so on -- are important for an artist to thrive.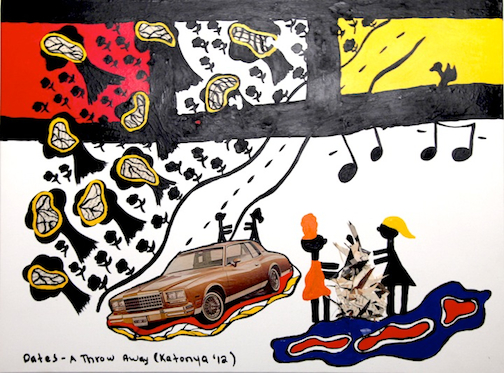 On May 24, I attended a screening of The Triptych presented by Afro-Punk Pictures at the Brooklyn Museum. The film featured artist-friend Sanford Biggers.
Artist-friend Wangechi Mutu:
Barron Claiborne -- to whom I was introduced for the first time:
The event was packed and it was obvious it was a scene and a group that congregated often. I saw many friends, familiar faces I hadn't seen for some time and a few I see all the time. During the Q&A, Wangechi Mutu said she was not a public studio artist and had some issues at first being filmed. I'm glad she agreed because it gave me some new insight on her process and her background that I wasn't familiar with. The same was true with Sanford Biggers who I have also known for some years. He followed up by saying recently for the first time he had folks over to his studio, something he hadn't done in all the years he's practiced art. I wondered how much time do successful artists spend on hanging out partying and/or throwing studio parties?
Recently, I've walked into spaces and people have turned, and looked at me with the expression, "What is he doing here?" And a few have actually asked, "You live in New York?" My thoughts, "First, I don't go anywhere I'm not invited. Secondly, is it that serious? I'm here. All up in here. Lastly, where am I suppose to be, besides any and everywhere I choose?"

In early May, I was invited by Amy Cappellazzo, chairwoman, Post-War and Contemporary Development at Christie's to attend a luncheon in honor of Romare Bearden -- guests included Thelma Golden (director of Studio Museum in Harlem), Glenn Ligon (artist), Henry Louis Gates Jr. (scholar) and others. I felt honored to be there, but what felt better is the staff greeted us with kind words and spoke kindness as we all went our separate ways afterwards. I was told, "This is your home. Keep coming back. See you soon!"
If they knew it or not, it was something I needed to hear. Yes I had performed there a year earlier, but sometimes an artist doesn't always click with an institution, space, and/or company. Or the relationships grow distant and/or turn sour.
Happy to be part of the Christie's family. This is not to say I don't call other institutions, organizations, and spaces home, because I do.
Another recent encounter was with Glenn Lowry, director of MoMA (New York) at Tom Sachs opening for his Creative Time project, Space Program: Mars at Park Avenue Armory. Lowry basically complimented me on my e-mail updates and said I stay busy and hopes more of my work will make it into the MoMA -- so do I :-)
Presently, my video Melody Set Me Free is playing at the Museum's video on demand program on the second floor.
I am not boasting or complaining, but this is what I experience in New York when I go out. Honestly, I don't think I would have as many options anywhere else. There are many scenes happening in New York and sometimes they overlap. For the most part, I'm not sure if there is one synergy or scene that represents or dominates not only New York, but the international art scene. I could be wrong -- feel free to argue your point -- if you disagree. I will say there may be more opportunities for success in New York than anywhere else for artists. Mostly depending on what opportunities present themselves and how the artists manages them and their life in general.
"Is New York Still A Home For Artists?" Yes. "Is It The Cultural Capital Of The World?" Every city should start a website and have bloggers post pics and videos of openings, events, parties, etc. and have the world vote. Or maybe this is the next great art/culture reality show?
The truth is... the world is the artist's home and we should find communities online and off that support our aesthetics. It is not always an easy task. Sometimes it's worth the battle of getting others in those desired spaces to accept us, but we may find acceptance, liberation, have everything fall into place by moving on, forward, somewhere else. Where? Home. Wherever that is for us as artists.