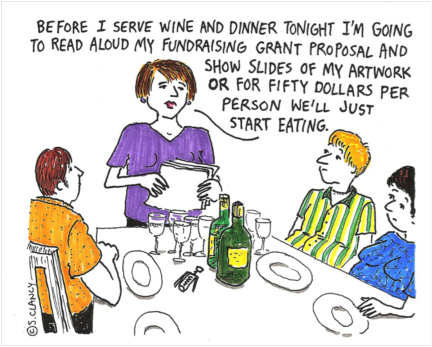 Cartoon by Sue Clancy
Fundraising can be a daunting task, and writing grants requires a lot of time and effort. There is a lot of competition for a small amount of funds. Coming up with other strategies to raise capital is essential for contemporary artists. The more diverse your funding sources, the more stable your practice will be.
Get creative about your fundraising ideas. Do searches on the web to see how other artists and organizations raise funds and if you want to write grants but need more guidance, consider using a fiscal sponsor as a partner.
Partnering with a fiscal sponsor means that a nonprofit organization receives money on your behalf (often less a small percentage to pay for their legal and accounting fees). As long as the non profit's mission matches your own project, this is worthy of consideration. However, never create a partnership with a nonprofit if you are going to take the money and run. Artists have burned many non profits by not completing projects and tarnishing the reputation of the fiscal sponsor, so please, be respectful.
Some Ideas to Consider:
• Online Fundraising Sites -- There are a number of independent fundraising sites online such as Kickstarter and IndieGoGo where you can set up a campaign to raise funds for a specific project.
• House Parties -- Organizations like MoveOn and grass roots projects have thrown house parties as fundraisers for a long time.
• Film Screenings -- Screen a film at someone's house, in a parking lot, storefront window or other site.
• Performance -- Hold a performance at someone's house, or other venue. Sell tickets. Use a theater on a dark night. Do it in public.
• Sales of Artwork -- Have an open studio tour, make artwork available on your website.
• Services -- While an old standby, events such as the car wash, bake sale, and other ideas might be updated to make it more interesting or educational. The wackier the better!
• Auctions (of anything, including services) -- While art auctions are always taxing on artists (who are perpetually asked to give everything away for free) there is no reason why you have to auction art in order to make money.
• Block Parties -- Another take off on the house party idea. Get a permit and block off your street for an event or find a public park and create an event.
• Direct Mail (letters to friends and family) -- come up with an interesting idea for a letter to ask for funds.
• Yard or Garage Sale -- Got stuff you can sell? Collaborate with other artists to do a giant yard sale or studio sale. Market it to other artists as a studio sale, and sell all those supplies you have collected but do not use anymore.
• Money Catching Machine (pneumatic cash transport mechanism) -- Machine Project in Los Angeles created a money catching machine which they describe as follows: "Bring cash money to put in our ramshackle and potentially dangerous pneumatic cash transport mechanism.
• A New Twist on Events -- While some events have been around a long time, consider a new twist to them. Side Street Projects in Pasadena, CA has put on a Phantom Ball for 15 years which "takes place" on April 1st (no foolin').
• Donation Button -- Have a website? Consider adding a donation button to the site for a specific project. Not a nonprofit? Then look for a fiscal sponsor. (See links at the end of this article.)
• Product Sales -- You may have a creative idea for a product that relates to your project, such as a CD of your music, video of your last performance, books, artwork etc.
• Artful Dinners -- Create a special dinner for donors. Hire artists to perform, read poetry, or provide other entertainment that relates to the project. Invite a special guest, such as an important artist or author.
• Have a Raffle -- When I first began to raise money for a nonprofit (Side Street Projects again), one of the ways that we paid for the receptions was to offer raffle tickets to the viewers during the openings.
• Make a Wish List -- Instead of writing grants to get "things" consider going to the manufacturer and asking directly for a donation of that item.
• Cook Off -- Lots of artists cook. Have an event like a chili cook off where folks buy tickets to taste all the different kinds of dishes. Maybe you can relate the dish you cook to your project.
• Partnerships -- Consider creating partnerships with other businesses or non profits that can help you get things done for your project.
• Paid Ads -- You can solicit paid ads for your website. Use Google Ads as a way to make life easy. For every click, you get paid.
• Repair Items and Re-sell -- Consider taking in donations such as used tools, cleaning them up and re-selling them.
• Make Yourself Visible -- You should all be in Facebook (with a page for your artwork), Linked In, and Artslant.
• Market Your Skills -- Sign up for a number of skill pages such as http://www.skillpages.com/, and market your skills.
• Rich Uncle or Aunt -- Say you have a rich uncle who has agreed to give you some funding for your project. If he needs a tax write off, set up a fiscal sponsorship with a nonprofit so he can get the tax write off and you can get the funding.
• Get a Fiscal Sponsor -- so you can raise funds or in-kind support from businesses as well as a rich uncle. Fractured Atlas has a fiscal sponsor program which you can apply to.
This is a shortened version of an article on the GYST website which you can find here.
Comments and additional ideas encouraged.