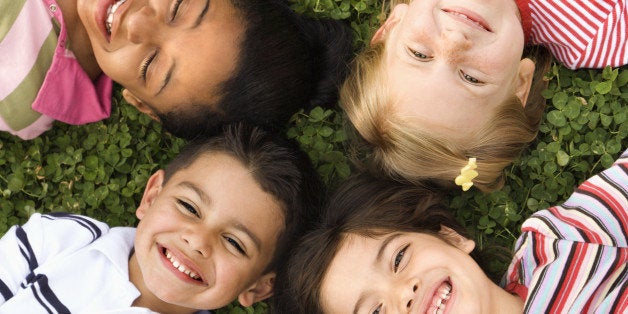 T included a classmate in a drawing at school. He wrote the child's name and put a label beside the picture. Black. Another student informed the teacher, who took T aside and explained they do not use terms like white and black at school, because those words can hurt feelings. His teacher assured me he was using the word as a descriptor and not out of meanness.
I get it. And I don't get it. And I get it.
We live in a city. T goes to our local public school. It is very diverse, both economically and racially. Every child in the school receives free breakfast and lunch. Since the beginning of the year, he has had a lot of questions about his classmates. Only occasionally are they about race, but those are the ones that I remember. What does black mean? What color am I? What does white mean? Do we have any black people in our family? Why not?
In our school, there is a correlation between race and privilege. It is uncomfortable and impossible to ignore. There are extracurricular events arranged by the PTO; STEM night, mini academies, the neighborhood 5K, marching in a local parade. The same kids and parents are always involved. Of course the segregation is not 100%, but again, impossible to ignore.
Forget my kid, I don't know how to talk about race, period. I notice a gap between the experience of T and some of his peers. I notice the gap only widens by the higher grades. Does it help to talk about it? Do I dare talk about it as a white woman who is incredibly privileged? Can I do something to help? Is trying to do something to help an example of privilege trying to solve problems it doesn't understand?
How do I explain race issues in America to a 5-year-old when I can't wrap my brain around them myself?
If the rule is we don't use color as a descriptor at school, that is fine. It is easy to tell him that the color of a person's skin has nothing to do with who that person is. It is harder to explain why addressing race is a minefield in America.
"We need to talk about something serious, T. I need you to focus."
"OK. But can we stop at Target after swim lessons to get one of those squishy Transformer things? From the dollar section?"
"You are not listening. And no, no toys. You need to focus."
"You know how we have talked about women being treated like less than men?"
"So, 100 years ago women couldn't vote. Women used to belong to their husbands. They couldn't own property. You know how Daddy and I own our house together? A long time ago I wouldn't be able to own a house."
"It used to be like that for black people. Actually, the white people came to this part of the world and they took the land from Native Americans. And then they brought people here from Africa and made the those people slaves. You remember what slave means?"
"Yeah. Um... uhhh. To take somebody away and never let them go back?"
"Yes, to own a person. Which is a terrible thing. So white people were in charge and they made really bad choices about how to treat people who looked different from them."
"If white people were in charge, were white women in charge, too?"
"Nope. Not for a long time. If you were a white woman or a person who had darker skin you were not treated equally. And the problem is that even though now there are laws to make people treat women and darker-skinned people equal, it doesn't happen all the time."
"If I went back in time, I would be really nice to women and people with different colored skin."
"I really hope that you would be."
"And I would be mean to white men to teach them a lesson."
"Oh, baby. No. I don't want you to be mean to anyone. I wouldn't want you to go back and be mean to white men. Maybe if you went back in time you could try to change their minds about the way they treat anyone who is different."
"Listen, there are good white men and bad white men and good women and bad women and good black people and bad black people. Because we are all human and we are all born equal to each other. And there are good people and bad people in this world, but that has to do with who we are on the inside, not what we look like on the outside. Just because white men made bad choices a long time ago doesn't mean that all white men are bad. Is that daddy bad? Is granddad? Is grandpa? Are you?"
"Dude, this is so complicated. It is so complicated that using colors to talk about people's skin can be hurtful and we need to be extra careful at school not to do it because those are the rules. But it is OK to think about how people look different. It is OK to talk about it. You need to be aware that people with darker skin are still treated unfairly too often and we need to speak up when we see that happen. You need to understand that you will be given extra opportunities as a white man that have nothing to do with how hard you work. And that is not fair. It also isn't your fault, but you need to be aware of it."
Is this enough? Is what I said appropriate? I have no idea. How do you explain institutional racism to a 5-year-old? The amount of discomfort I feel about it tells me we need to be talking about it. Even if I screw it up. We need to keep talking until we get it right. I don't want him to carry the guilt of the choices his ancestors made. At the same time he must understand he occupies a place of privilege in this world that he did not earn, but that he was born into.