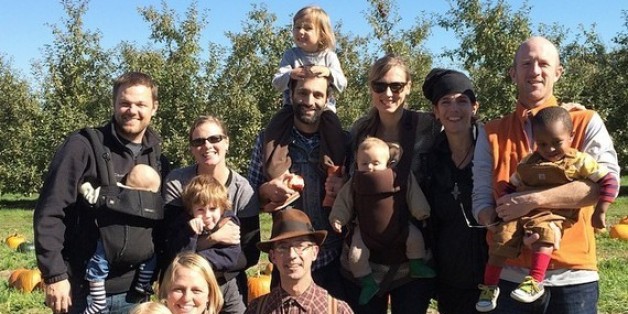 More than three years ago, I met a gal and fell deeply in friend lust. She lived right around the corner, was having her first kid a couple months before I was having my second, she and her husband had moved here from Brooklyn... we had a lot in common. They were our people in a town that really is not full of our people. I tried to play it cool around her, didn't want her to know that I was in desperate friend-love with her. On Facebook I wrote frequent, obsessively creepy status updates chronicling my quest to awkwardly befriend her.
Guess what? She is every bit as awesome as I thought she was. She also has an awesome sister and introduced me to an awesome woman I'd casually met who lived around the corner. That awesome woman introduced us to her awesome close friend. Z and I introduced all of them to the awesome couple who are our closest friends in town. Our families and kids started hanging out pretty regularly. And over the course of several years, these folks have become our community and surrogate family.
As a kid who moved around every few years, it is the kind of group I've wanted to be a part of for my whole life. My boys will benefit from the consistency of these relationships even as their friendships with the various kids ebb and flow over the years. It certainly doesn't hurt that my two will grow up knowing that there will be parental eyes on them all over the neighborhood. Fingers crossed that will help curb the number of dumb choices they are guaranteed to make as they slide towards adolescence.
I love these families, I do. The kids have a special place in my heart. The husbands are also good friends. But the ladies. Oh, the ladies...
During the moves of my childhood, and carried into my adult life, I've usually had one or two extremely close friends. I've valued quality over quantity, a tiny but tight social circle.
This might be the first time in my life I've had been part of a group of ladies who are all dear friends. It feels effortless to be around these women, there isn't jealousy or competitiveness. We expand to include new ladies, we sometimes hang out in smaller groups, there is an easiness in our friendship that feels like such a relief. It has made me wonder why I haven't been seeking out this kind of group for my whole life. Not that women like these ladies are easy to find. But I've learned that quality and quantity are not mutually exclusive.
I'm working on a paper this semester and have been frequenting a local coffee shop. The other morning, I approached the counter. "Can I please have a savory porridge and a pomegranate Italian soda?"
The woman behind the counter looked at me with panic in her eyes. "Are you all coming?" she asked.
"Nope. Just me."
"OK. Because if you were all coming I'd have to make more porridge."
I laughed. "I hope that we aren't too loud or anything."
"No, but we have been wondering what you guys are. Like are you working on a project or something?"
I laughed again. "No, no. We are just... friends. We are friends."