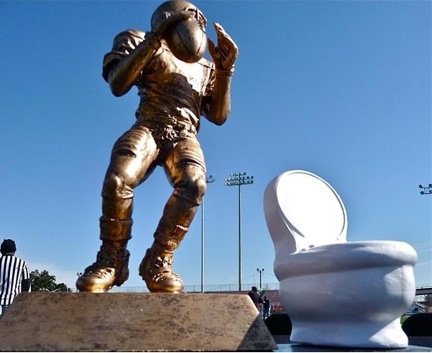 Full Post at HelloNewOrleans.com
With a chilly Super Bowl coming up, former New York Giants quarterback Jesse Palmer served as quarterback in the Clorox Toilet Bowl Ode To The Commode - A Bowl Game for the Rest of Us raising $25,000 to upgrade bathrooms in Pan Am Stadium at City Park. "It's been a long bowl season, but I've really been looking forward to this one," Palmer said. As the quarterback for both teams, he said the game reminded him of a friendly high school pickup game "where you're playing with total strangers." The temperature could have been a damper, but Palmer noted, "I'm Canadian -- this is like our summer," adding that helping a New Orleans park recover from post-Katrina levee failure was what brought him down to host the game.
In a friendly private game of flag football, both teams used strips of toilet paper as flags and toilet bowls were integrated into the trophies (pictured above). Palmer, also a former contestant on The Bachelor, was all in from his pep talk at the beginning to the final awards ceremony. Porcelain Filly's, based in Texas, played the Clorox Ox's out of Pennsylvania, and teams were selected by voting from friends and family on Facebook. Local flair included the New Wave Brass Band and the Voodoo Dolls, cheerleaders from New Orleans' semi-pro team The Voodoo.
"They could have had this anywhere, but they're attuned to New Orleans and coming back," said John Hopper, director of Development for City Park. "Not every city would have warmly embraced hosting the Toilet Bowl to the level that New Orleans does. I ride in Tucks, with the giant toilet bowl float." Friends of City Park has raised $84 million toward the total $150 million needed for full renovation post Katrina. David Kellis, Clorox' senior marketing manager, said that as part of his company's commitment to the city, Glad Products sponsored the first two Mardi Gras celebrations post-Katrina. "We were handing out garbage bags right and left." Based on the success of the first Clorox Toilet bowl, the company may make it an annual event.
Slideshow and Full Post at HelloNewOrleans.com