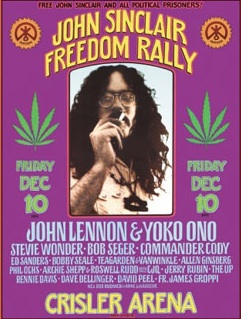 Among those sharing memories of John Lennon on what would have been his 70th birthday, no one was more directly affected by a Lennon song than poet John Sinclair. After Lennon and Yoko Ono flew to Michigan to perform Lennon's song John Sinclair for the Free John Rally, Sinclair was released from his sentence of 10 years for giving an undercover police officer two joints.
"I first heard it in prison when one of my lawyers came and played it for me," Sinclair said of the song in a phone interview. "I couldn't believe he would come and play it for my concert." The rally was held at Ann Arbor's Crisler Arena in December 1971. Within a week, the Michigan Supreme Court ruled that the state's marijuana statutes were unconstitutional and Sinclair was released.
"My first wife and I went to New York to say thank you in December. I got out on the 13th," Sinclair said. The song was later featured on Lennon's Some Time in New York City album and is in the movie The U.S. Versus John Lennon.
Sinclair's fellow peace activists had lobbied for years for his release, but a former Beatle showing up and singing a song with the judge's name in it spurred immediate action. "It was the culmination of two and a half years of agitating and organizing to get me out. I just lucked into Lennon hearing about it and wanting to help. That meant a lot to me."
Others at the rally included Stevie Wonder, Allen Ginsberg, Abbie Hoffman and Jerry Rubin. All were friends of Sinclair who was known for reorganizing The Fifth Estate, one of the longest running alternative newspapers in the United States, and managing Detroit's MC5 - the only band to play the rally at the 1968 Democratic National Convention in Chicago before the police shut it down. Ann Arbor still hosts a Hash Bash ever year, possibly an offshoot of Sinclair's Free John Rally.
Sinclair's path as an activist and author has led him from Detroit to New Orleans to Amsterdam where he now runs Radio Free Amsterdam. In addition to Lennon writing the song that released him from prison, Sinclair's favorite memories of his friend include "when he wrote Power to the People, putting up the billboard in Times Square, the Bed In's for Peace - I liked all of that a lot. You think you'd you see Lady Gaga doing a Bed In for peace? Or 50 Cent? It's a different world. No one with the taste or musicality of John Lennon would ever be heard today."
It's true that the days when a superstar at the level of John Lennon could release a song as politically potent as John Sinclair are long gone. But with platforms shifting everywhere from the recording industry to the publishing industry to something as simple as Twitter, we could once again be reaching a time when Power to the People is more than just the title of a song.
UPDATE: This week the FBI pulled Lennon's fingerprints from a celebrity autograph auction, presumably in the interest of public safety. For Lennon's birthday an Imagine Peace Tower in Iceland was lit up with the power of peace Tweets in his honor. Happy Birthday, John.
John Sinclair
By John Lennon

It ain't fair, John Sinclair
In the stir for breathing air
Won't you care for John Sinclair?
In the stir for breathing air
Let him be, set him free
Let him be like you and me

They gave him ten for two
What else can what else can Judge Columbo do?
Gotta, gotta, gotta, gotta,
gotta, gotta, gotta, gotta,
gotta, gotta, gotta, gotta,
gotta, gotta, gotta set him free

If he'd been a soldier man
Shooting gooks in Vietnam
If he was the CIA
Selling dope and making hay
He'd be free, they'd let him be
Breathing air, like you and me

They gave him ten for two
What else can Judge Columbo do?
Gotta, gotta, gotta, gotta,
gotta, gotta, gotta, gotta,
gotta, gotta, gotta, gotta,
gotta, gotta, gotta set him free

They gave him ten for two
They got Ali Otis too.
Gotta, gotta, gotta, gotta,
gotta, gotta, gotta, gotta,
gotta, gotta, gotta, gotta,
gotta, gotta, gotta set him free

Was he jailed for what he done?
Or representing everyone
Free John now, if we can
From the clutches of the man
Let him be, lift the lid
Bring him to his wife and kids

They gave him ten for two
What else can the bastards do?
Gotta, gotta, gotta, gotta,
gotta, gotta, gotta, gotta,
gotta, gotta, gotta, gotta,
gotta, gotta, gotta set him free