Frank Ocean returned to New Orleans Saturday, greeting the New Orleans Jazz and Heritage Festival audience with an understated: "A lot has changed." The Grammy-winner took the music industry by storm with his debut album, came out in a sometimes homophobic industry, and won a parking lot war with Chris Brown. Along the way he picked up a Best Rap Collaboration Grammy for No Church In The Wild with Jay-Z, Kanye West and The Dream, and Best Urban Contemporary Album for Channel Orange.
With all that under his belt, coming home is still a complicated thing. Ocean lived in New Orleans from the age of 5 until the post-Hurricane Katrina levee failure hit just as he was starting college. Relocated on the West Coast, he found success as did Dr. John, Earl Palmer and other New Orleans musicians before them. The 27-year-old has earned success as both a musician and as a writer. Listening to his fellow twenty-somethings singing along to: "I just don't know why I keep on tryin' to keep a grown woman sober," it's clear that lyrically he's not standard festival lyric fare.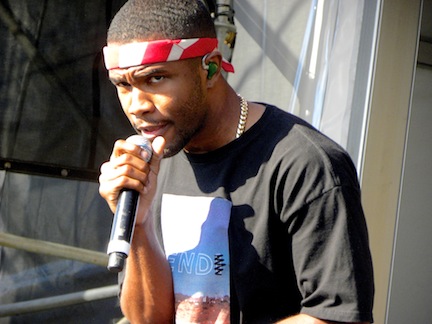 Wrapped in lush orchestration, Ocean's song Pilot Jones fit well with the first sunny day we've seen all week. "In the sky up above // the birds // I saw the sky like I never seen before." The weather wasn't scripted to fit the song, but it felt as technicolor as a Hollywood set. And the hometown crowd ate it up.
In a festival of moments, there have standouts even before the week has wrapped. Irma Thomas singing a triumphant tribute to Mahalia Jackson in the Gospel Tent; Nicholas Payton accompanying himself on piano with trumpet; Nora Jones joyously playing piano in the Little Willies; Fleur Debris sounding like a vaporized thunderstorm; Fleetwood Mac playing what seemed to be every single hit - the list is long and there's one day left until the countdown to next year's festival season begins.
With a well-earned blister on one toe, tomorrow it's once more into the breach for The Black Keys, Aaron Neville and whatever else draws us off the track.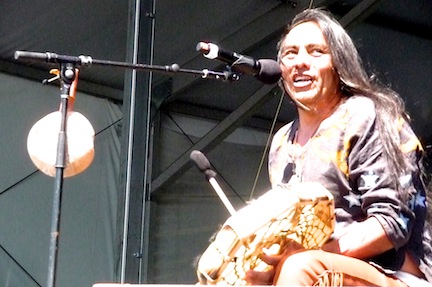 Robert Mirabal at Congo Square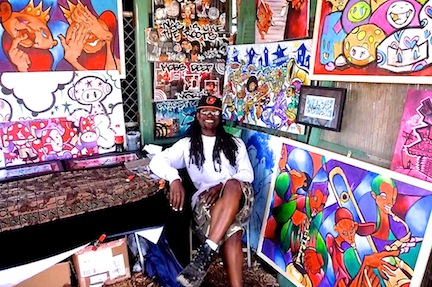 Artist Lionel Milton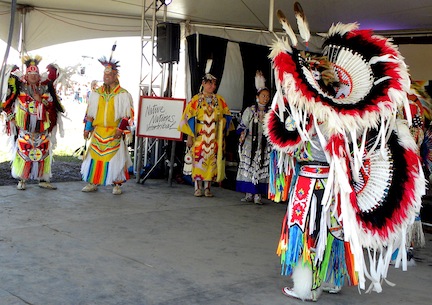 Native Nations Intertribal Dance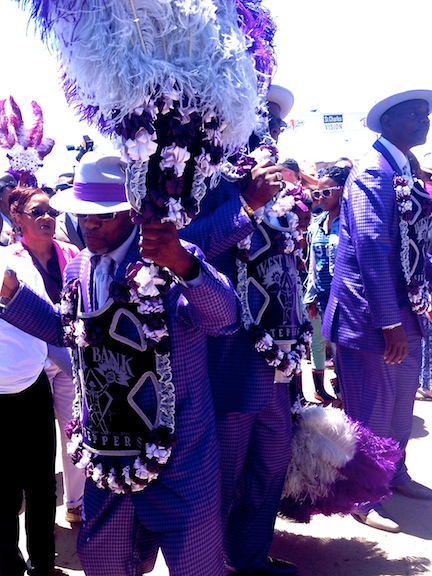 West Bank Steppers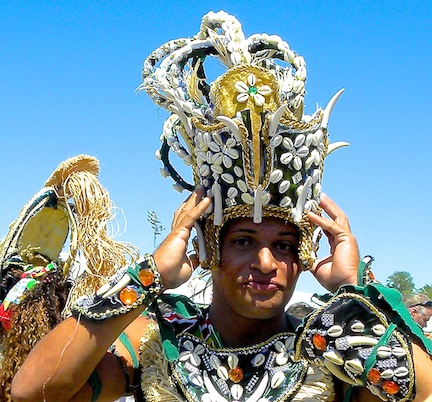 Malê Debalê of Bahia, Brazil
Photos by Jeff Beninato