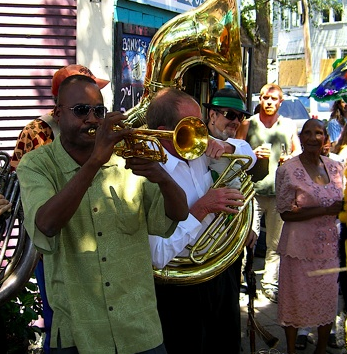 Glen David Andrews, a member of the Jessie Hill musical dynasty, just had charges dismissed by New Orleans City Attorney, as well as Derrick Tabb. Both musicians were cited last fall while marching in a memorial second line for Kerwin James who fell ill far from home, as so many other New Orleans musicians have.
There are no hard and fast figures for how many. A filmmaker just asked me exactly how many New Orleans musicians have died of heartbreak before they had a chance to move back. If the funding existed for that study, we would give it to displaced musicians. The only overall mortality study that exists is from an individual who counted obituaries.
Before Katrina led to his displacement, Kerwin was a member of the New Birth Brass Band, and his brothers were in the Rebirth Brass Band. In the middle of their heartbreak, to be arrested at a funeral march is unimaginable. Tanio Hingle of the New Birth Brass Band is doing his best to come back to the city, but a van the New Orleans Musicians Relief Fund donated to him has already been stolen.
It's an ongoing struggle and here's some back story. Glen was part of the rally when Dinerral Shavers of the Hot 8 Brass Band and filmmaker Helen Hill, both beloved members of the New Orleans arts community, were murdered in unrelated incidents. It hit close to home - at the time Dinerral's bandmate was living in an apartment (NOMRF) provides.
Thousands of residents rose up, and Silence is Violence has kept that movement alive. Andrews marched up the steps of City Hall at the Silence is Violence rally and said, "I'm scared to death of the police." The mayor showed up to speak, but rally organizers turned him down. He could speak anytime -- this was their day. Katrina has given many the ability to speak truth to power. What do we have to lose?
Glen was charged with "disturbing the peace by tumultuous manner" while playing "I'll Fly Away," a traditional funeral march. His cousin, James Andrews, wrote "Sixth Ward Soul" (HERE), a description of what has changed after the levees broke. Last spring, Dr. John led a second line (pictured above) to dedicate a headstone to James' grandfather, Jessie Hill, in a cemetery that is still a shambles
New Orleans needs every available voice, and thankfully Dr. John is there for us. He has an album (I still call them albums) coming up in the spring that's so badass I'm going to listen to it all day every day. Because every voice is crucial.
There's so much we still have to lose.