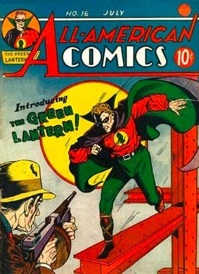 Hold onto your 3-D glasses from Alice in Wonderland and the Oscar-nominated Avatar, Variety reports that the New Orleans-based Green Lantern production will be filmed in 3-D.
The Warner Brothers shoot moved from Austraila to New Orleans for budgetary reasons, one case in which the declining dollar helped secure a mega-budget production. The project is a boost to the New Orleans film industry known as the Hollywood of the South.
Test filming starts this month for The Green Lantern, starring Ryan Reynolds, Blake Lively and Peter Sarsgaard with Director Martin Campbell and July 2011 is its projected release date.
The Green Lantern superhero debuted 70 years ago with All-American Comics volume 16 (pictured). A DC comic, it was created by writer Bill Finger and artist Martin Nodell. In other 3-D news, Warner Brothers Studios is also converting Clash of the Titans, Harry Potter and the Deathly Hallows I and II and Cats and Dogs 2 to 3-D.
Crossposted at my NewOrleans.com blog.