Below is my Q&A with Dr. John & Donald Link which ranged from frog legs to Buddy Bolden in advance of the Link Stryjewski Foundation Bal Masqué in New Orleans.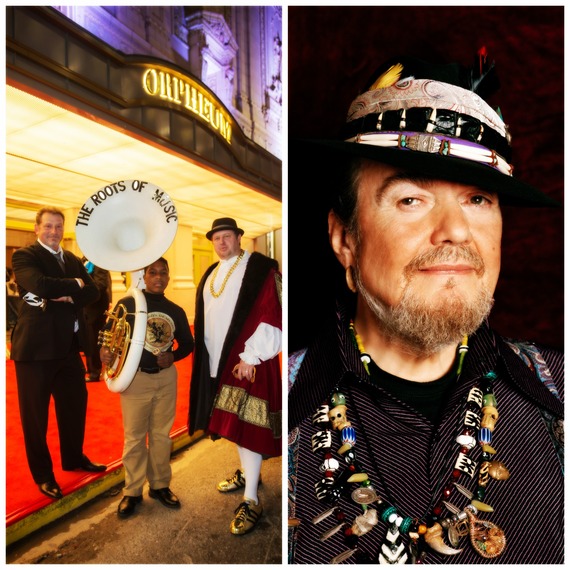 Q: Donald, this is your second year of the Link Stryjewski Foundation gala. What made Dr. John your choice for the music headliner?
DL: "It's a pretty easy question. The whole idea behind this party, this Bal Masqué, was inspired by the old traditional Mardi Gras Balls and 12th Night Balls of the 1700's, the 1800's. Not so much the who's who of New Orleans kind of balls. Everyone's invited and it's a big party - a little edgier, a little more rambunctious. Obviously, Dr. John, I think you're a perfect for that and I can't tell you how excited we are to have you there. It's a great fit for what we're doing, man."
DRJ: "Hey, that's a good thing."

Q Dr. John was a Mardi Gras Page as a child - there's a picture of him in his page outfit at the Historic New Orleans Collection.
DL "Well, there should be."
Q Amen. Dr. John, the Band Cha-Wa including Monk Boudreaux' grandson J'Wan is playing the gala. You and Monk were just given New Orleans Legends Awards by Mayor Landrieu. How do feel about Monk and the Mardi Gras Indians?
DRJ "Hey, I love Monk and all of the Mardi Gras Indians. The Creole Wild West, I don't give a shit who it is, I love them all."
Q Donald, renowned chefs like yourself and Mario Batali are part of this benefit to support programs for New Orleans at-risk youth. Why does it seem chefs always step up in a crisis?
DL: "Well these chefs in particular that are coming all are really good friends of mine. I've been at this business since I was 15, so 35 years now. And we've kind of come up together and we've all gotten to this point where we're giving back to our communities. I do their events and they do mine, and we all really care about what each other's doing in the cities that we live in. We just thought it was time we stood up and said: How can I be a part of this? What can I do? I'm here, this is my town.' And we're in a good position now to help. If we can do that through food and music, which is obviously our venue and what we do, that's the best way to do it. It just really brings everyone together.
Speaking of Mardi Gras Indians, these chefs came down last year and out of everything they saw, that music is what really what hit them. They said: 'We don't get that where we live. We don't have this music and we don't have that culture.' That's what people come to New Orleans for, to see that and feel that when they come down. You see the wonder in their eyes and how spectacular they think it is. Because it is. It's so unique to us."

Q: Dr. John, musicians are also known for stepping in when help is needed, including you and The Roots of Music who are playing the show. What do you think of their work?
DRJ: "I think that they're slammin. I've always appreciated what they do and I know that they get across to youngsters, and that's the basic thing."
DL: "I attended a private performance a couple of nights ago down where they practice, and it really fits in with what we're doing with the foundation. Giving these kids stuff to do in the afternoon, getting them out and getting them involved in something that's important. It's got culture, it's got significance, it's got value. We did this whole holiday dinner for them. You always see them in Mardi Gras parades, but to be able to sit down in an auditorium and listen to the entire band play? Man, it was fantastic."
DRJ: "Cool!"
Q: Coming back around to food, especially where Dr. John's concerned, what's your favorite wild game to cook?
DL: "I'll tell you what my favorite is - it's frog legs."

DRJ "Yeah you rite!"
DL: "It's a lost art. You can't find them any more, you've got to go get them. It makes them really special. You've got to go out to the swamp in the middle of the night, bring cold beer and grab them yourself. You can't order them, you can't find them anywhere. It's one of the last special, wild foods. I love wild duck in a gumbo, but if I had to take my choice between deer, duck and frog legs I'd take frog legs all day."
DRJ: "YEAH you rite!"
Q: You won't find a bigger fan of frog legs than Dr. John. Mac, what's one of your other favorites?
DRJ: "My Aunt Guerneri made a pie with certain things in it, she would stuff everything with everything that was appropriated. And she would do masterful jobs. And I wondered why nobody got her recipe."
Q: We've never cracked the code of that pie. Donald, is there ask anything you've always to ask Dr. John?
DL: I wouldn't know where to start. I think he's created this whole genre of music and a legacy. I've read a lot about Buddy Bolden, his picture's hanging at Herbsaint. Louis Armstrong gets a lot of credit, but Buddy really stepped out and made that change in how early music was made. He was such a pioneer. And Dr. John, your music just set the tone for so many musicians."
DRJ: "Do you know that I loved Buddy Bolden more than anybody? And Buddy Bolden came to see Danny Barker when Danny Barker got his axe and gave it back to him. And he said 'I ain't gonna never play this thing again. Louis Armstrong and everybody made all the money. And I'm fucked.' That's what Buddy Bolden said to Danny Barker. And it was like ... life."

Q: Last question Dr. John, any message to the fans on a winter solstice eve?
DRJ "Hey, just know that I feel blessed to offer anything on a winter solstice. And that's a good thing."
Q It is. Everyone can see you both in person at Link-Stryjewski Foundation Bal Masqué January 7th at the Orpheum. Donald, is it masks with black tie or costume?

DL: "That's what we're doing. Dr. John, I can't wait to see you in person, man. Can't wait for the show."
DRJ: "Alright, My Dawlin."
Dr. John & The Nite Trippers at the Link-Stryjewski Foundation Bal Masqué Tickets: http://www.balmasque.linkstryjewski.org

(Pictured Above: Donald Link and Stephen Stryjewski with The Roots of Music Band Member at Bal Masqué 2016, and Dr. John)