There's no way to check in with Festival Productions CEO Quint Davis this week without mention of weather at the New Orleans Jazz and Heritage Festival. "Sunday I would say, was the best worst day of the festival. It was amazing, we had that big rain from 11 to 12 and it looked like nobody would come, and then over 50,000 people just emerged from nowhere and streamed in. And it didn't rain again until 5:05 and everybody cheered and said, great - rock on." I was sheltered in a Diane Reeves show, who Quint refers to as: "The best living jazz singer." After Sunday's set I wouldn't quibble.
Jazz, rock, electronica, world music and everything in-between are more accessible than ever this year as Jazz Fest comes to high definition cable television on AXS TV. Davis diagrams how those connections were made. "It starts, of course, with Mark Cuban. It's his network of networks. His decision and commitment is to be at the forefront of a very aggressive approach to live music and music performances on television. We've done a broadcast for five or six years, but they're all webcasts. State of the art for festivals nowadays is webcasts, so you get a certain quality on your home laptop. But this is not that." This is high-definition television on your home TV screen.
Cuban, AXS TV Founder and President, tells me that the broadcast has expanded thanks to early response. "The artist response to broadcasting live on AXS TV from Jazz Fest has been so overwhelmingly positive we've extended our coverage. We are live for over 10 hours every day from May 3 through 5 showcasing headliners, rising artists and local New Orleans musicians. No other network will cover live entertainment -- making music the ultimate live television event for fans across the country -- like we are. And this is just the beginning."
Social media is featured heavily in AXS programming, in fact Axs.tv web site will be a second screen for viewers. Bonus content from a digital team is planned to enhance the social media experience. "You have to," Davis said. "It's 2013." AXS has a strong reach through Twitter, Instagram, Facebook and their YouTube channel, as well as on-camera talent. For Jazz Fest Game Day Presented by Stub Hub, "Our roving interviewer is Savannah Jane Buffett - Jimmy's daughter," Davis said. "She's our host for all behind the scenes and artist interviews. And she has a pretty good handle on music," he understates. "Jimmy was playing our festival since she was almost on her tricycle. So she knows the festival, knows the culture, knows a thing or two."
Buffet will be covering food, crafts and culture in addition to artist interviews. "While a lot of that will go into the actual show that's coming on Friday, Saturday and Sunday, it's perfect fodder for the social media mill." The Twitter hashtag #axsjazzfest is one way viewers can engage at home or on the festival track. Newly expanded festival coverage begins at 2 p.m. Central Time and runs through 12:30 a.m. Central Time, offering more than 25 hours of live music and special features over three days. Hosts Allison Hagendorf and Bob Santelli (Grammy Museum Executive Director) will anchor the festival coverage.
Cuban's network is in partnership with AEG, co-producer of Jazz Fest with 44-year producers Festival Productions, Inc. FPI has partnered with AEG to produce the festival for several years. "It's reaped a lot of benefits," Davis said. Those benefits include AEG bringing their partners AXS TV to the table. In addition to AEG, Cuban's partners in AXS TV, formerly HD Net, are CBS, Ryan Seacrest Media and Creative Artists Agency. AEG Network Live, which produced the 12-12-12 Sandy Benefit, has produced previous Jazz Fest webcasts. Expanding to an international reach, Globo Network in Brazil has been added to the networks broadcasting Jazz Fest.
When AXS VP/Executive Producer of Event Programming & Production Darrell Ewalt met with the festival production team, Davis said he told them: "'We don't want just a singing head on the stage, we want to get the festival.' That was great to hear from our first big television partner," Davis notes.
I point out that many former New Orleans residents can now watch Jazz Fest from across the country on the years they don't make it back, then realize Festival Productions is also focused on selling tickets to the festival itself. He cuts a deal: "We'll give you a year or two off if you come, say, for 10. But then you know that you have to come back. But yes, it allows Fest-goers who can't make it to experience it and of course for us, almost more importantly, his (Cuban's) networks are available in 40 million homes. So it's a double fulfilling of our mission because it promotes the festival."
The festival, owned by a nonprofit, has a stated mission to promote New Orleans culture and music. "So even though we have this Jazz Festival for close to 500,000 people a year first-hand, the opportunity to reach millions of people and show them Trombone Shorty, Allen Toussaint, Irma Thomas, etc.," Davis said. "That's a tremendous fulfillment of our mission and the Foundation's." In addition to the local heroes, viewers will be in for Willie Nelson & Family, Phoenix, Hall and Oates and many more headliners.
Could the festival's founders have anticipated 44 years ago 40 million people having access to the festival from around the globe? "I don't think I anticipated that 44 weeks ago," Davis laughs. "I think it's pretty innovative, carrying 24 hours of music."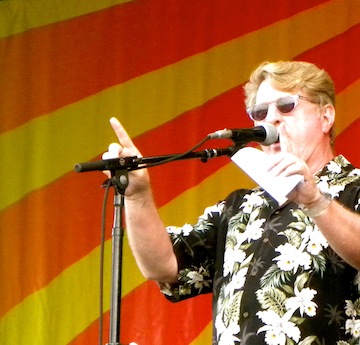 Quint Davis introducing Billy Joel at Jazz Fest (Photo by Jeff Beninato)
Artists and schedules for AXS TV Jazz Fest Broadcasts are available for May 3 to 5 at: http://www.axs.tv/jazzfest. You can look for the AXS Channel near you HERE: Tune-In radio's Jazz Fest based programming is at: http://tunein.com/radio/New-Orleans-Jazz-Fest-Radio-s189903. Jazz Fest schedules, which have changed slightly in the last day, are HERE.