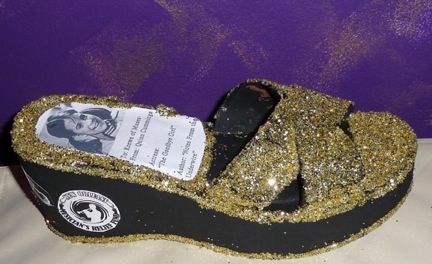 Tonight in New Orleans the all-female Krewe of Muses rolled, resplendent with their decorated shoes. Ten years after being founded by Staci Rosenberg, the Muses are a force to be reckoned with. Upon telling Dr. John about their grant to the New Orleans Musicians Relief Fund this year, he wrote: "All the Muses are special. All 9 of em. Erato is the patron of Art & Music, so I'm prejudiced for her."
To thank the Krewe, we decorated the shoe (at left) sent in by my author friend Quinn Cummings, an icon after her Oscar-nominated role in The Goodbye Girl.
She recently penned "Notes From the Underwire. Adventures from my Awkward and Lovely Life" from Hyperion Voice, and her black and gold shoe is a tribute to the Krewe wise enough to book the B52's for their ball and fill the room with the Krewe of Rolling Elvi.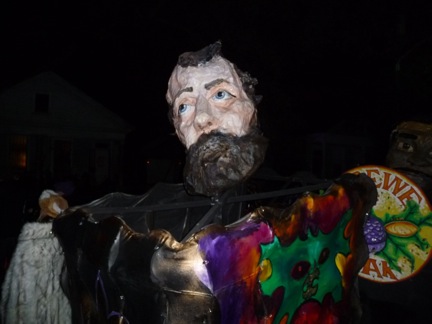 Another artistic parade rolled tonight, the Krewe of OAK. One of its first kings was the late New Orleans poet Everette Maddox.
On a night this chilly, the Krewe had three floats at most and one of them was a paper mache profile of Maddox (at right) looking on as artist Frenchy painted a live portrait of the crowd. There's a neighborhood rumor that Maddox pined for my friend's mother all his life. I like to think of him writing this poem in the moonlight, reflecting on his muse and hoping it was not over and goodbye.
Moon Fragment
from I Hope It's Not Over and Good-by / UNO Press
by Everette Maddox
A man squats by the railroad tracks tonight
eating a moon fragment: not cheese
at all, but a honeydew melon. His hands
are fuzzy. A train roars past. In the
lighted windows men and women stand
with pewter cups raised. Tea slops out.
Then it is dark again. Moon-eaters have
no time for such foolishness. The silence
is not absolute, though, because the world's
longest accordion, the world's longest
musical expansion bridge, is playing
somewhere. I am up in my office
watching the glitter of my last cigar sail
out the window, over the shrubbery, down
into the darkness where summer is
ending. I keep office hours at night so
nobody comes around to bother me. Not even
you. The moon comes around, though. I want to
drag it down and hand it to you and say, "Here,
this is lovely and useless and it cost me
a lot of trouble. You can tie it up on
the river behind your house, and go down to
look at it whenever you like." The trouble is,
you don't want it tied up, and you are
right. This is no new problem. Eight hundred
years ago a man heads home from the
Fair, pushing a wheelbarrow full of real
moon pies. For ten years he has been
stealing wheelbarrows, and nobody even
suspects. Well, what is all this? you
want to know. Right again. I could
say I don't know myself because the evidence
is not all in, never will be. I could say it's
the unfinished moon poem I've always wanted
to almost write. Well, what is it all about? you
ask. What does it mean? You have me
there. It means, whatever this is between
you and me, I hope it's not over, and good-by.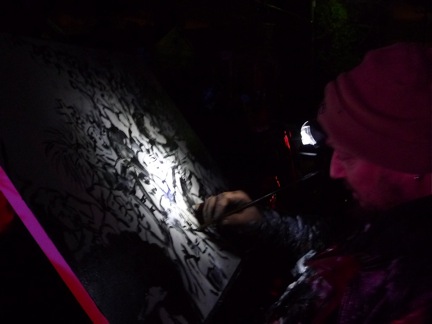 Frenchy painting the parade tonight