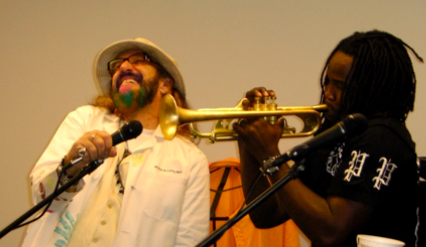 Mark Hudson and Shamarr Allen jam at Rock Fantasy Camp
When Rock and Roll Fantasy Camp rolled into New Orleans, the rock star counselors asked the New Orleans Musicians Relief Fund to fill some scholarship positions and show them the effects of Katrina three years later. Showing someone around New Orleans these days not only includes pointing out abandoned slabs where homes were washed away three years ago, it also includes touring the areas where the city is finally rising thanks to ongoing grass roots efforts.
Camp counselors were Elliot Easton (The Cars); Glen Hughes (Deep Purple); Gilby Clark (Guns and Roses); Dave Ellefson (Megadeath); Kip Winger (Winger); Mark Slaughter (Slaughter); Chris Slade (AC/DC); Marc Hudson (the Hudson Brothers); and Earl Slick (David Bowie). We visited Global Green, Make it Right, Furnishing Our Neighbors and the Habitat for Humanity Musicians Village the day before the show.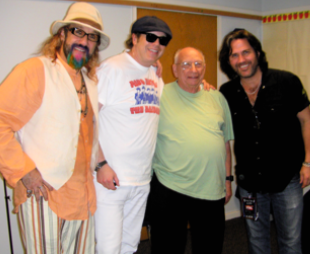 Hudson, Elliot Easton, Cosimo Matassa and Kip Winger at the Rock and Roll Fantasy Camp gathering.
Along the way, Aerosmith and Ringo Starr producer Mark had the chance to meet recording engineer Cosimo Matassa who founded J&M Studio in the French Quarter at the age of 18. Cosimo was responsible for Little Richard's Tutti Frutti and Fats Domino's The Fat Man, and Mark was fascinated at the soul of musical history still to be found in New Orleans. Dr. John called my husband Jeff and when he found out about the tour Mac said, "The Hudson Brothers? I wrote a song for them," so Jeff passed the phone along to Mark for old home week. Dr. John also played on Sonny and Cher tracks, whose show the Hudson Brothers replaced so there's your variety show fun fact for the day.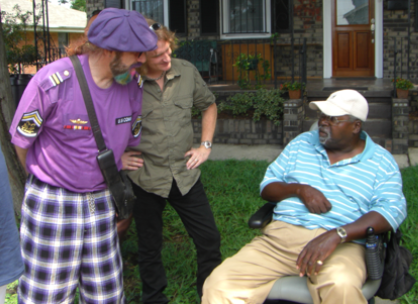 Mark Hudson and Dave Ellefson talk with rock drumming legend Smokey Johnson.
At the Musicians Village, New Orleans drummers Smokey Johnson who toured with Fats Domino for 28 years, and Bob French, leader of the longest running jazz band in New Orleans, held court. Smokey was waiting for us at beginning of the street and the counselors piled out of the bus as soon as they saw him. Smokey talked about how he invented a cadence called Ratty Number Nine in his high school band and the second line beat can still be heard throughout the city on a good night. Mark told Smokey stories about Ringo's fascination with his drumming style.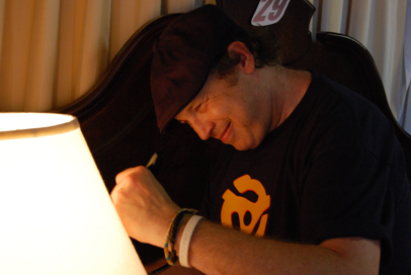 Eliot Easton autographs one of the lampshades at Furnishing Our Neighbors
Smokey's Habitat home is now sporting a wheeled desk and chair thanks to Furnishing Our Neighbors, which was another stop on the tour. Mandi Thompson's brainchild converts rooms full of furnishings from luxury hotels into furniture for returning New Orleans residents at only $8 and $29 as part of the ReDefine 8/29 campaign. The warehouse is open Thursday to Saturday behind Rock and Bowl and it's gratifying to see truckloads of furniture drive away as people continue to come home. The overstuffed chairs are comfortable which was good after a New Orleans tour in August, and the rockers were kind enough to autograph a lampshade and headboard for FON.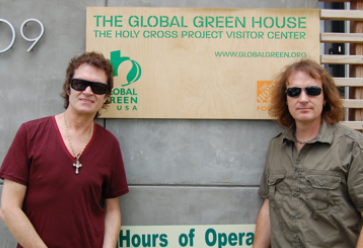 Glen Hughes and Dave Ellefson view the Global Green Holy Cross Project
Beth Galiente showed the rock counselors through Global Green's eco friendly home, as beautifully designed as it is practical. At the end of every year, the utility company owes the New Orleans Global Green home money back. With an energy crunch at crisis proportions, that's quite a feat. The home was designed by the winner of a architectural competition sponsored by Brad Pitt. I want to move back to New Orleans and live in the Global Green home. Just saying.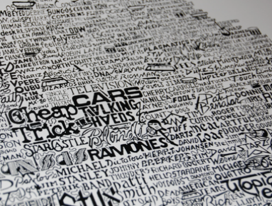 Rock Tree Poster from Rock Camp
Kenneth James from Jazz City Tours not only hosted the rockers, he hooked us up with a table at the Zulu Social Aid and Pleasure Club that night. Last week, the New Orleans Musicians Relief Fund was able to pass a saxophone along to Kenneth thanks to one of our amazing instrument donors. In the tightly knit community that is New Orleans, almost every musician at the Zulu club that night was Kenneth's cousin. The counselors turned in early, but took time out to sign NOMRF's series of rock tree posters and a 40th anniversary Fender Strat, auction link coming soon.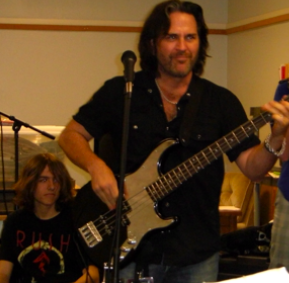 Kip Winger and Scholarship Student
The next day was band camp, and Mark Hudson helped NOMRF present two guitars to twins Austin and Tyler. Mel in Chicago sent down 14 guitars with her Bat Mitzvah money, and the rehearsal was held in a synagogue so it was one of those days where the rivers keep intertwining. Cosimo told the counselors the story of how his first microphone was bought from a nearby synagogue which no longer wanted their high end German microphone after World War II and sold it to him for half price. It was the microphone that recorded some of the earliest songs in rock and roll history. Much of Cosimo's memorabilia washed away after the levee failure, but he can still be found in Matassa's Grocery Store in the French Quarter most mornings to expound on the roots of rock and roll.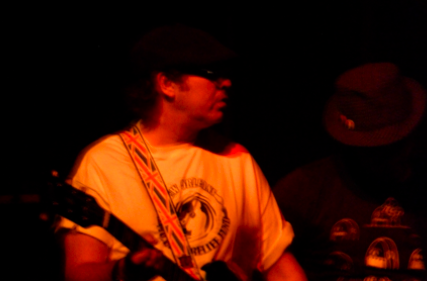 Elliot Easton rocks out at the House of Blues
Austin and Tyler jammed all afternoon along with their guitar god dad, Cranston Clements, and trumpet virtuoso Shamarr Allen brought his kid brother Khalid Allen in for the third NOMRF Rock and Roll Fantasy Camp scholarship. Mark Sleeper came up with the scholarship concept so props to L.A. Shamarr was in the movie Skeleton Key with Mark's niece Kate Hudson, which made for another six degrees moment. On Monday night Cranston, Shamarr and his kid brother kicked out Proud Mary at the House of Blues with their camp counselor Mark Hudson.
The band name was Cosimo's Kids.