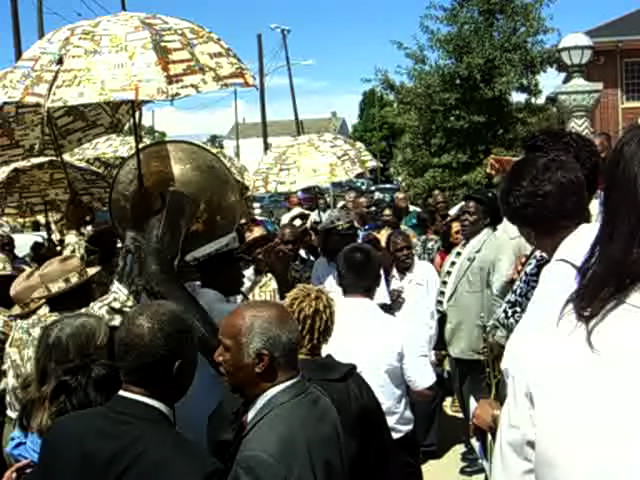 "I couldn't hear nobody pray.
I couldn't hear nobody pray.
Way down yonder and by myself, I couldn't hear nobody pray."
When George French and Irma Thomas are in the choir and your priest can sing a song like that, you must have been living right. Willie Tee's tribute yesterday at Our Lady Star of the Sea was a memorial to a loving, funny and brilliant New Orleans music legend with a top 20 hit back in the heyday of R & B.
Something that impressed me was how much the priest discussed the heartbreak of being displaced, as Willie Tee had been, and coming home, as some of the congregation has managed to do.
Displaced 12 hours away, nobody talks about it enough for me. It was so inspirational I found myself remembering the roots of a religious childhood. We were more likely to be in a rickety building in the next town than a brick and mortar church. You had to drive 20 miles to find poor people but my dad managed to find them and build a modest church. Thankfully lighting passed us over, since Pentecostals have an affinity for aluminum structures.
We sang a small, sad version of "I'll Fly Away" this spring - my husband, my brothers and myself. I remember insisting Dad would have wanted a jazz funeral. If he'd ever seen one I'm sure he would have, but the grieving don't think straight and it wasn't practical to fly a brass band up to our little town.
Yesterday, the maidens in Our Lady Star of the Sea floated above us in their dreamlike mural, The Dance of Innocence, as the priest described how he snuck back into the city to check on his church two years ago. He admitted to lying as military police at the checkpoints asked where he was headed. "To the suburbs." Then he talked about how Willie Tee's brother Earl passed away a month ago, and we never expected to lose Willie so soon.
During the service, he also played a recording of a piano solo Willie wrote for his grandson. You know how there's a certain curve an instrumental can take, right after the verse but before the chorus when the hook can break your heart? This whole song was like that. If I were a music reviewer this would be a more lucid description, but it was right up there with what you'd hear if sunset had a sound.
The crowd marched out to a second line of "I'll Fly Away," played properly. We saw some friends, paid our respects and watched the second line march on as the weather gathered toward Sunday's storm. I grieve for New Orleans' loss of a man who I only know from his music and his tribute.
Based on that alone, he must have been living right.